For Paige Bruland: 'Your Major Isn't as Major as You Think'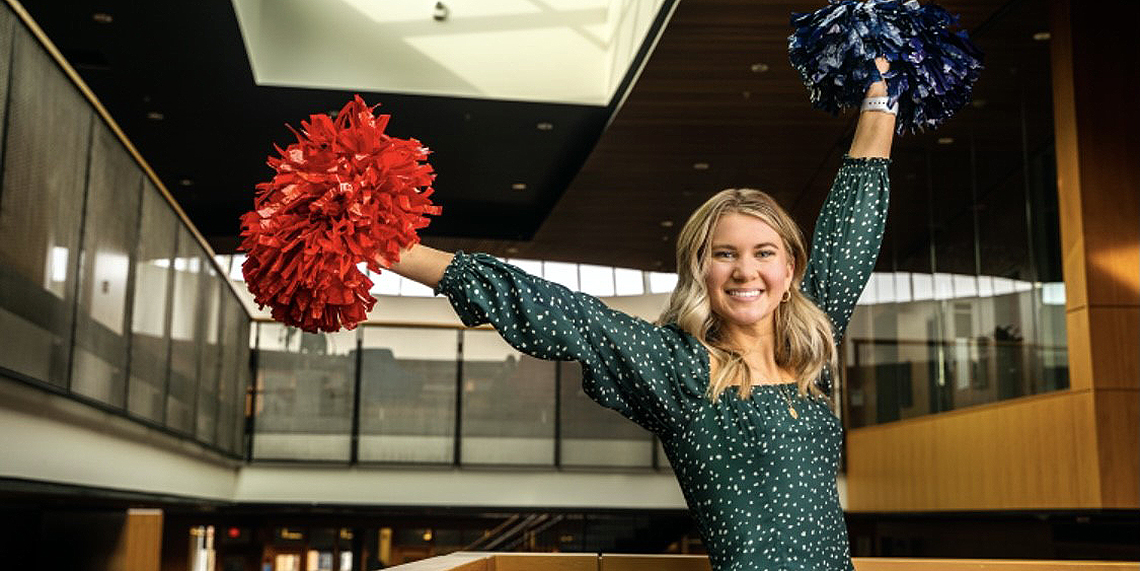 SPOKANE, Wash. — Gonzaga University senior Paige Bruland, who graduates in May with a major in human physiology and a minor in Spanish, has been passionately involved in the Gonzaga community as a cheerleader, blogger, and her specialty: social media.
"I have run the Gonzaga cheerleading Instagram for the last three years," Bruland said. "It has helped me collaborate with Kennel Club members, Kennel Board, Bomb Squad, and the Dance Team to do fun promotional events and TikTok."
Bruland has been involved in cheerleading since April of 2017, working her way from the bottom of the tryout list to the cheer team captain her senior year. It has provided her with many leadership and professional skills through the various cheer activities.
"It has helped me personally with every aspect of life," Bruland said.
Another aspect of her life that sparks joy is blogging. Bruland originally messaged Spokane Eats & More, a blog in Spokane, to inquire about becoming an intern to identify more gluten-free restaurants in the area. She wound up falling in love with her role, which has expanded to incorporate her writing and photography.
"My role with Spokane Eats ultimately showed me how much I love marketing and social media, and was the main factor that helped me decide to choose a job in this realm after school — instead of PA (physician assistant) school," said Bruland, who had applied to three schools for graduate work and was accepted into Texas Tech University.
"However, over Christmas break, when I got in, I had an epiphany and realized I did not want to go to PA school," said Bruland. Instead, she's pursuing a career in social media that aligns with her delight in creating and sharing web content.
She recently committed to her first full-time marketing job for a study abroad agency in Boston, and begins June 21.
Bruland credits Gonzaga with playing a big role in her career, noting that the rigor and discipline of earning a human physiology degree was "no easy feat" and has helped prepare her for the future.
"Human physiology has been the most challenging, rigorous work I could have probably picked for myself, but the support from my classmates and the professors is unmatched," said Bruland, who remains grateful for the relationships she formed at Gonzaga, calling them her biggest accomplishment.
"I would not be where I am or who I am without them," Bruland said.
She aspires to open her own business. She wants to create a gym/fitness studio with a juice bar and foods that fit her gluten-free appetite. The business will incorporate all passions in her life from marketing to human health and physiology.
One tip Bruland offers to other Gonzaga students resonates with the wisdom acquired from her own career path: "Your major isn't as major as you think."
Academics
Careers & Outcomes
Student Life
College of Arts & Sciences
School of Health Sciences
Human Physiology
Spanish
News Center