Theater, Dance Alums Shine in New York City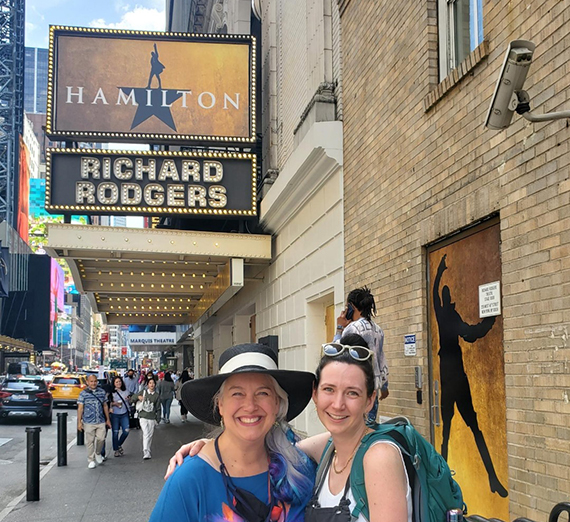 ---
SPOKANE, Wash. – Three different majors, three different paths but the same landing spot: the Big Apple. The thread common to this diverse trio of Gonzaga University graduates: theater and dance during their time on campus.
Now one is the women's ensemble dresser for "Hamilton" at the Richard Rodgers Theatre, a Broadway icon on 46th Street; another is a dancer cast in professional productions this summer in Idaho and New Hampshire regional theaters; and the third is helping run STEM from Dance, a nonprofit that uses performance to encourage girls of color to be part of the next generation of engineers, scientists and techies.
Suzanne Ostersmith, associate professor and director of dance in Gonzaga's Theater/Dance and Interdisciplinary Art Department, visited with all three in New York City while on sabbatical this spring.
Behind the scenes at 'Hamilton'
Priscilla Mullins graduated in 2012 with a sociology major and history minor but also worked on many shows.
After graduation, Mullins worked for the Great River Shakespeare Festival in Minnesota, the Merry Go Round Playhouse in upstate New York as well as in St. Louis and Connecticut before moving to New York City and earning "cred" that led to landing the "Hamilton" gig.
"I worked at the Public Theater for two-and-a-half years and then did 'The Ferryman' and 'The Inheritance' on Broadway as well, which helped a lot in building skills and connections within the New York City theater community," she said.
The Public Theater was founded as the Shakespeare Workshop in 1954 by Joseph Papp, who wanted to showcase the works of up-and-coming playwrights and performers.
Mullins wasn't always sure her journey would lead to NYC.
"After graduation I honestly didn't know I would end up where I am," she said. "It seemed like a faraway goal that was never actually possible. But I'm grateful for all the places I've worked and people I've met along the way, especially when our paths continue to cross."
But Mullins also relishes looking back.
"It was so wonderful getting to see Suzanne after 10 years and catch up about our adventures and reminisce about shows we worked on and the friends we worked on them with," she said. "Suzanne was always such a joy to work with at Gonzaga and it was great to hear about all the amazing programs she has created and expanded since then!"
Ostersmith reflects on that time as well.
"She remembers working in the costume shop with other students and staff getting costumes ready," Ostersmith said, "particularly 'Romeo and Juliet,' 'Urinetown' and spring dance concerts." Now Mullins is at the Richard Rodgers Theatre, a two-minute walk from Times Square. It opened in 1925 and boasts more than 1,300 seats. Ostersmith had brunch with Mullins then walked with her to the renowned theater for her 1 o'clock call for a 3 p.m. performance of "Hamilton." Mullins would be training a substitute so she could take a couple of days off.
Adding dance to singing, acting
After a childhood of extensive performances in musical theater, mostly singing and acting, Ryan Hayes decided his sophomore year at GU to major in dance.
"He decided that he wanted to be a triple threat, and dance was the art form he had the least experience with," Ostersmith said. And he jumped into it with, well, both feet.
"Dancing at Gonzaga taught me so much!" said Hayes, a Spokane native.
"The most valuable part of my education was studying interdisciplinary arts and understanding how music, dance and theater can work together to tell stories on stage, as well as learning to meld the three together."
In summer 2021 Hayes performed with the Human Rights Dance Company that toured in Florence as part of the Gonzaga in Florence Summer program, Ostersmith said, and right after he went to two intensive dance experiences: at the Boston Conservatory at Berklee and at the Joffrey Academy of Dance, in Chicago.
"In fall semester of his senior year, we chatted regularly about what his next steps were and how he was committed to pursuing a career in musical theater, but knew he wanted to get further training," Ostersmith said. "He applied and through an extensive audition process was accepted to Steps on Broadway Conservatory in New York City."
The intensive work at Steps has helped him clear a hurdle.
"The biggest obstacle that I have had to overcome so far is that I came to dance later in life, so I'm playing catch-up to dancers who have been in the studio since they were children," he said.
The conservatory experience has allowed him to make "large strides" in technique and performance.
Hayes returned to GU a couple of months into spring semester of his senior year and taught a workshop.
"I could immediately see the impact the intensive conservatory training was providing him," Ostersmith said. "He had such command of the classroom and reminded the students to really commit to the movement and opportunity to be in class."
He returned to graduate with the Class of 2021, earning a dance major and interdisciplinary arts minor.
Ostersmith took in the spring semester finale at Steps on Broadway Conservatory.
"His growth was remarkable, but so was the caliber of dancers he was surrounded by," Ostersmith said. "He is clearly sucking the marrow out of the opportunity to be training at such a high level. But he is not just receiving education, he is learning the art of the hustle, which is imperative in the field."
The latter played a role in landing some work contracts.
"I have had to adjust from a studio and school setting to the professional setting and understand what is expected" at both levels, he said.
Hayes will return to New York in the fall to continue his training at Steps, but whatever the venue, he's enjoying it.
"The favorite aspect of what I am doing now is the people. I have loved getting to meet so many fellow dancers and work with amazing creative teams."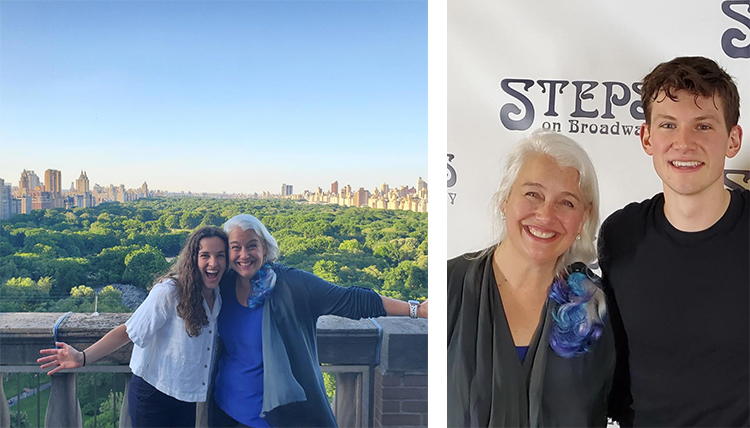 Andrea Bracamonte and Suzanne Ostersmith (left) with Ryan Hayes and Suzanne Ostersmith (right).
Pairing physics and dance
Andrea Bracamonte, who graduated in 2021 with a major in physics and a minor in dance, has found a way to combine the two through her work in Manhattan for STEM from Dance. Its goal: "We want to see a world in which the STEM workforce is just as diverse as our population."
The program, which has reached hundreds of girls through customized school and community programs and a summer camp program called Girls Rise Up, is built on three pillars: creating awareness of STEM careers, building confidence to pursue curiosity, and providing experience to shape skillsets.
During its programs, participants spend their time dancing, coding and exploring how to merge creativity found in both dance and technology to produce an innovative dance performance. Learning how dance and STEM intersect could mean incorporating LEDs and circuitry in costumes or programming digital animations to enhance the stage background during the performance.
As associate director of program operations, Bracamonte doesn't always get to see the impact of her work directly. She manages logistics for the service organization, but also serves as both a STEM and dance teacher during the program's residencies in schools.
Bracamonte said she treasures "getting to interact with our students and seeing those 'lightbulb moments' firsthand."
"When I get to teach it truly makes my days, sometimes weeks, getting to see the girls light up about something challenging that finally clicked, whether that be in the code we are teaching them, finally getting their circuits to connect, understanding a new dance choreography, or getting to perform on stage with all of their friends."
This spring, according to Ostersmith, Bracamonte taught "deep in the Bronx" where her fifth-grade students learned about coding and dance, culminating in a technology-infused performance that included both.
The nonprofit's website puts Bracamonte's physics research in cosmic rays and nuclear particle physics at GU alongside her being a member of the hip-hop dance team, the Bomb Squad, and the Gonzaga University Repertory Dance company.
"Another aspect of my job that I love is that I have had the opportunity to truly utilize so many different aspects of my time at Gonzaga," she said. "I have gotten to use the skills I learned from teaching Zag Dance, skills from my physics classes to help teach the STEM portion of our programming, or evaluate data for grants.
"While at Gonzaga I had the opportunity to create a screen dance as part of the very first Screen Dance Festival. I learned skills about filming, editing and storytelling, which have also carried into my current position as I have been a videographer for our summer program, and edited project videos for students.
"This position truly allows me to be multifaceted and push a lot of different parts of myself which I really did not think was going to be possible postgrad in a single job!"
For their fellow Zags
"Go after your dreams and have faith in yourself," Hayes advised current and future Zags. "I didn't realize I wanted to dance professionally until I was 19, and it was super scary to jump into this world, but I am so glad I did because it is my true passion and what I love to do.
"Don't be afraid to try something new, and be authentic to yourself."
Bracamonte couldn't agree more.
"Do not be afraid to explore every part of yourself in college," she counseled. "It is never 'too late' to try something new or feed an interest you haven't explored yet. You truly never know where it will lead you."
"You do not have to force yourself to fit one or two identities or just stick to what you 'should do.' Do things just for the sake of trying something new and unexpected. Allow yourself to be fluid, change your mind, take risks. There is more beauty, joy, depth in the unknown, so you might as well explore it!"
Great futures ahead
"A career in the performing arts requires creativity, hustle and a strong work ethic," Ostersmith said. She isn't surprised that these Zags – whom she describes as bright, kind and hard-working – are doing well.
Learn about the dance program at Gonzaga