Line of Succession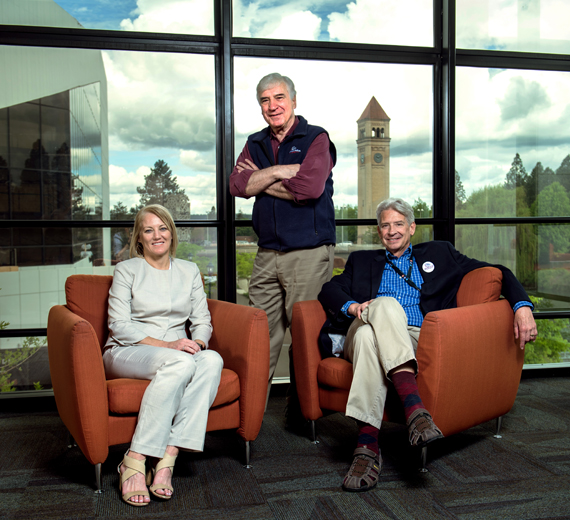 ---
By Dale Goodwin ('86)
No doubt Expo '74 had a lot to do with making Spokane an attractive stop on the entertainment circuit, but perhaps that achievement was second to the effort of three Gonzaga alumni who, for the past 44 years, have helped to provide Inland Northwest citizens with first-rate entertainment.
Mike Kobluk ('60), former member of the Chad Mitchell Trio, had just taken a job with Bill Cosby's record company in Los Angeles following 11 years traveling with the Trio. He quickly determined the only affordable place to live for him, wife Claire, three kids and a dog was a 90-minute drive from his office in Beverly Hills. He resigned two weeks later and moved back to Spokane.
Kevin Twohig ('71) worked his way through Gonzaga by helping transform the old campus gymnasium into Russell Theatre (now Magnuson Theatre) on the east end of the Administration Building. He learned everything he could about sound, lighting, seating and sight lines – and a few basketball tales, to boot.
In the early 1970s, these two joined forces. Kobluk, after serving two years as GU alumni director, had just been hired by King Cole to serve as director of performing and visual arts for Expo '74. Kobluk hired Twohig to produce the site's free entertainment. Twohig was running a production company that was already contracted to produce many of Expo's shows, but Kobluk, and Kevin's wife Barb ('02), convinced Twohig to take Kobluk's offer.
Following Expo, Kobluk became director of the Opera House, Convention Center, Coliseum and Albi Stadium for the city, and Twohig his deputy director. Then in 1995, a Public Facilities District was formed, and Twohig became its first executive director, managing the new Spokane Veterans Memorial Arena and Albi Stadium, while Kobluk continued to oversee the Opera House and Convention Center.
As Twohig left the city entertainment division, Kobluk's operation hired another Zag, Stephanie Curran ('89), who had been trained in the food and beverage business at the Sheraton Hotel in Spokane. After eight years as director of catering for both the Convention Center and arena, Curran was hired in 2003 by Twohig as event manager for the PFD.
When Kobluk retired in 2000, the District took over operation of the Opera House and Convention Center, and Twohig became CEO of the district. Curran succeeded Twohig as PFD executive director in February 2018. The Zag tag continues.
"... to see our guests walking out after a show with big smiles on their faces is what makes all this worthwhile."
Kobluk recalls the struggle to get acts to commit to coming to the World's Fair. It sounded interesting, but agents wondered if Expo would succeed? "Then we got Bob Hope, Liberace, the Moiseyev Dance Company of Russia and Olympic gold medalist Olga Korbut signed, and we became the top entertainment destination in the country for those six months of Expo," Kobluk says.
New Arena Opens Doors
By the late 1970s, the entertainment office had taken over booking the old Coliseum. It was tough because the city didn't want Kobluk risking taxpayers' money to promote events, its 7,000-seat capacity was too small for many attractions, and the facility was in need of major repair.
Three times the city put before the voters a proposal to fund a new coliseum, and each time more than 50 percent but less than 60 percent said yes, and a supermajority was needed.
That's when the Public Facilities District came into being. It required just a 50 percent pass rate, funded by room and sales taxes. Voters approved, and in 1995 the 11,000-seat Spokane Veterans Memorial Arena was dedicated.
Lining Up Big Events
"Spokane wasn't much of a sports town back then," Twohig explains. "The first big event we landed was the NCAA Division I Volleyball Final Four in 1997. It was the first time that event had ever sold out. A couple of members of the NCAA basketball committee were there, they liked what they saw and we have since hosted 11 NCAA championship events here. We went on to host the Memorial Cup and many more fantastic sporting events."
Kobluk was part of establishing a Broadway series in Spokane. "My former company – after Chad Mitchell and before my return to Spokane – was American Theater Productions in New York, and one of my former colleagues had the rights to 'CATS', " Kobluk explains. He wanted to bring it to Spokane, but the city would not agree to underwrite it. So Kobluk talked with former GU Regent Don Barbieri (who had just started TicketsWest) who met with the producers. "Not only did Barbieri sign the show, but he agreed to bring three more Broadway shows to Spokane that first year," Kobluk says. And Spokane has been a regular fixture on the Broadway Series stop ever since.
For Curran, her favorite event was Subud, a world religious conference in the 1990s that brought people from around the world to sample a variety of ethnic dishes.
Hardest show to book here? Neil Diamond. He needed 10,000 seats to break even. When the new Arena opened, Diamond was one of the first acts booked. Pearl Jam and Metallica were big, too. Biggest bust? George "No-Show" Jones. The country-western singer reportedly was in his tour bus, unable to make the stage.
Production has changed significantly over the years. Shows used to bring three or four trucks. Now some of the Broadway shows travel with up to 34 semitrailers.
"You just can't explain to people how much effort it takes to put on a two-hour show," Twohig explains. "But to see our guests walking out after a show with big smiles on their faces, telling friends it's the best show yet, is what makes all this worthwhile."
Coming Soon: More Sports
Spokane voters will have the chance this fall to weigh in on the development of the North Bank (east of the Arena). Curran, for one, is quite excited about the possibilities of an urban stadium and sportsplex there, adjacent to downtown.
"Our mission is to build public facilities that will generate economic impact for our region," says Curran. "I am excited to take on this next generation of venues and launch us into the world of sports while continuing the success of our convention and entertainment facilities. Other cities will be watching and learning from us."