Always Faithful on Every Front
---
When Charlita Shelton, Ph.D., first came to Gonzaga University, she served as the Interim Associate Chief Diversity Officer. Shelton was charged with supporting staff and faculty diversity, equity and inclusion development efforts. Months into her role, the pandemic had just taken hold and was tightening its grip. President McCulloh then asked Shelton to lead the Pandemic Response Task Force. She began connecting with leaders, faculty, staff, students and families throughout the Gonzaga family and discovered that several of them had something in common with her: military service.
"When I find out someone is a veteran or is serving in the military," explained Shelton, "I always reach out because there is something special in terms of our common realities."
Shelton was very impressed to learn that the President of Gonzaga University had served in the U.S. Army as a cook and sees his story as an important lesson for others.
"His experience is evidence that anyone who aspires to be a leader can do so with their own level of wit and determination," she said. "We both enlisted and ended up having roles as university presidents. Education is the great equalizer to obtain your goals, and if someone believes in you, you can do it."
She has a deep appreciation for her colleagues in roles across campus whose experiences in various branches led them here.
"I often think that if they can do something so challenging and commit themselves to their particular service," she said. "And then they come to us—what a gift!"
Shelton herself has been a gift to the Gonzaga community in her role on the Pandemic Response Task Force and as Chief of Staff. To every assignment, she brings with her the lessons gained during her four years in the Marine Corps.
"Semper Fidelis means always faithful," said Shelton. "You're faithful to God, your country and your family. In the service we are there to protect the country, which is all about protecting humans. At Gonzaga, we care for human beings—cura personalis—and it's those humanistic values that align the mission of the military with that of the University."
Recently, Shelton spent time with a 1999 graduate of Gonzaga University who was a member of the Bulldog Battalion Reserve Officer Training Corps. He told her about the indelible impact his Gonzaga ROTC experience had on him because of the way that his Army officer training was bridged by the Jesuit, Catholic and humanistic education. Shelton proudly declared that the same exemplary humanistic training and development continues at Gonzaga in the ROTC.
"They do a fantastic job with the individuals enrolling in the program," she said. "There has been a reduction in forces in recent years, and I think there are a lot of people who could better understand the benefits military service can have for you, your family and your future career."
Shelton was the keynote speaker at the 2022 Veteran's Day Luncheon—an annual event hosted by the President's Office to recognize and celebrate Gonzaga's veteran community. There, she shared her personal story of service and what it means to her to be part of the Gonzaga community, which has great reverence for veterans.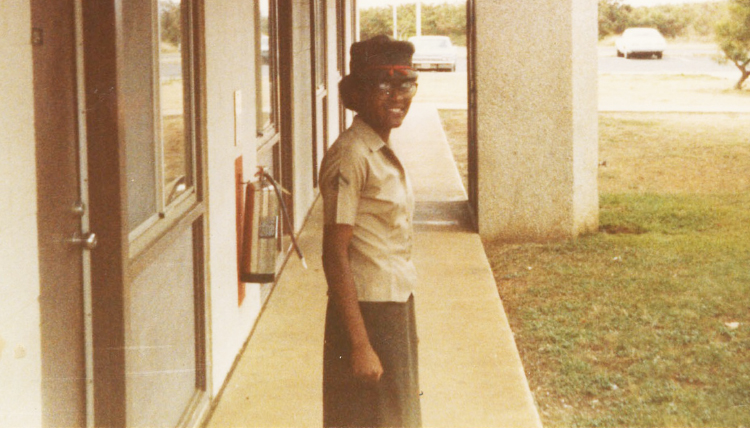 After graduating with her bachelor's degree in communication, Shelton (pictured above and below with her platoon) enlisted in the Marine Corps to "wait out" a potential recession and for assistance in paying off her student loans. It turned out to be an entirely life-changing experience. She received a top-secret NATO clearance as a radio operator and spent time in Camp Lejeune, North Carolina, and later in a Hawaiian bunker that had been shot up during the December 7, 1941, attack on Pearl Harbor.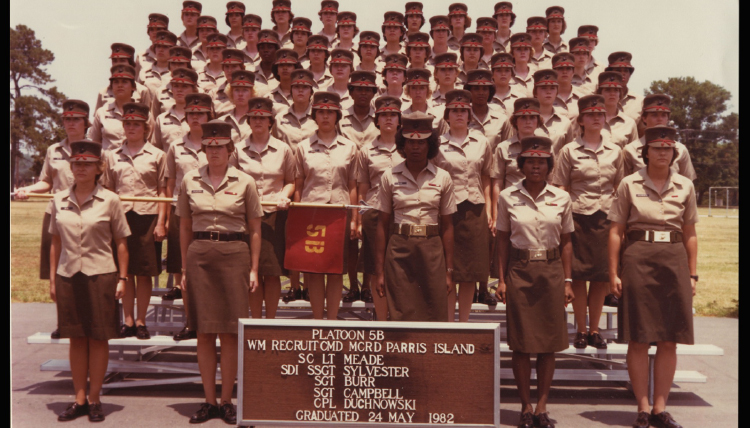 "I learned a lot about people, personalities, and communications," she recalled, "Especially in terms of being able to work as a team to get things done. The Marine Corps helped me muster up a level of confidence in myself and my abilities. I learned how to plan as a leader, how to organize and recognize skills relative to tasks on a timeline, and most of all, how to inspire. I carry these with me to this day."
Shelton looks forward to connecting with other veterans through the Gonzaga University Military Service community that will launch in April, alongside the 75th-anniversary celebration of the Bulldog Battalion Reserve Officer Training Corps. Learn more about the University's commitments to military service members and veterans here.