The Family Business of Military Service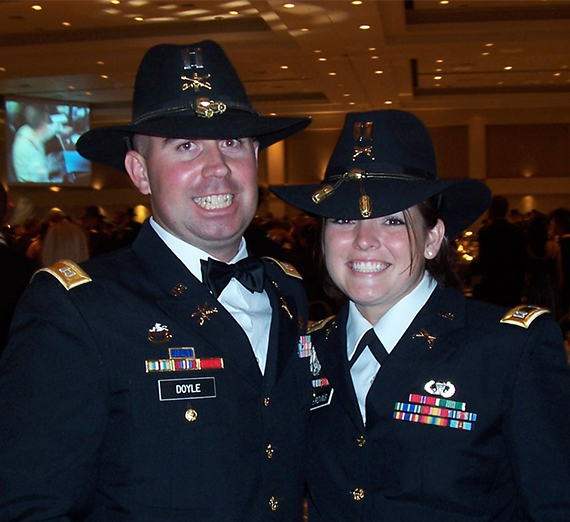 ---
Husband-Wife Duo in the Army
Mike Doyle ('01) and his wife Amanda (Gerding '01) are a pair of U.S. Army lieutenant colonels, raising four children, ages 3-10.
Mike is transitioning from 21 years of active duty into civilian life in a program funded by the Department of Defense SkillBridge Corporate Fellowship through Hiring Our Heroes. He officially retires Feb. 23. Amanda is an officer in the Washington State Army National Guard, attending U.S. Army War College Distance Education and soon to be promoted to full colonel.
For these two, military service is the family business. Amanda's siblings Ben ('03), Anna ('07) and Katrina ('10) are, like the Doyles, Gonzaga University commissioned Army officers. Anna is married to another Bulldog Battalion grad Dan Robledo ('06). Sister Emily is married to Gonzaga ROTC grad John McGuire ('02). Ben remains on active duty while Anna, Katrina, Emily and Dan are members of either the Washington or Oregon National Guards. Among the five Gerding siblings, there are 14 kids.
From War Zones to Energy Efficiency
As an armor officer, Mike spent his first 16 years on tanks and other armor units. He rose to tank platoon leader, troop reconnaissance officer, various staff positions, general officer's aide-de-camp, tank company commander in 2007 in Iraq, and headquarters company commander in 2009 in Iraq. In all, Lt. Col. Doyle served 46 months on deployment to war zones, with three tours of duty in Iraq and one in Afghanistan.
He was stationed in Baghdad where the heat exacerbated the smell of jet fuel, exhaust and steamy port-a-potties. The city was a mass of people and sandstorms swept moon-like dust everywhere. The sounds of rifle shots ringing out, helicopter blades whirling overhead and the taste of scalding hot, well-sugared tea characterized this Iraqi metropolis. Doyle's sleeping accommodations ran the full gamut, from mattresses to cots on top of Humvees or tanks, to a chair when in search of a last resort. He commanded a tank company as a tactical level leader in a combat zone. It was physically demanding, and temperatures were high in spring and summer. It was mentally challenging performing a full spectrum of operations against a terrorist enemy.
"I take great pride in the things I learned and joy in the friends I made and will never forget," Doyle says.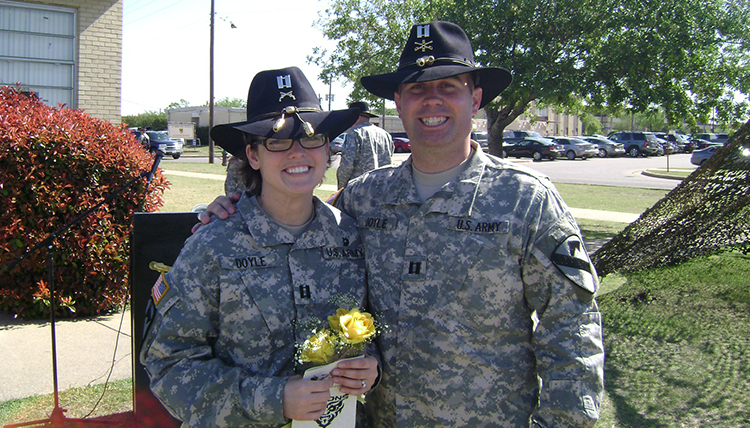 In 2006, he left the U.S. expecting a one-year deployment in Iraq. But it was extended to 15 months. He lost soldiers under his command during that tour, and that still resonates with him.
Highlights of his service overseas include "serving with the people I served with, many of whom I'm still friends with," Doyle says. "From a bigger strategic global side, in January of 2005 we helped protect the Iraq national elections. The Iraqis and Iraqi police oversaw a legitimate election, and we secured routes and kept polling places safe."
Now, Mike is part of an Army-funded program for retiring officers, soldiers and enlisted to assist with their transition into civilian life. He works for McKinstry, a nationwide construction and energy efficiency company based in Seattle, in a job he hopes will lead to fulltime employment when his Army career concludes. The Spokane McKinstry campus is home to the UW School of Medicine-Gonzaga University Health Partnership where McKinstry CEO Dean Allen has "dug into improving the planet and making things better for future generations," Mike says.
Best GU Memories
Doyle is grateful to be back in Washington for the end of his Army career. And the former Kennel Club board member loves being a Zag.
It was during his sophomore year in spring 1999 that he was glued to the TV with his DeSmet hallmates as the Zags beat Florida in the Sweet 16 of the NCAA men's basketball tournament.
"I remember people swinging from the trees by the Ad Building and around DeSmet (Hall)," Doyle says. "We all poured out onto the DeSmet mall after the game. And people came from all around the city. The local news stations were broadcasting from makeshift sets in front of Crosby Hall. Gonzaga is a really special place."
He and Amanda still have a lot of friends in Spokane and Seattle. "I have tickets with my parents for the Gonzaga-Michigan State game on the aircraft carrier in San Diego on Veterans Day. Dad is a career U.S. Navy officer, so that will be special for us."
So, what's next? "I'm an outdoorsman and love watching Gonzaga basketball. But a lot of my time will be spent watching my kids at their sports; plenty of karate, gymnastics and soccer practices."
— — —
Gonzaga's ROTC: 75 Years Strong
In 2022-23, Gonzaga's ROTC Program celebrates 75 years of meeting the country's requirement for officer-leaders in the U.S. Army – active duty, National Guard and Reserves.
Gonzaga established the first informal Cadet Detachment in 1897 and the modern-day program in 1947. The Bulldog Battalion also includes student-cadets from Whitworth University and Washington State University College of Nursing.
The United States Army Cadet Command consistently ranks Gonzaga in the top 15% of the nation's ROTC programs.
See why people choose Gonzaga ROTC: