When Veterans Come to College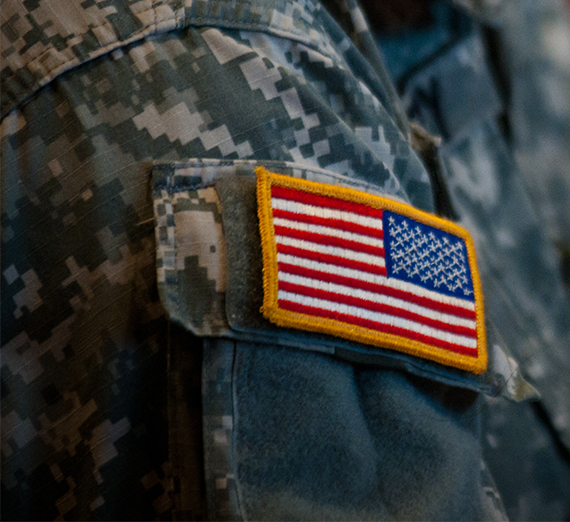 ---
By Alyssa Cink ('20)
Veterans Day is a national holiday that honors and acknowledges veteran service. Although initially known as Armistice Day, which fell on the official end of World War I, Veterans Day has grown to recognize all American veterans who have served their country. Gonzaga proudly puts the spotlight on students who come to college after actively serving in the military.
Gonzaga University's campus, this fall, is home to 117 veterans who have served actively in the military and are pursuing their degrees now. One student, Curtis Cunningham ('18), is a criminal justice major finishing his last credits, while also training to become an officer in the Spokane Police Department.
Cunningham served in the Navy for four years, and he planned on staying there longer. However, after receiving some advice, he applied to GU and was accepted only a week before his military service ended in December 2015. He drove to Spokane from his station outside of Seattle, and classes began in January.

Finding a sense of belonging on a college campus did not happen immediately for Cunningham, which is a common experience for veterans. He stopped doing the things he loved – like playing basketball – and re-adjusting to traditional, classroom learning also took some time. Looking back, Cunningham says he became more comfortable after meeting new people and joining clubs, and he encourages other student veterans to get involved as soon as they arrive on campus.
"Everything's black and white in the military. But once you're out in the real world, nothing's black and white," Cunningham says. "It's going to take time … you're not used to being in that kind of learning environment. Because a lot of us have been out of school for four-plus years, it's kind of hard to get back in that type of mind frame. But it will happen. Just have patience, and talk to people."
Because college after military service or other ventures can be challenging, Gonzaga's
Transfer, Veteran and Returning Adult Services (TVRAS) center
is dedicated to making this transition easier. Its staff and volunteers reach out to new student veterans as they acclimate to college life and connect them with mentors both on campus and in the community. The Veterans Office also organizes a drive to collect perishables and other supplies for homeless veterans, holds a special veteran graduation ceremony, and offers a designated space in the Hemmingson Center to veterans looking for a warm, welcoming place to study or connect.
A new addition to the TVRAS office is the vet corps navigator.
Katie Bresnan ('19)
a Navy veteran and senior environmental studies major, fills that role this year, organizing social events and helping student and faculty veterans navigate the resources available to them.
Bresnan, who also came to GU after four years in the Navy, says the greatest challenge she faced was losing the close, family bonds she'd formed with her unit.
"It's hard to find the sense of community that traditional students already have," Bresnan explains. Like Cunningham, she encourages other student veterans to reach out and try new things. In addition to working as Gonzaga's vet corps navigator, Bresnan promotes sustainable food practices as a volunteer caregiver of the campus garden.
Competing in club basketball during his senior year and working in the veteran's office were some of the ways Cunningham become involved in the GU community. In addition to helping the office plan events, he offers a guiding hand when new veterans come to campus, answers their questions and makes them feel more comfortable.
"I just naturally enjoy helping people," Cunningham explains.
When preparing for life after graduation, knew he wanted to pursue a law-related career, and decided to apply to local law enforcement because he could start training before officially receiving his degree. He sent applications to the Spokane Police Department, Spokane County Sherriff's Office and Washington State Patrol, and was accepted into the Spokane Police Academy. This process normally requires eight months to one year, but Cunningham says he finished applying, taking the written and physical exams, passing the background check, completing the lie detector test and interviewing in about four months. After four months in the police academy, Cunningham will be working in patrol.
"I like the Spokane Police Department, because it has a lot of different areas that you can go into after you've been in patrol. There's a lot of job diversity," Cunningham explains. "It's something different, literally every day. It kind of keeps me on my toes, and I'm kind of used to that. It's just making it through the day, trying to overcome different tasks throughout the day, trying to help people, and figure out what's going on when you have little to no information. It's challenging, and I like that."
Colleen Vandenboom, GU's assistant dean who oversees TVRAS, says student veterans, like Cunningham and Bresnan, are highly involved in campus life.
"The service-minded aspect is a theme throughout their entire lives," Vandenboom says. "It's a hard transition, but they're putting a lot of time and energy into Gonzaga and are really successful."
"It's something that carries on," Bresnan adds, "wanting to give."
Learn More
Watch this informative video by Zags Involved: