Study Abroad at Gonzaga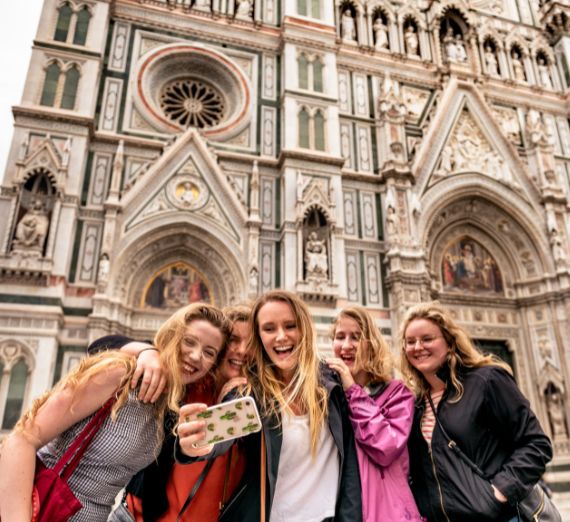 ---
At Gonzaga, we want our students to have global experiences. No matter your academic major, Gonzaga has over 60 different study abroad programs designed to challenge your perspective and bring you to a better understanding of our ever-connecting world. Over 60% of Gonzaga students study abroad during college, and we hope you do too! Hear from three of our Admission Counselors about their study abroad experiences.
Gonzaga provided me with the opportunity to study abroad for a semester in Cameroon, a French-speaking country in central Africa. I chose Cameroon for several reasons:
1. I wanted to make use of my French language skills,
2. I was interested in delving into the international development field, and
3. I wanted to immerse myself in the local culture through homestays.

I attended the study abroad fair on campus the fall of my first year at Gonzaga to collect information, and after much research, I decided that the Cameroon program was the perfect opportunity for me. I joined five other students all from different colleges across the US, along with three local Cameroonian students to earn a full semester of college credit. Together, we travelled across the country and met with government officials, nonprofit leaders, and indigenous communities, deepening our understanding of how colonialism, geographic and ethnic diversity, and state and non-state actors all contribute to the country's development and identity in the 21st century.
Much of my learning took place through homestays: I stayed with rich government officials in the nation's capital, Yaounde; a middle-class widower and her kids, both adopted and biological, in the coastal port-city of Kribi; a polygamous traditional spiritual leader with 12 kids in the rural tribal kingdom of Batoufam; and a Muslim family originally from the far-north of the country living in the Muslim-quarter of the capital.
The last month of the program consisted of an independent research project. I was able to interview over a dozen social entrepreneurs working to alleviate poverty, conserve the environment, and advocate for workers' rights across Cameroon. My 80 page paper on the challenges these social entrepreneurs face was published in the SIT digital collection and has been downloaded over 1600 times!
Overall, my experience in Cameroon was life changing. It brought me face to face with people and places that challenged my understanding of the world and helped me develop as a person for and with others. I love that Gonzaga promotes study abroad opportunities such as this to its students, and I encourage every student I meet to consider going abroad.
Becky Doyle, Admission Counselor – Study Abroad Location: Florence, Italy
When I first came to Gonzaga, I was not expecting to study abroad. However, after hearing all of the excitement from students returning from studying abroad, I simply had to see what I was missing out on. I then chose to study abroad in Florence, Italy, and it was one of the best decisions I have ever made! From living just steps from the Duomo to eating the best Italian food, there truly is no shortage of things to experience while studying abroad in Florence.
But by far my favorite part of Florence was my Fashion Marketing & Retailing class. Getting the opportunity to explore Florence and its beautiful fashion scene is something I will never forget. Embodying the Jesuit practice of "learning by doing," our class would take to the city to discuss marketing strategies used by luxury fashion companies, such as Gucci, Louis Vuitton, and Hermès. We would analyze window displays, campaigns, and the practices of each of these luxury brands which was so cool to do as a business marketing student.
I paired this class with a marketing internship that I found during one of our field trips to downtown Florence. Each week, I would head to a local jeweler's shop, Giuliano di Ricchi, and would work on his social media campaign. I did not speak any Italian, and Giuliano did not speak much English, but he and his employees became like family to me in Florence. He started to teach me Italian and showed me where to get the best coffee and cannoli in Florence! These two experiences really allowed me to gain incredible experience in the fashion industry. However, the biggest impact of my GIF experience was allowing me to embrace Italian culture and the people I met who made my semester abroad so special.
Eli Jenkins, Admission Counselor – Study Abroad Location: Florence, Italy
I was so fortunate to study abroad at our Gonzaga-in-Florence (GIF) campus in the fall of my junior year. The ability to explore the city and live in another country for an entire semester has provided perspectives that I still look back to today. From learning how to take public transportation while not having a firm grasp of the language, to attempting to order food in Italian, there was so much growth outside the classroom that I saw within myself in such a short time.
One of my favorite experiences was being part of English for Pasta. This program gives students the opportunity to pair up, and travel to a local family's home and speak with their children in English once a week. In return, the families provided a meal; hence, English for Pasta. Beyond helping the kids learn conversational English, I saw how everyday life differed from my experience in the US. Dinner is much more of an event than just a meal in Italy! Getting to serve the community and stay focused on our Jesuit mission was important to me and didn't end just because I wasn't on campus in Spokane.
Finally, being able to travel all over Europe was an incredibly unique experience. Whether through the school or on my own with friends, I traveled to Germany, Monaco, Croatia, Hungary, Poland, and all over Italy. One of my favorites (and most comical) memories from my entire study abroad experience was trying to find an Airbnb in Monaco after realizing our French skills were even worse than we thought! While it's easy to go with the crowd, getting outside your comfort zone is such an important part of the experience and creates the most authentic, formative and lasting memories.
Curious about Studying Abroad at Gonzaga?