Zags in Stellenbosch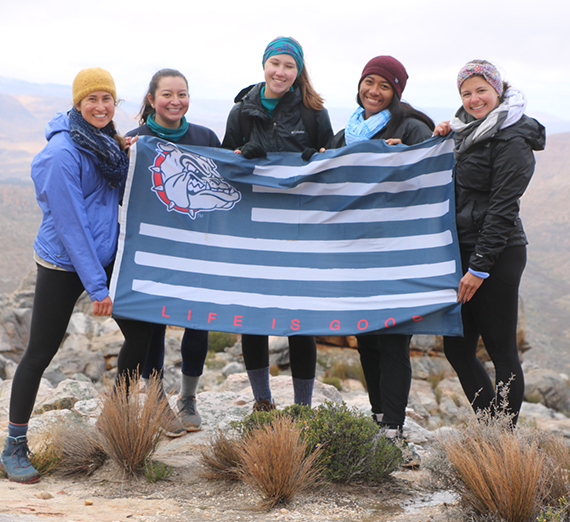 ---
Mauliola Harley Gonsalves ('20)
Mauliola Harley Gonsalves is a junior International Relations major enjoying her semester abroad in South Africa. Here, she recounts her experiences and acute observations about her new life in the Southern Hemisphere.
"If you want to go fast, go alone. If you want to go far, go together."
-African proverb
Rather than making the trek from Hawaiʻi to Spokane to start my third year as a Zag, I traveled halfway around the world to South Africa to start my semester as a Stellie at Stellenbosch University. As an international relations major, I always saw myself studying abroad, but I never thought I would choose South Africa as my destination.
With the community as a prominent characteristic of Zag culture, there is no denying that there was an instant bond between the five Zags participating in this program. Through AIFS, we were met six other students from America. Because of our living situation, we tend to spend most of our time together. Our group of ten students form a small cohort of the larger population of international students studying at SU.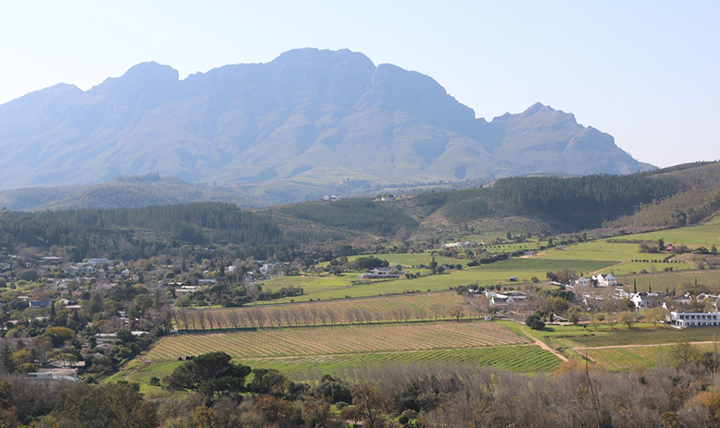 We have become a part of a community that includes students from across the world. Although our course selection resulted in classes with international students rather than South Africans, there have been opportunities for us to reach out to the greater campus community through student organizations, called "societies," and the night life. Through one of the societies, the International Students of Stellenbosch (ISOS), I am participating in an Intercultural Competency course where student representatives from various countries come together and teach each other about our home countries. It is the beginning of the course and I am excited to learn and interact with others in this global classroom.
Although I have had limited interactions with the greater South African culture, I have learned, through those that I have met, that they are very special. South Africans bring a light with them that shines through their music, art, and hospitality. The sense of community that they have, despite their damaged past, is one that displays resilience and pride in their traditions and lifestyle. However, members of this "Rainbow Nation" are also quick to point out the obvious inequalities and disparities that are easily recognizable within their society, which I believe is an admirable.
I spent most of my time prior to our trip searching for pictures of this place to convince my friends and family that I was not going to the middle of the Serengeti, yet I was still unprepared for how familiar it seemed. Stellenbosch is surrounded by beautiful mountains that protect the vast amount of vineyards that give this place the nickname "wine country." The streets are filled with shops and restaurants, including an abundance of American cuisine, with the oldest buildings looking as if they were shipped straight from Germany.
Every once in a while, I pause to remind myself that I am actually in Africa. Just as it is in the states, we are fully submerged into the "college bubble," but I have taken some opportunities to push out of that comfort zone. One example of this is visiting Langa, a township not too far from campus. Although we only spent a short period of time at their center, Guga Sʻthebe, there was still so much to learn about this place: the challenging circumstances and living conditions that most of the population endures and the rich culture of the various ethnic groups.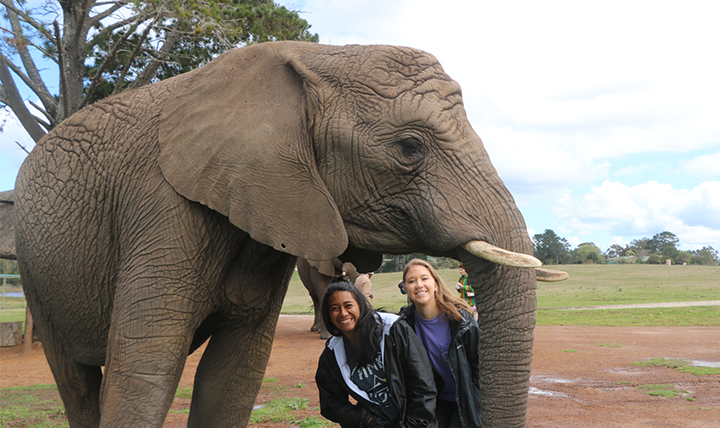 With many activities near campus and only a 45-minute drive to Cape Town, there is a lot of opportunity for adventures. In Stellenbosch, the popular pastime is wine tasting at the various wine estates, including pairings with chocolate, cupcakes, ice cream and pizza. As a balance, there are also great hiking locations at Coetzenburg Mountain, where we went for the lunar eclipse in July, and Jonkershoek Nature Reserve, a beautiful location with hills covered in protea, the national flower, and a waterfall to conclude the hike.
While in Cape Town, visited various historical sites such as the District 6 Museum, Nelson Mandelaʻs statue at City Hall and the Bo-Kaap neighborhood. There is plenty of shopping at the Victoria and Alfred Waterfront and small markets located throughout the city. One of the highlights so far has been the hike to the top of Table Mountain, one of the New Seven Wonders of the World. Although the entire climb felt like an endless trip up the stairs in College Hall, the view was well worth it. With many other activities on my South Africa bucket list, I am excited to see what the remainder of this experience will bring.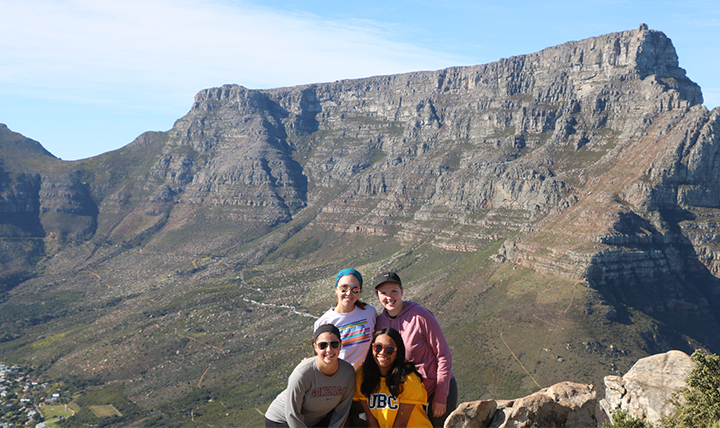 Olivia Jacobs ('20)
A junior nursing student, Jacobs is on a 9-semester track and is spending her summer and fall of 2018 in Stellenbosch, South Africa. She's "absolutely loving it," and shares her experiences here. You can read more on her personal blog, livjacobs.wordpress.com, and see photos on Instagram, @oliviajacobsphotography.
I arrived on July 14 and instantly connected with the fellow U.S. students who are part of the American Institute for Foreign Study program. Of the 10 of us, five are from Gonzaga. We live in flats (apartments) with a private bedroom and bathroom, and share a kitchen area. There are no common spaces with couches or TVs which has been an adjustment because I didn't realize how much I enjoyed sitting on a couch to chat with friends or catch up at the end of the day, but it's all part of the journey for sure!
I have been here for about four and a half weeks and have done quite a bit. South Africa has opposite seasons as the U.S. so we are currently enjoying their rainy season, or their "winter," but don't worry, there is no snow here. Stellenbosch is known for its wine and so it is only fitting for us to engage in this culture. We have spent a lot of time in Cape Town (about 40 minutes away), going on hikes, exploring various coffee shops, attending classes, playing lots of games, surfing, and afternoon walks or volleyball games.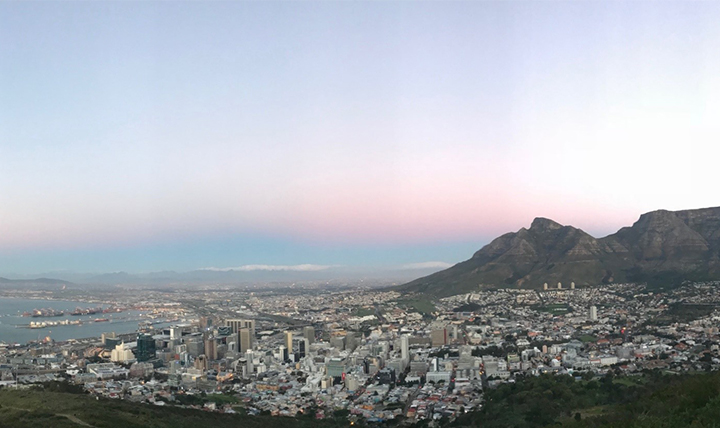 While this probably sounds like all we do is drink wine and have fun, it's only half the story. I am here to tell you that studying abroad can be incredibly hard but also very rewarding at the same time. While I am not even halfway, through my journey, I have learned an immense amount about myself and about those around me. I've have had to problem solve when things don't go how I expect, I've experienced homesickness with being over 10,000 miles away from my family and friends, I've had to learn how to occupy my time off (I only have classes three days a week), I've learned how to relax and go with the flow (even when I really want to plan every moment of the day), I've learned how to plan weekend trips and how to organize things for large groups of people, and more than anything, I've learned to be patient.
This journey thus far has been wonderful, and I am beyond excited to see what the coming weeks hold. If anyone who is reading this is thinking about studying abroad, DO IT. It will change your life and help you meet some of the most amazing people while also challenging you in ways you didn't know you could be challenged.
Learn more about Gonzaga's many Study Abroad options here.