First-Gen Everything, Now an Attorney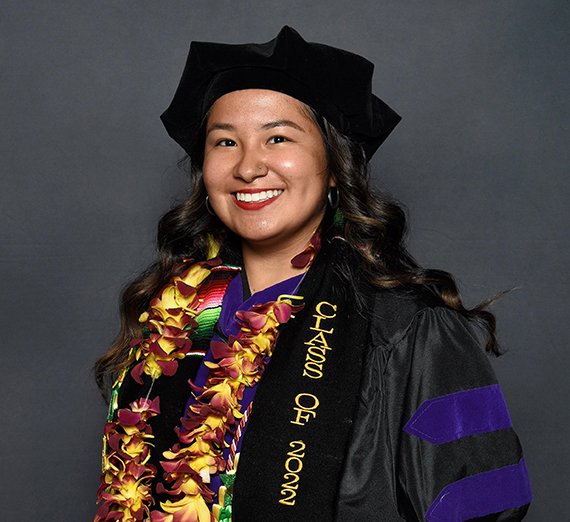 ---
"I am first-generation everything. First-gen American, high-school graduate, college graduate and law school graduate," says Lydia Lopez ('18).
Each of those was an achievement worth celebration for her parents who immigrated from Mexico to provide a better life for the children they wanted to raise. "To them, education was invaluable – it was how I could build stability in my future," says Lopez.
Maria and Jesus Lopez, Carson City, Nevada, helped Lydia with homework until she advanced beyond their abilities, and after that they continued to serve as cheerleaders as she crossed the finish line of law school.
"Having that support from my family is a good reminder of where I came from and what I can accomplish with them at my side," Lydia adds.
Gonzaga was another source of inspiration for Lopez.
The Center for Community Engagement (called CCASL at the time) exposed her to myriad opportunities for involvement and growth outside the classroom. Lopez dove into community service all four years at Gonzaga. She volunteered in the Smile program at Whitman Elementary, cooked dinner for women in transitional housing and went on spring break immersions. Her senior year, she was the student leader for a Justice in January trip to the southern border to learn more about the plight of migrants and the systems that impact them.
But involvement in the Center for Community Engagement (CCE) was more than planned activities.
"I had great conversations with Molly (Ayers) and Julia (Larsen) and the immersion coordinators on politics and so many other things," Lopez says. "This is where I was encouraged to take my education and go 'set the world on fire'."
"CCE showed me I could make a career out of helping people."
No surprise, then, when Lopez was sending out announcements of her graduation from the University of San Francisco School of Law she sent one to the staff of CCE with a note of thanks.
She chose USF because it shared the Jesuit ideology she had come to love at Gonzaga – the care of the whole person and the belief that every person has infinite worth.
"I take that ideology with me to my legal clients," says Lopez. "Even if my clients have made mistakes, they are still worthy of good legal defense."
Going to law school hadn't been planned, however. Even while leading the Justice in January experience, which involved several touchpoints with legal systems, a calling into law wasn't yet clear. It did make her want to be involved in immigration advocacy in some capacity, and she tried a year of community organizing after graduating from Gonzaga, but it wasn't the right fit.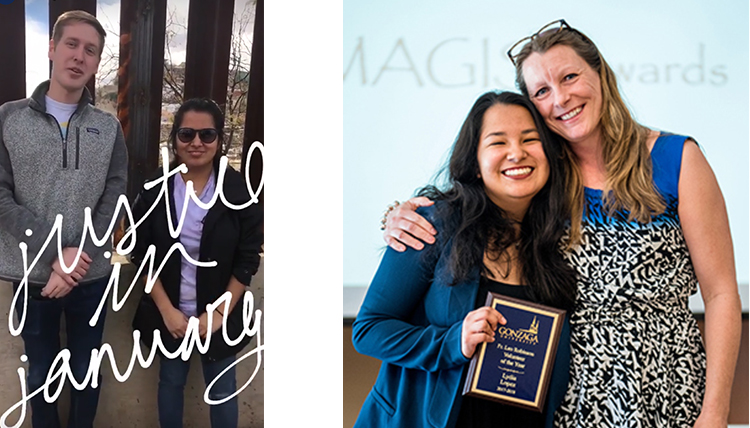 Lopez supplemented her courses with a fellowship at Open Door Legal in the Bay Area, doing affirmative immigration work pro bono for clients without the ability to pay for services.
"Legal aid is my favorite thing," she says. "I get to meet one on one with clients and help them understand what's happening in their situation. I was the native Spanish speaker on the team which allowed me to communicate and engage without an interpreter."
Although there were times she wondered if she could really be a lawyer, if she could "fit in" to that career, being involved in immigration work has given her a clear sense of purpose and belonging.
"To come to this work as a woman and to be able to speak the language – specifically with women who have been through trauma – is a really special skill," Lopez says. "What I do right now shows me that there is a space for me in the legal profession."
None of this surprises Larsen, a program assistant in CCE, who proudly shared the card received announcing Lopez's graduation from Law School. Larsen had, four years earlier, presented Lopez with the Father Leo Robinson Award for "passionately and fearlessly investing time supporting social justice and developing relationships to help further elevate these issues in Spokane and beyond."
As a staff supervisor on the Justice in January trip to the border with Lopez, I had written in support of the award nomination: "There are several names I will be watching for in the future – students who no doubt will go on to make headlines. There will be plenty who rise to superstardom and those will be fun to see. But there will also be those whose names are mentioned as having made a real difference in entire communities, and I believe Lydia Lopez will be among them. Her passions and goals come together as she stands for vital causes, guides others in their understanding of those issues, encouraging meaningful action."
She's already fulfilling that vision.
*UPDATE* As of January 2023, Lydia is a bilingual post-graduate immigration law clerk with Fuerza Immigration Lawyers, LLP, in San Francisco.
You can read Lydia's reflections on immigration, written at the border in 2017