Haven of Hope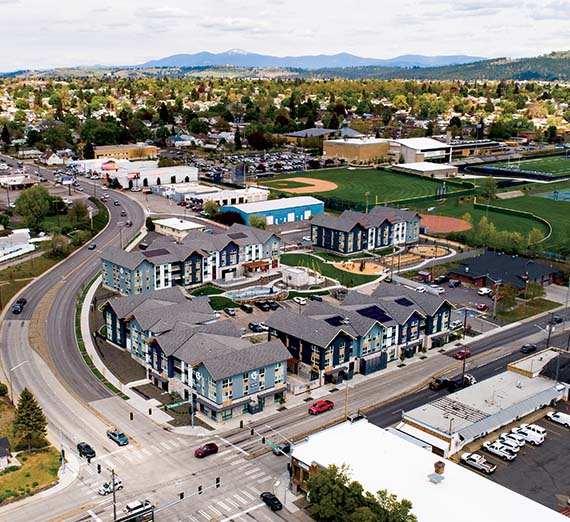 ---
Housing and homelessness continue at crisis levels in many cities throughout the U.S., including Spokane. The newest and most comprehensive option for families experiencing homelessness is the result of a fruitful conversation among three Gonzaga friends.
When Rob McCann ('95 M.A., '06 Ph.D.), president/CEO of Catholic Charities Eastern Washington, first shared the idea of such a project with Gonzaga advancement leaders Joe Poss ('97) and Shane Hatcher ('92), they answered, "We're all in."
This spring, Gonzaga Family Haven opened along North Foothills Drive and Hamilton Street, providing 73 apartments and a cadre of wraparound services such as tutoring for children and job preparation for parents.
The Haven brings together the support of four of Spokane's most prominent Catholic organizations — Catholic Charities, Gonzaga University, Gonzaga Prep and St. Aloysius Parish — to provide valuable, long-term support for families in need. More than just a place to sleep at night, the Haven provides its residents with what McCann anticipates are "forever homes."
Catholic Charities has a long history of serving both the Spokane community and Eastern Washington, and the Haven is its 17th housing project in the region. But this unique combination adds well-established family support programs with a large focus on education.
Peggy Haun-McEwen ('86, '90 M.A.), director of community for Gonzaga Family Haven, says breaking the cycle of intergenerational poverty happens through education, health care and counseling "to make the experience transformative for the whole family."
Service opportunities for students at Gonzaga University and Gonzaga Prep come naturally, as both schools encourage community engagement as part of students' formation experiences.
Molly Ayers ('00, '09 M.A.) directs GU's Center for Community Engagement, which connects Zags to volunteer opportunities, like mentoring, tutoring, meal planning and workforce development. "Gonzaga students can help to provide services that wrap around the family, living out our mission," she says. She believes the siting of Gonzaga Family Haven – located near both Gonzaga Prep and the University – has increased awareness of generational homelessness that can foster greater community involvement and better outcomes.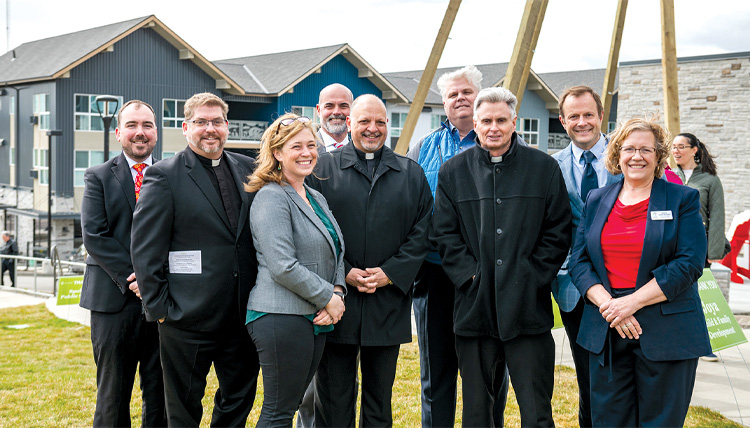 Liz Slamkowski ('12), Prep's Christian Service director, believes that having the Haven as next-door neighbor will be a natural choice for Prep students to be people for others.
The missions of Catholic Charities Eastern Washington, Gonzaga University, Gonzaga Prep and St. Aloysius Parish are intimately linked, each based on the holistic development of every person. Gonzaga Family Haven adds synergy to those commitments. From justice, service and caring for the whole person, to being a person for others, the Haven helps to create a better world.
Perhaps this project was inspired by St. Ignatius himself, who said, "Love is shown more in deeds than in words."
Be involved in this important work!