Pride Month, A Year-Round Celebration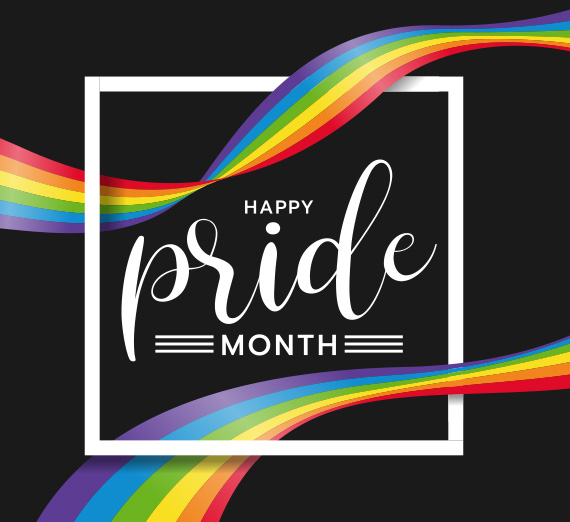 ---
June is annually recognized as LGBTQ+ Pride Month. This June is more optimistic than the past two years, as parts of the country are rebounding from the COVID-19 pandemic due to available vaccines and boosters. The wider LGBTQ+ community is reminded that this global pandemic provided examples where privilege, intersectional identities, and the need for human connection create a wide variety of LGBTQ+ pride experiences: geography, gender identity, race, ethnicity, ability status, socioeconomic status, religious identity and many other aspects of individual life experiences.
"Can Catholics celebrate Pride Month? Yes, because for the LGBTQ+ person it is not about celebrating vanity but recognizing human dignity. For the religious person, it is also a reminder that LGBTQ people are beloved children of God."
– Father James Martin, SJ
Ideas of what pride is and whom it should support are complicated conversations that need to continue in spaces both large and small. While more hopeful, 2022 has been difficult not just due to ongoing pandemic related issues but also because of various anti-transgender legislation, increasing violence and harassment of LGBTQ+ individuals including white supremacists trying to disrupt Pride Festival in Coeur d'Alene, a fear of the Supreme Court dismantling hard fought legal protections, and the conflicts focusing on LGBTQ+ pride events and spaces. Often in marginalized groups, like the LGBTQ+ community, collective needs and wants are oversimplified for the sake of organizing and reporting. History is rarely happy, simple, or easy but learning about the past allows people to create a more nuanced present and clearer goals for the future.
Due to Gonzaga's semester ending in May, The Lincoln LGBTQ+ Resource Center celebrates LGBTQ+ Pride Month on campus in October with Lavender Mass, National Coming Out Day, and LGBTQ+ History Month events and education. Matter of fact, the GU Out @ Gonzaga Affinity Group hosted a PRIDE picnic on campus for its members, families and allies on June 18. A great time was had by all!
Creating an inclusive and equitable community for LGBTQ+ students, faculty and staff at Gonzaga University means that everyone must be invested in celebrating the diversity of our campus population. The best way to do this is to keep the spirits of revolutionary struggles of Compton Cafeteria, Black Cat Tavern, Annual Reminder, and Stonewall going not just in June but throughout the year.
The excerpt below is from a peer reviewed article written in The Journal of Psychological Issues in Organizational Culture by our own Chief of Staff, Dr. Charlita Shelton. She wrote this article in 2016 as a review of the movie Stonewall, directed by Roland Emmerich.
I Do Not Care Who Threw the First Brick

In discussions I have with LGBTQ persons, I mention Harvey Milk's statement about the importance of coming out. As I paraphrase, he said, "Every gay person must come out, as difficult as it is; tell your family, your friends, the people you work with. Once they realize that we are indeed their children, that we are indeed everywhere, every myth, every lie, every innuendo will be destroyed once and for all."

Milk made this statement nearly a decade after the riots at Stonewall, which may have allowed him to make this speech or even dare to be the first openly gay person elected to public office—a seat on the San Francisco Board of Supervisors in 1978. The movie Stonewall was released to commemorate the 45th-year anniversary of the first Gay Pride march in the United States.

The 1960s were turbulent and certainly presented a cultural revolution, which was one of the most significant in American history. In considering the larger story of Stonewall, I look back on how so much pain and conflict within the LGBT community led to a transformative journey.

Among other changes, LGBT service members can be "out" and serve their country. We have seen the end of "Don't Ask, Don't Tell." We have overturned the Defense of Marriage Act (DOMA) so that same-sex couples can file their income taxes jointly, just as any straight married couple can; and we have witnessed the significance of the Supreme Court ruling that the constitution requires that same-sex couples be allowed to marry regardless of where in this country they reside. The world has changed for the LGBT community, due in part to the Stonewall protests. To me, the change is the larger meaning of the incident and of the film narrative.

Harvey Milk was murdered on November 27, 1978. One of the most influential gay leaders of our time was shot dead. He served less than a year in office. Harvey, if you could only be here today to see what has transpired. We shall overcome … we shall overcome someday. Deep in my heart, I do believe that we shall overcome someday.
Gonzaga University is a safe and welcoming community for people of all sexual orientations and gender identities. The Lincoln Center engages in LGBTQ+ education, advocacy, outreach, and programming.