Out @ GU's Pride Month Picnic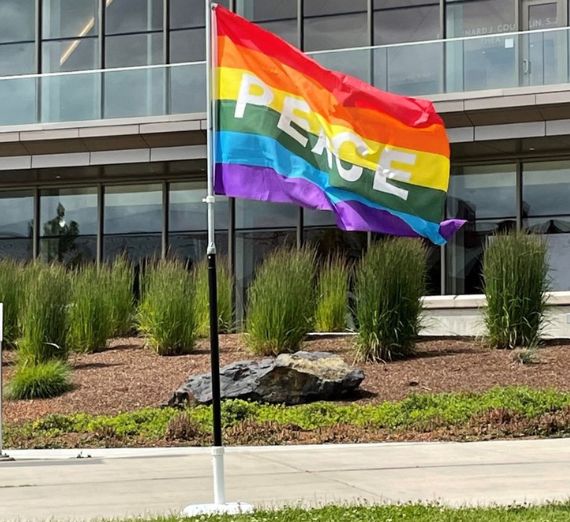 ---
"Can Catholics celebrate Pride Month? Yes, because for the LGBTQ+ person it is not about celebrating vanity but recognizing human dignity. For the religious person, it is also a reminder that LGBTQ people are beloved children of God."
– Fr. James Martin, S.J.
Since 1970, celebrations have occurred all over the United States and internationally to celebration the resistance of Stonewall and the beginning for LGBTQ+ Pride Month. These celebrations have developed in cities big and small, from Seattle to Coeur D' Alene. This year Spokane celebrated its 30th annual LGBTQ+ Pride Parade and Festival hosted by Spokane Pride. In addition, Gonzaga celebrated its first staff and faculty LGBTQ+ Pride Picnic hosted by Out @ GU.
Founded by Student Affairs staff Kyle Myers and Matthew Barcus in 2018, Out @ GU is an affinity group founded for LGBTQ+ campus professionals at Gonzaga to build community, collaborate, and share ideas or concerns. Out @ GU meets monthly during the school year over a lunch hour and hosts twice a semester off-campus social events. Currently co-facilitated by Dr. Charlita Shelton, Matthew Barcus, and Sean Joy, Out @ GU continues to develop after a pause due to pandemic safety concerns. Dr. Shelton had the idea toward the end of Spring semester for Out @ GU to host a pride picnic for campus folks and their families, both legal and chosen.
On June 18th from 1-4 PM at the Outdoor Amphitheatre by Lake Arthur, over 40 attendees, including allies, gathered to celebrate LGBTQ+ Pride Month. The weather was fantastic for a picnic, and all attendees enjoyed BBQ food from Beacon Hill. With all that is happening in the world around us, it is important to take time to connect, to recharge, and to find joy in our shared experiences.
Pride started as a revolution, and we should never lose sight of that important foundation as LGBTQ+ community members and their allies face legislative attacks today. We continue to honor our roots by recognizing the important contributions of people with diverse sexual orientations and gender identities/expressions in communities across the country through celebrations of pride and LGBTQ+ joy.
On behalf of Dr. Shelton, Sean, and myself we wish the Gonzaga Community a Happy 2022 Pride Month and we hope this picnic continues to be an annual campus event to recognize and celebrate pride.
Matthew Barcus, Program Manager of LGBTQ+ Education & Support
If you want to learn more about the team, our Campus Pride Index and our Lincoln LGBTQ+ Resource Center, click here!