Friends for Life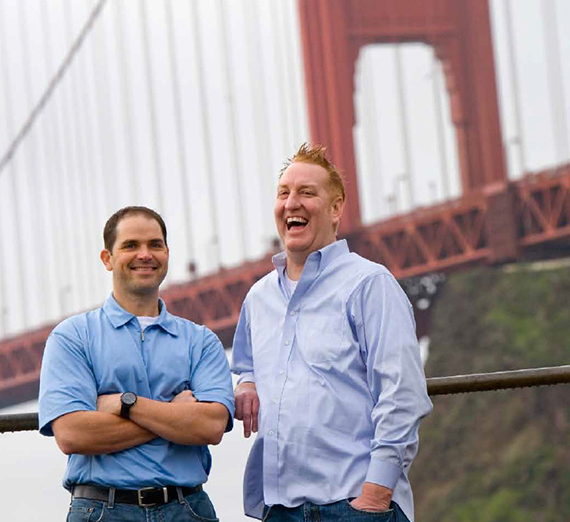 ---
In 2009, Bay Area resident Steve Brezniak received a kidney donation from 1991 Gonzaga University classmate Jason Boyd, Portland, Oregon, saving Brezniak's life and giving his wife and son back their husband and father.
Brezniak, wife Kim and children Grayson, 13, and 10-year-old twins Mattea and McKinley have since moved to Temecula, California, where Steve is an outside sale executive focused on Cybersecurity and networking solutions for TD Synnex. Brezniak is living an active, healthy life, as is Boyd, who is a product manager at Pure Archery Group, a BowTech Company based in Portland.
The two GU classmates remain close and stay in contact, especially during basketball season. "Jason's only ask when he agreed to be my donor was that I needed to become a Portland Trail Blazers fan," Brezniak says. The jury's out on that verdict, but one thing is for sure: Both will be cheering on Gonzaga this week in the NCAA West Region semifinal at Chase Center.
Read about Brezniak's campaign to get a new kidney in this 2010 Gonzaga Quarterly story.


Friends for Life
As Kim Brezniak tells it, she wondered why - on their second date - her husband-to-be pulled out photo albums of his Gonzaga buddies. Story after story, he told that evening. Kim knew that Steve was a newcomer to San Francisco who had left strong ties in the Pacific Northwest. "But it was almost like they were his family," she said. "Now I understand. They really were his family."
On Feb. 3, 2009, one of those friends, Jason Boyd ('91), kissed his 5-year-old daughter good-bye, took a three-week leave from his job in Portland, Oregon, and flew south to give Steve "Brez" Brezniak ('91) a kidney - and a new life.
Kim and Steve spent Christmas 2008 snowed in in Seattle. Steve missed an appointment with a kidney specialist. But it didn't seem like a big deal. Life went on. Kim yearned to be a fulltime mom, rather than a clinical social worker for Marin County. So that January, she gave notice. But when Steve got in to see the specialist in February, the doctor dropped a bombshell. Polycystic kidney disease was clogging his kidneys with cysts. Steve's kidneys were failing. Normal kidneys are the size of a fist. Doctors eventually compared each of Steve's kidneys to the size of a football. How could he be in kidney failure and not know it? He had fewer symptoms than many patients, and he's a remarkably easy-going guy.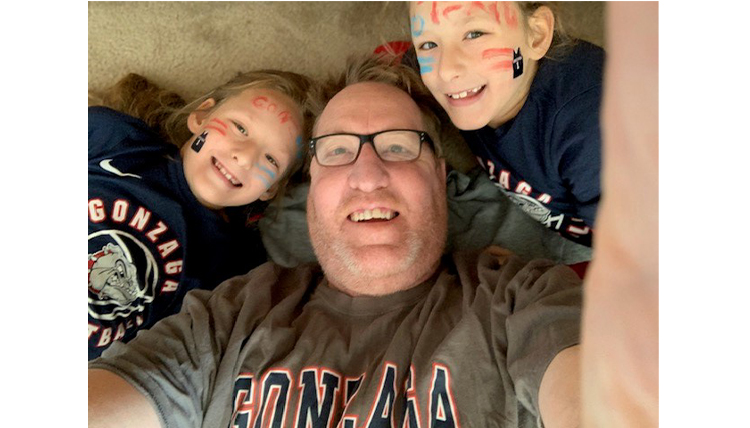 Steve learned several years ago that he had inherited PKD, but he hadn't expected its onset so soon. Steve's mother went on dialysis when he was a teen. She died in 1998 after a transplant gave her almost 10 good years.
After the February appointment, Kim panicked - and Steve left on a business trip. "He was taking it in bit by bit, not sharing a lot;' Kim said. With 16,000 names on California's kidney transplant list, Steve faced a six-year wait for a so-called cadaver transplant. His other option was to find his own donor - a living transplant.
"I was so naive about living transplants. I thought it would all be taken care of so fast;' Kim said. Grayson's room has a rocking chair. "From that chair, you can see a photograph of our wedding, hanging out in the hallway;' she said. "Looking at that picture made me think that life as we know it can change so fast. A couple of years ago I didn't have a care in the world, and now I'm wondering if my little boy is going to have a father to help him grow up:'
As Steve prepared reluctantly for dialysis his doctor had him tour a dialysis center. The machines, the older patients - it all brought back memories of his mother. He recoiled from the idea of segmenting his life into three- times-a-week sessions. How could he work in a job that re- quired travel? Dialysis seemed like waiting for death.
So, Kim - 5-foot-8 next to Steve's 6-foot-4 frame readied herself to be Steve's donor. Their difference in height and frame was significant, but not impossible. "They don't want to have a small kidney trying to work in a big body; Steve explained. "But it was going to be OK:' "I was so sure it was going to work:' Kim's voice thickens with emotion. She went through blood tests, tissue tests, blood stool testing, an EKG, a spirometry test and more. Especially for a first donor applicant, the process can run as long as three months.
No match. Kim produced too much oxalate in her kidneys, forcing them to work harder than normal. She was a poor candidate for life with one kidney. "It was an awful time. I felt like I'd let Steve down."
In May, a week after he applied for medical leave, Steve was laid off at Samsung. But Kim and Steve had socked away money to buy a house. They knew they were fortunate. They had each other, their son and health insurance through COBRA.
They turned to their parish, St. Agnes Church in San Francisco. Three friends stepped forward. Each came away diagnosed with previously unknown health conditions. None was a match. The weeks and months of summer and early autumn were ticking by. But the man with legions of Gonzaga friends felt uncomfortable asking for a kidney. "That's just the way Steve is," Kim said. "He's much happier in the role of caregiver." His abdomen grew swollen, his skin dry and itchy, fatigue crept in - all signs of kidney failure.
Father Cameron Ayers, S.J., the Brezniaks' pastor, underwent testing in October. When the Brezniaks learned he was not a match, Kim bottomed out. She posted a cryptic remark on Facebook: "We're out of people, and I'm not sure what's going to happen next."
'Brez Needs Our Help'
GU friends responded, and the next morning, Mark Briggs ('91) posted the news on Facebook. In the subject line, he wrote "Brez needs our help." Jason Boyd was headed for a Starbucks in Eugene, Oregon, when he received the email. He pulled over to read it, immediately called Sausalito, couldn't get through and left a message. "Even before I knew what it entailed, I knew I would do it. Brez and I go back a long time, 20 years," Jason said. The two had become friends their junior year at Gonzaga through the Kennel Club. "And it's not like we were a couple of guys who went to school together and then forgot about each other. I do remember thinking that I should probably know more about what I just offered to do."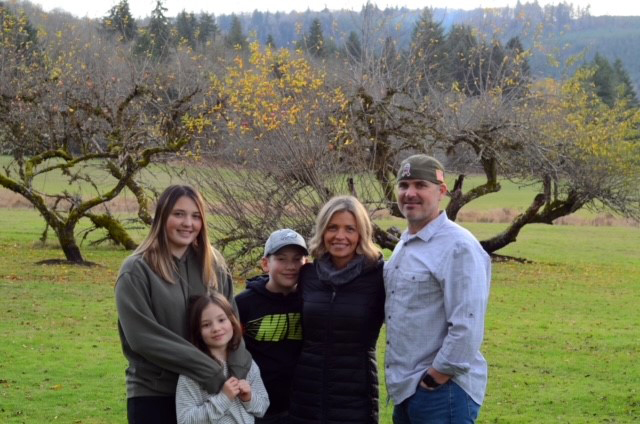 Jason Boyd ('91) and his family
Before the week was out, eight members of the Class of '91 and two other friends submitted medical questionnaires. Jason saw the transplant as a way to save Steve's life, not as a danger to himself. His only questions for the doctors were about whether he would be able to keep running triathlons and doing the other long-distance and extreme sports he still loves.

The transplant took place on Feb. 4 at UCSF Medical Center. Jason's left kidney 'pinked right up' and started working as soon as it was attached in Steve's lower right abdomen. Just two hours post-surgery, Steve's color improved and the swelling under his eyes reduced dramatically. Transplant surgeon Dr. Chris Friese declared it a 'textbook' procedure and said he was extraordinarily optimistic about the future for both men. Steve was released from the hospital Feb. 7, and Jason got out on Feb. 8. Both have recovered well.
"All the glossy college brochures talk about friendships that last a lifetime and the meaning of a Jesuit education," said Kim. "I just wanted to let you know that it is all true. These men that graduated from GU are amazing. They are teachers and salesmen, writers and entrepreneurs. They are husbands, fathers and friends."
Kim continued: "Thank you for being a university that brings out the best in the students that you serve. Thank you for making the promises true."
Check out more Gonzaga stories here.