Portland Zag Alumni Business Leaders Share Insights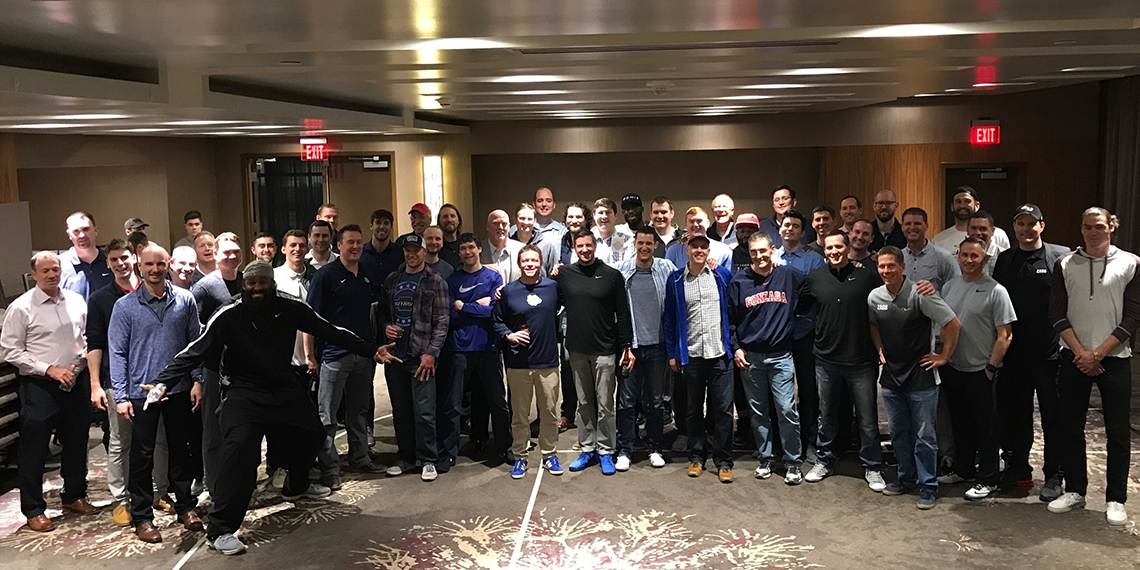 Portland's
Andrew Sorenson ('09
) and
Marty Wall IV ('94)
were years apart on the Gonzaga basketball roster. But on one April night in Phoenix in 2017, they couldn't have been any closer. The same could be said for the other 50 Gonzaga basketball alumni invited into a team meeting to lend their support to the 2017 Final Four team, only to receive a standing ovation from those current players who would battle for the national championship three days later.
"We came to support them, but instead they honored us," says Sorenson, a walk-on with the drive of a champion. "You think about the history of this program and realize that today's players recognize that we're all part of the same team. Each one of us had a small piece in what this program has come to mean to so many people."
"That moment was incredible," says Wall, another walk-on who, like Sorenson, made friends at Gonzaga to last a lifetime.
"Those current players had created a video to share with alumni that wove the highlights of their season with flashbacks of highlights of our years as players. It was very emotional," Wall remembers.
Another cool thing about that time in Phoenix is that Mark Few invited his former Zag coaching partners back to share that special time with his team and the Zag alumni, Wall adds.
"We're all part of the same team here," Sorenson says.
But don't dare think that the Gonzaga experience was solely about basketball for these two longtime supporters of the University.
Sorenson Finds his Nike Niche
Sorenson tried out for the team as a freshman walk-on but was not selected. What he found was great camaraderie with more students by playing pick-up basketball in the fieldhouse every day. He became more involved in school activities, was elected vice president of the Knights, and helped on major service projects for move-in day and graduation.

"It was cool being a part of that team, helping fellow students and living the mission of the University," says Sorenson, now Nike's footwear manufacturing and engineering operations director, working on the next global innovation in the footwear manufacturing and supply chain space.

Come sophomore year he was back for another tryout with the men's varsity team. By this time Assistant Coach Tommy Lloyd knew who he was and had been watching him play in the pick-up games at Martin Centre. "After the second day of tryouts, Tommy said, 'We'll give Andrew a shot.' I was thinking, 'What just happened?' It was so surreal."

One of his best basketball memories was walking out of the tunnel in the Kennel for his first day of practice, running into J.P. Batista at the water jug, and J.P. saying, 'Welcome to the team. If you don't have a locker you can share with me.' Scoring a career-high 15 points on Senior Night wasn't bad, either.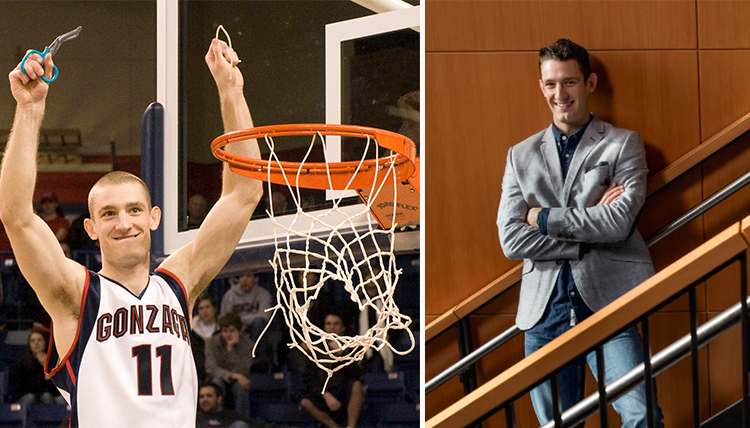 Sorenson earned a bachelor's in business administration degree with a concentration in management information systems, and an M.B.A. in finance. He worked for NEXT IT with former Zag great Jeff Brown ('94) and teammate David Pendergraft ('08) before getting an out-of-the-blue call from Nike, and he began his career in Beaverton three weeks later.

"My work at NEXT IT helped me to understand what I was good at and what I liked doing," Sorenson says. "It also helped me realize what skill sets I needed to develop."

Once while traveling for Nike in Asia, he vacationed in Okinawa to spend time with former teammate Ira Brown ('09), who is still playing professional basketball in Japan. "I'm on the other side of the world hanging out with a good buddy, thanks to the opportunities that my Gonzaga experience provided."

With Nike, Sorenson and a team are analyzing best manufacturing processes, investing in new ideas, communicating their work to leadership in a digestible way, strategizing about what Nike should be doing, what goals are being met and what are not, and creating more efficiency on the line.

He also serves as an alumni mentor and Gonzaga's Portland chapter president, roles that he values very much. It was his alumni mentor connection that helped land his jobs at NEXT IT and Nike.
For Wall, A Career that Began at Jack 'n' Dan's
Wall came to Gonzaga primarily because of his family connection here. His dad, Marty III, played basketball for the Zags (1966-70) and married his college sweetheart, Judy Cox. Marty IV met his wife, Kristen Petro ('94), here. Their eldest of two sons, Joe, is completing his senior season with the Seattle University Redhawks basketball team. Son Mack is a senior at Jesuit High in Portland, and has applied to Gonzaga.

At 6-10, Wall was the tallest player on his team. But as big as his stature was, that wide smile across his face was even bigger. A grateful man, Wall used his Gonzaga education (BBA in finance) to pursue business opportunities.

A job bartending at Jack 'n' Dan's and a recommendation from Zag alumni owners Jack Stockton and Jeff Condill turned into Wall's first job with Widmer Brewing. He had stops in Boise, Phoenix and Portland and became vice president for sales before the company changed names to Craft Brewers Alliance. He carried the same title with Stumptown Coffee Roasters (2013-2016), then became VP for business development and private equity, and later president of sales, for Brew Dr. Kobucha (2017-2021). In January, he moved as VP for sales to Chuckanut Bay Foods, a cheesecake company based in Blaine, Washington.

"Portland is a great market for small and medium innovative food and beverage companies," Wall says. "The community is open to private enterprise and local companies, and we all help each other. The larger companies with local interests, like Nike and Intel, are also very supportive of smaller businesses."

Wall is happy to have worked for values-based companies that want to do good for their customers and the community.
"I've always had a thirst for growth and learning. The values I learned through my Jesuit education have translated well as I've transitioned through my business life."
A side note: Wall's boss and mentor at Widmer Brewing was Terry Michaelson, Gonzaga assistant basketball coach Brian Michaelson's father. Terry's other son, Christo, is assistant men's soccer coach for the Zags.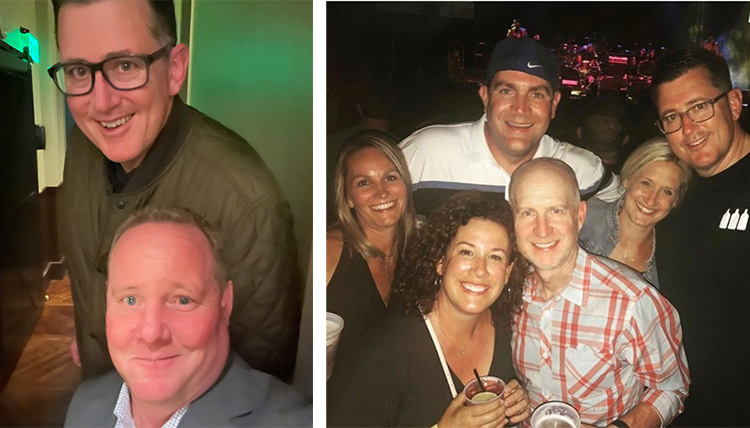 Wall, now 28 years removed from a Zag uniform, has maintained close relationships with many of his teammates and fellow Gonzaga students. Just last November he and a half-dozen other Zags and their wives met for a break in Cabo San Lucas, Mexico.

Both Sorenson and Wall have maintained close relationships with their GU business school professors and mentors. "(Dean) Ken Anderson has helped me with advice and has directed students my way whom I ended up hiring," Wall says. Sorenson estimates about 100 Zags are now employed at Nike.

Wall was part of the first GU team to earn a spot in postseason competition, upending favored Stanford in Palo Alto, California, in the National Invitation Tournament. The team advanced to the second round at Kansas State in Manhattan. "I remember having all of our parents there and just how rewarding and fun it was to see our parents become friends," Wall says. "We were sad we lost, but we knew those relationships would last forever . . . and they have."

"Everyone at Gonzaga brings their own piece of the pie," Sorenson reminds. "It's hard to explain this to people who haven't experienced what it means to be a Zag. Everyone brings their best. It's March and the best time of the year."

We're all part of the same team here.
Find businesses in Portland owned by Zags!
Academics
Alumni
Careers & Outcomes
School of Business Administration
Academic Vice President
Alumni
Career Center & GAMP