Jeff and Margaret Reed's Generosity Inspires Hundreds More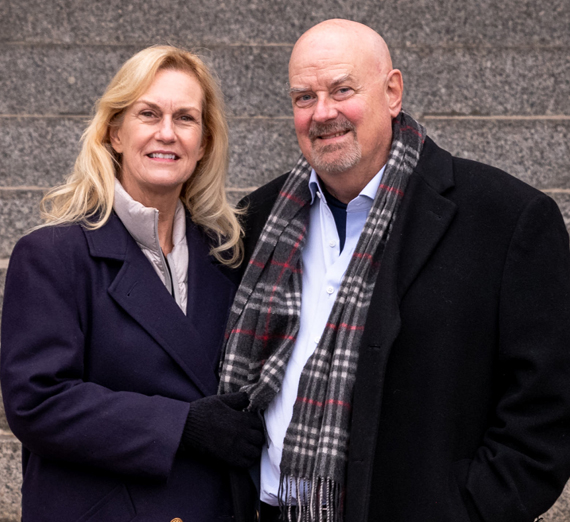 ---
You could hear ELO filling the air from a neighbor's Macintosh stereo with a set of Klipsch speakers that were positioned in a Dooley Hall dorm room in just such a way as to maximize the rock-and-roll experience, while Jeff Reed ('75) and friends "let their hair down" after a grueling week of study.
"As engineering students, we worked hard and played hard," recalled Reed. "And I was absolutely in love with that stereo."
Reed's ethic of hard work remained steady throughout his life, which empowered him to form one of his most defining characteristics: when Jeff Reed sees a problem, he solves it. It's the driving force that has led Reed into roles as a leader and contributor to several industry and charitable organizations, including his Alma Mater. Most recently, Reed and his wife Margaret identified a need to boost support for science, technology, engineering, and math, specifically among STEM alumni at Gonzaga, and what they've done to address it will have a ripple effect for generations to come.
"You can be anything you want, so long as you become an engineer first."
Jeff Reed was born in San Francisco and raised in California's central valley. In their family of devout Catholics, the children attended parochial schools while their father worked as a General Engineering Contractor and their mother, a high school teacher, traveled to help families who were homeschooling their children.
At the age of 10, Reed's family allowed him to spend a summer in Colombia as an exchange student, sparking a fascination with international travel and experiences abroad. Later, while at Bellarmine College Preparatory in San Jose, Reed had the opportunity to spend his Senior academic year studying in Spain, just north of Barcelona. But before he left, he put in his college applications—Gonzaga University was one of them.
"I was originally interested in anthropology," Reed admitted, "but in our family, you could be anything you wanted, so long as you became an engineer first. Gonzaga had a combination engineering and MBA program where you could complete both degrees in five years."
Once in Spokane, Reed found the rigorous and highly respected civil engineering program he was hoping for, along with opportunities to "play hard," too. He was on the Rugby team, and on Thursdays when he didn't have an afternoon engineering lab course, he'd pack his car with friends and hit the slopes of Mt. Spokane as part of a P.E. credit. His dormitory neighbors would crank up "Pick up the Pieces" throughout the halls on the weekends and everyone would let out a collective sigh of relief that Monday morning classes were still hours away.
Reed's memories of Gonzaga in the early 1970s are full of stories — like late-night runs to the Park Inn for sandwiches, the not-so-mysterious disappearance of an electronic slide rule at the hands of a prankster, and a road trip to the Bay Area with his Catherine-Monica neighbor "Bob" Spitzer and a few classmates, where they found "Spitzer's Diner" and took a photo of the future Jesuit and Gonzaga University President posing in front of the sign and alternative career.
"I've looked everywhere for that picture," mused Reed with a smile. "But I still can't find it."
Those memories (and many more) forged a bond between Reed and his Gonzaga family that would last a lifetime. To this day, the Reeds have been actively connected to Jeff's classmates, and the institution itself. On the Board of Regents, he has served in several roles, including vice chair, and applied his characteristic mantra of "find a problem; solve it" to the benefit of thousands of Zags over the years.
"I didn't go to Florence," he recalled. "Engineers couldn't because it didn't fit into the program."
For someone who cared deeply for experiences abroad, Reed saw this as a problem to fix. So, he helped promote with former Dean Dennis Horn the second semester sophomore engineering program at Gonzaga in Florence. Reed's son Matthew ('15) was part of the early classes to enjoy the opportunity. Both of Reed's sons are civil engineers, while his daughter earned degrees in environmental economics and management information systems.
Reed's wife Margaret is also an engineer, working alongside her husband at Basic Resources, Inc., a company in the industry of heavy highway construction, materials, and manufacturing, based in Modesto, California. Margaret was studying chemical engineering when she met Jeff while visiting friends on campus at UC Davis. Later that night at a family barbecue, he saw her again.
"At the time, I was working on a project building a waste oil reprocessing plant," he said, "and I asked if she wanted to come see it. It was a non-date offer she couldn't refuse. She was a smart woman, and I've always been attracted to that."
The rest is history.
Engineering a harmonious and lasting impact
About a decade ago, a need at Gonzaga became evident to Reed. With the STEM disciplines rapidly advancing, Gonzaga's School of Engineering and Applied Science and College of Arts and Sciences were going to need significant support in the coming years. Working with others on the Board, and University administrators and academic leaders, Reed helped to outline a plan that would not only set the stage for new facilities, but also to equip it, sustain its operations and continue its development into the future.
The Reeds made a significant early donation to support the construction of the John and Joan Bollier Family Center for Integrated Science and Engineering—with a caveat: it was to be used to match the gifts of other donors.
"There was opportunity to engage more STEM alumni so that we could do more than just build a facility," said Reed.
Reed's plan worked. More than 650 Zags showed up with gifts to help build the facility. He and Margaret were so encouraged by the turnout that they made a second gift to encourage even more giving — this time, in support of the resources to equip the labs, classrooms and maker spaces in the building. With this donation, the Reeds' support for students through the Bollier Center topped $2 million.
The Reeds aren't finished having an impact at Gonzaga. Jeff has goals for the future of the University — many of which echo the spirit of collaboration that the Bollier Center embodies.
"If we all come together, we can make these programs a cut above every other one out there," said Reed, who noted that he finally treated himself to the Macintosh stereo and speakers a few decades after earning his degrees.
Join the 650 Zags who've shown up to support STEM at Gonzaga and your gift will be matched dollar-for-dollar by Jeff and Margaret Reed.