GU Professor Curates Striking Show of Mexican Masks at the MAC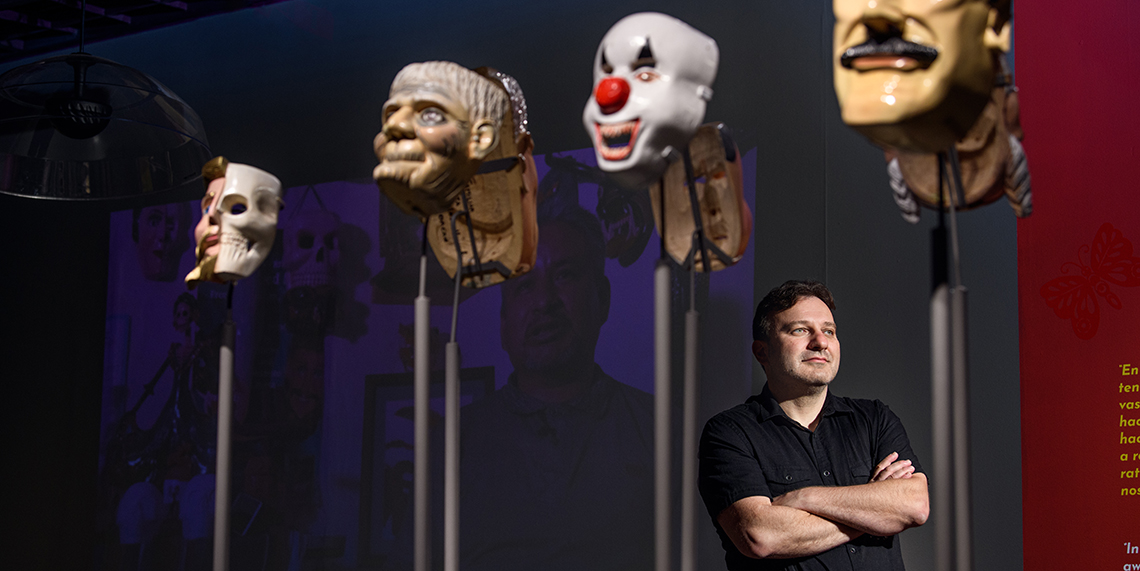 Some are highly lacquered and shine with pride. Others are subtle, wooden, with carefully carved wrinkles and beards, and eyes stretched thin with smiles and grins. Some have glassy eyes that reflect the light, with tiny slits just above them that let the wearer see.

Devils are adorned with frightening snakes and lizards and horns. All colors – black, green, the reddest of reds.

They come to life on shoulders covered with simple robes or elaborately sequined gowns. They explode with action via videos of a walk through a crowd attracting followers, or a vibrant dance that tells a story.

Pavel Shlossberg, GU professor of Leadership Studies, has captured the artistry and, as curator of "Dancing with Life: Mexican Masks," introduces Eastern Washington to an utterly compelling art form. The eight-month exhibit at the Northwest Museum of Arts and Culture in Spokane opened in September.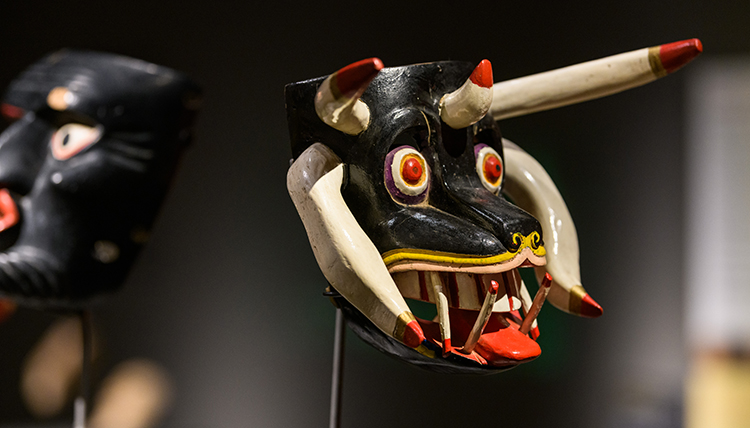 The lauded exhibit features 54 masks, including several historical items from the original Jesuit collection in the former Museum of Native American Cultures at Gonzaga, as well as dance regalia and video presentations that contextualize the cultural significance of masks and mask making in the northwestern region of Michoacan, Mexico.

Shlossberg, whose doctoral thesis led to publication of his book "Crafting Identity: Transnational Indian Arts and the Politics of Race in Central Mexico," says his interest in the field was spurred by "the sense that art, creativity, performance and the work of cultural expression is central to understanding, to intercultural communication, and inclusion."
"The masks exist in the context of performance, which includes dancers, stories, music, community celebrations," Shlossberg says.
"To do justice to the masks, it is necessary to present them within those contexts, centering artists and dancers and their voices and community performances and celebrations."   

A catalogue accompanies the exhibit, the first time the MAC has been able to offer a printed companion to an exhibit in about a dozen years, according to Shlossberg. It's available for sale in the MAC's gift shop.

"Catalogues allow you to develop and flesh out arguments in greater detail, and they endure as a permanent record and statement long after an exhibit has closed," he explains. Distribution is managed through the University of Texas Press, which is an important and established vehicle for circulating public scholarship focused on Mexican/Latin American/Hispanic themed topics. The catalogue features chapters from Latinx scholars with roots in the featured communities, Gabriella Spears-Rico, Luis Urrieta and Mintzi Martinez-Rivera, among others.

GU faculty have embraced the opportunity to explore the art form in their classes. Celebrated Mexican mask artist Felipe Horta joined GU art classes during his recent visit to the MAC exhibit, which features his work. Three dance classes have benefited from the partnership with class visits, and two of the dance classes then collaborated to create an original performance at the MAC. An Interdisciplinary Arts class created masks of their own inspired by the exhibit, and an Improvisational Dance class created a performance score based on responses to their peers' masks and to the exhibit.

The School of Leadership Studies hosted its Advisory Board meeting at the MAC in November, allowing board members to tour the exhibit, and helping increase their awareness of the integration of academia and culture, which can be infused into practice and everyday life.

"I feel honored to have worked with my colleagues at the MAC, ethical and mindful curators and arts educators who have not taken the easiest route," says Shlossberg, "but who have been willing to tell a more meaningful and complex story, that takes more effort, intentionality, and time to tell. I am also grateful to my colleagues in Communication and Leadership and the School of Leadership Studies who have given me the opportunity to continue this work over the years. Most importantly, I owe a lot to the artists and communities in Michoacan who have been my kind and patient teachers and collaborators over many years,"
"Dancing With Life: Mexican Masks" continues at the Northwest Museum of Arts and Culture through April 16, 2023. The museum is located at 2316 W. 1st Avenue.
Learn about the School of Leadership Studies
Arts & Culture
Academics
Diversity & Inclusion
School of Leadership Studies
News Center