"Dancing With Life" Exhibit Highlighted in Spring Special Events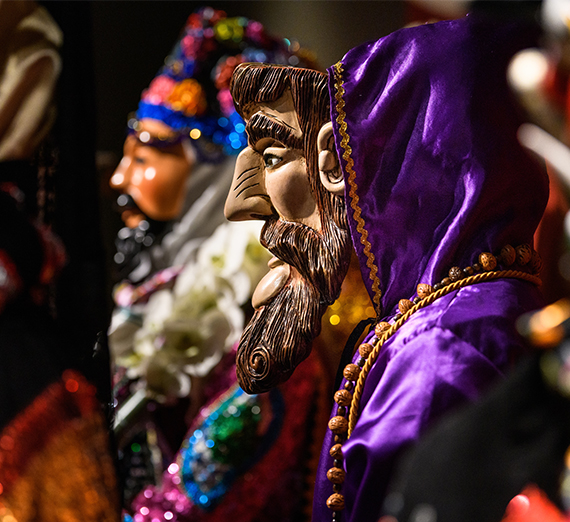 ---
The Northwest Museum of Arts and Culture has announced a series of spring events highlighting the "Dancing with Life" exhibit curated by GU professor Pavel Schlossberg. The exhibit of 54 dance masks from the region of Michoacan, Mexico, along with dance regalia and video presentations will close in mid-April. Museum-goers looking to learn more about this striking art form will be interested in these events.
Dancing with Life: Recontextualizing Mexican Masks – Book Panel Discussion Saturday, March 4; 2 p.m.
In celebration of the Dancing with Life: Mexican Masks exhibition and launch of the connecting book Dancing with Life: Recontextualizing Mexican Masks, the MAC hosts the book's authors to discuss the exhibition and book, and what the shared development process has meant to them. Moderated by curator and author Pavel Schlossberg, panelists are contributing authors Mintizi Aunda Martinez-Rivera, Gabriela Spears-Rico, and Luis Urrieta, Jr. Cost: $10 suggested donation
Mexican Mask Making Using Paper Mache Thursday, March 30; 5:30 p.m.
Artist Felipe Horta is a traditional mascarero, or mask maker, from Tocuaro, Michoacan, Mexico. In the world of mask-making, he is internationally renowned for creating amazing dance masks, which inventively blend customary and contemporary elements. During this workshop, Horta will guide participants in decorating and painting their own paper mache masks using acrylic paints. Carved masks made by the artist will be available for purchase and decoration as well. Supplies and a glass of wine (for individuals 21+) or water included. Cost: $45 MAC members, $50 non-members
Master Carving Class: Mask Making with Felipe Horta Friday, March 31; 10 a.m.-4 p.m.
Internationally renowned mask-making artist, Felipe Horta, will lead this special master carver workshop where participants will learn the techniques of carving a Mexican style dance mask. The class will begin by visiting the Dancing with Life: Mexican Masks exhibition with Horta and the curator Pavel Schlossberg. Ask questions, gain inspiration, and then begin the process of carving your own mask. The MAC will provide the blocks 2 of wood, although each participant will need to bring their own carving tools and will need to submit three (3) examples of their work before registering for the workshop. Cost: $150 MAC members, $175 non-members
The Northwest Museum of Arts & Culture also offers additional family-friendly activities on Saturday, April 1 from 11 a.m.-3 p.m. The event features Hispanic folk dancers, music, mask-making art, and an artist demonstration with mask-maker, Felipe Horta. Cost is included with Museum admission.
For information on the exhibit and museum