Presidential Speaker Olga Custodio's Passionate, Historic Path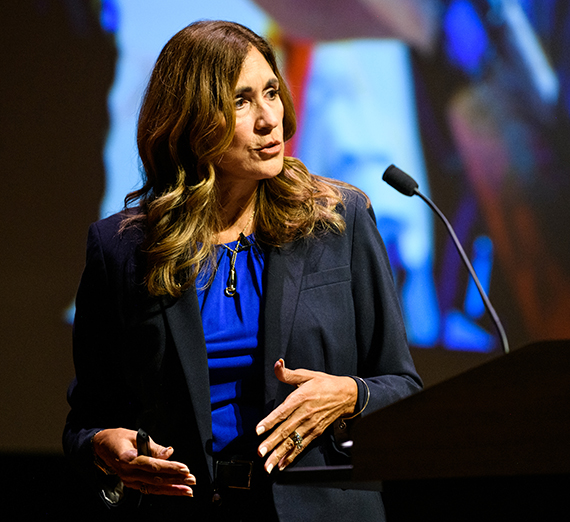 ---
Denial just means "not yet."

Of the many lessons imparted by Olga Custodio, the 2023 Presidential Speaker Series guest, to a rapt audience at the Myrtle Woldson Performing Arts Center, those five words coming toward the end of her hour-long talk might hold the biggest lesson she learned in a life full of overcoming barriers.

Denied the opportunity to join the Air Force Reserve Officer Training Corp as a college student at the University of Puerto Rico because she "wasn't qualified" as a teenager, Custodio pivoted toward a business degree and bided her time.

Denied the chance to join the Air Force at the same officer level as her husband, despite both having top scores on entry exams, she took a job in the civil service and waited.

Denied the chance to explore opportunities in the U.S. Army's aviation field because it didn't have anything "for women," she walked out of the recruiting office thinking, "That's okay, I didn't want to join the Army anyway."

So many times Custodio was denied the chance to start pursuing her childhood dreams of becoming an Air Force pilot, but she never gave up. She instead looked at her situation, found the next logical path that could take her the direction she wanted to go, and kept moving forward. Her perseverance ultimately led to her becoming the first Latina fighter pilot in U.S. history and the first Latina pilot for American Airlines.

Custodio's appearance and lecture "Persistence, Passion and Patience" marked the eighth edition of GU's Presidential Speaker Series. The series launched in 2011 to bring thought-provoking leaders, authors, activists, and researchers to campus to share their passions, and Custodio joined the likes of scientist Jane Goodall, journalist Thomas Friedman and activist Tarana Burke as one of President Thayne McCulloh's noteworthy guests. This year marked the first Presidential Speaker since 2018, pre-pandemic, and came on the heels of Custodio receiving the Hispanic Heritage Foundation's Hispanic Heritage STEM Award for her advocacy of expanding opportunities for students in underserved communities interested in STEM fields, especially aviation and aerospace.

Custodio was once one of those students. She graduated high school in Puerto Rico at 16 after a childhood bouncing around the world thanks to her father's career in the U.S. Army's 65th Infantry Regiment, aka the "Borinqueneers," the only all-Hispanic military regiment in U.S. military history. "I knew I wanted to serve my country, but in the Air Force," she said.

All those early denials in her career could have killed her spirit, but Custodio looked within and knew that she was meant to soar. If she persevered and stayed focused on her goals, she'd be better off forging her own path than accepting what men were willing to offer a young woman trying to break through into the male-dominated pilot field.
"I thought to myself, 'Why am I going to accept something less, knowing I was qualified for something more?'" Custodio said. "I always felt like I was an equal, no matter where I was, because I knew that I was supposed to be doing what I was doing, where I was doing it."
Custodio ultimately found her way into pilot training just before the age cutoff of 26 through a classic combination of pluck and luck. She was living in Panama, where her husband Edwin was stationed at Howard Air Force Base, when she came across a pamphlet saying the Air Force was searching for female pilot candidates. She tracked down a sergeant typically tasked with recruiting high school boys and shared her plans.

"I told him what I was trying to do, and he said, 'I've never recruited an officer before,'" she recalled with a laugh. "I said, 'Not to worry, let me help you help me. We're going to do this together.'"

She studied, she took tests, she took physicals, and she eventually got the good word.

"I waited 10 years, from 16 to 26, to finally get my opportunity," Custodio said. "It was the best Christmas present ever, when the staff sergeant called me and said, 'You're accepted as a female pilot candidate for the Air Force.'"

In her pilot training, Custodio said, she learned that in emergency mode, every pilot learns three things to do: maintain control, analyze the situation, take the appropriate action. Those turned out to be skills she'd developed years before, as a child moving between countries like Puerto Rico, Taiwan, Iran, and Paraguay, and then as a young professional methodically working her way toward her Air Force dreams, even as the denials were piling up in her path.

And they were skills she recommended honing to the audience in the Woldson, and in her meetings with students and GU faculty and staff during her visit. During an intimate conversation earlier in the day with students from the Unity Multicultural Education Center — co-sponsors of Custodio's visit with the Association of Latin American Students, the Office of Inclusive Excellence, and Transfer, Veteran & Returning Adult Services — she recounted how unpredictable her journey was every step of the way. Being able to adapt — to keep her head, analyze her situation and take a logical next step — led her to a life where she not only attained her own dreams of flying, but now helps generations of young women follow the path she blazed.

"I had a plan, in my vision, in my heart, that this is what I wanted to do," Custodio said. "When it didn't happen [right away], I didn't throw it away. I didn't push it away. I just changed the plan, and the plan kept changing, and I kept adapting to that plan to find my opportunities."
The Presidential Speaker Series started in 2011.