Olga Custodio, America's First Latina Fighter Pilot, Featured at Gonzaga's Presidential Speaker Series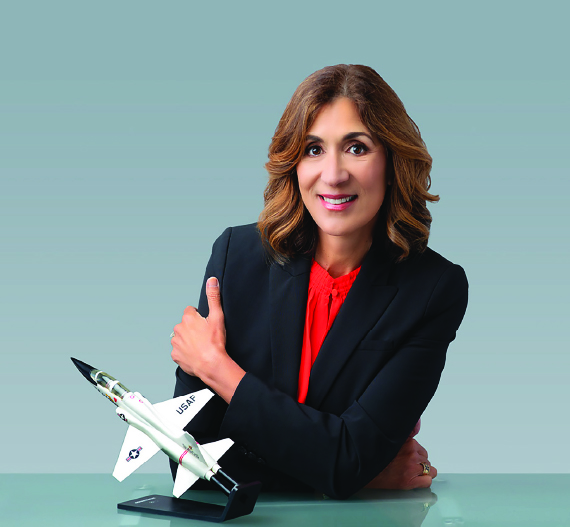 ---
When retired U.S. Air Force Lt. Col. Olga Custodio takes the stage at the Myrtle Woldson Performing Arts Center Oct. 4, she'll share stories showcasing how overcoming self-doubt, staying open to possibilities, and seeing herself as an equal to her peers led her to soar to unprecedented heights in her field.
As an undergraduate at the University of Puerto Rico, Custodio was denied the chance to join the school's Reserve Officer Training Corps program, which didn't admit women at the time. Undaunted by that early challenge, she not only went on to become an Air Force officer, she graduated in the top 5% of her class in pilot training, with a fighter qualification to fly the T-38, the world's first supersonic training jet.
Custodio joins an esteemed list of inspiring speakers featured at Gonzaga's Presidential Speaker Series since its 2011 launch by President Thayne McCulloh. The series attracts distinguished authors, activists, leaders and researchers to share their passions with the Gonzaga and Spokane communities. Among past Presidential Speakers are scientist Jane Goodall (2013), journalist Thomas Friedman (2012), #MeToo founder Tarana Burke (2018), and Liberia head of state Ellen Johnson Sirleaf (2015), the first woman elected head of state of an African nation.
Custodio's appearance marks the return of the Presidential Speaker Series to campus after a COVID-19 pause, and is part of Gonzaga's celebration of National Hispanic Heritage Month.
"Accomplishing many firsts during her career, Ms. Custodio has shattered stereotypes and served as a powerful role model for those aspiring to become a pilot," said Gonzaga President Thayne McCulloh. "From breaking barriers and overcoming challenges as a woman in a male-dominated profession throughout her career, she has gained essential life insights and perspectives that she will share with everyone, especially women working to achieve their dreams."
Custodio ultimately served 24 years in the Air Force, retiring as a lieutenant colonel, before becoming the first Latina American Airlines pilot. She's flown a multitude of aircraft, boasts over 11,000 flight hours, and now works with several nonprofit organizations as a STEM advocate. Custodio is particularly passionate about inspiring students from underserved communities to pursue careers in aviation and aerospace.
"Persistence, Passion and Patience: An Evening with Lt. Col. Olga Custodio USAF (Ret.)" will take place Tuesday, Oct. 4, at 7 p.m. at the Myrtle Woldson Performing Arts Center. The event is free and open to the public, but tickets are required.