Commission on University Response to the Catholic Sexual Abuse Crisis Recommends Next Steps, Path Forward for Healing and Justice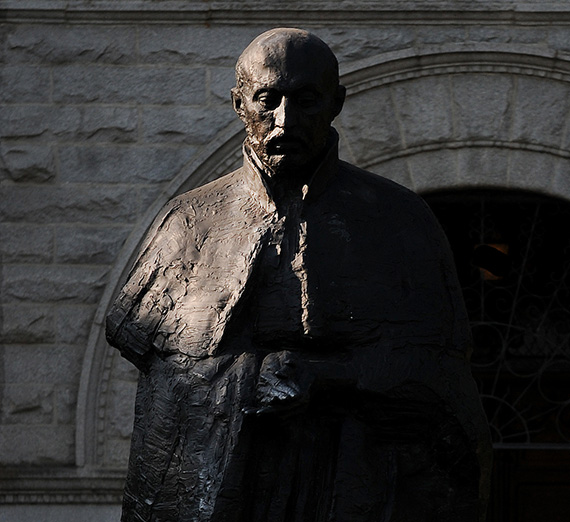 ---
SPOKANE, WASH. – Gonzaga University today published the report and recommendations from its Commission on University Response to the Catholic Sexual Abuse Crisis.
The report, available at Gonzaga.edu/commission, presents the culmination of more than a year of conversation and research. The recommendations, accepted and endorsed by Gonzaga University President Thayne McCulloh, reflect specific actions for the University to take in response to systemic clergy sexual abuse and subsequent cover-up within the Church and its impact upon the University. This work is a manifestation of Gonzaga's Jesuit, Catholic, and humanistic mission and embodies the second Universal Apostolic Preference of the Society of Jesus: "To walk with the poor, the outcasts of the world, those whose dignity has been violated, in a mission of reconciliation and justice."
The Commission, created by President McCulloh, was led by Dr. Megan McCabe, Assistant Professor of Religious Studies, and Dr. Michelle Wheatley, Vice President for Mission Integration, and was composed of 12 members who brought a broad range of experience and perspectives.
The group met more than a dozen times over 13 months and solicited feedback and comments through in-person meetings and via its website.
"From the beginning, members realized the Commission's work could not be accomplished without listening to the experience, wisdom, and aspirations of the University community," said Co-chair Wheatley.
Co-Chair McCabe said the Commission raised important questions and recognized harms inflicted on survivors and communities through systemic abuse.
"As a Catholic, Jesuit, humanistic institution, it's important for Gonzaga to reflect its own institutional role and experience, engage with survivors, and continue the work that's just beginning," she said.
The Commission grouped its recommendations in five key areas: Academics, Memorials and Liturgies, Mission Identity, Policy and Procedure, and Tribal Relations. Specific recommendations include:
A memorial honoring all affected by Catholic sexual abuse, to include those abused by Jesuits sent to live on safety plans at Cardinal Bea House.
More formal protocols between the University and the Society of Jesus regarding assignment of Jesuits to Gonzaga.
Greater support for Indigenous and Native students at Gonzaga, which includes funding scholarships and support for students, as well as fostering open communication.
Funding for faculty research and scholarly activities on this topic.
"I'm deeply grateful for the time and reflection that the Commission devoted to this important and complex issue," said President McCulloh. "My hope is that this document guides our decisions and actions as we demonstrate our solidarity with victim-survivors, deepen our understanding of the systemic abuse within the Church and its far-reaching impacts, work together as community to address and where possible repair broken trust, and advance the apostolic and educational mission of Gonzaga University."
Gonzaga has already moved forward on several recommendations. On Sept. 20, 2020, the University renamed and rededicated the former Center for American Indian Studies as the sčintxw Native American Cultural Center. The Salish word, pronounced s-CHEEN-t-wh, describes a place where Native students can feel at home. This fall the University will commemorate the one-year anniversary of the Center with a forum to hear from and amplify voices of Native students.
The Commission also recommended the establishment of a fund dedicating $10,000 annually for faculty research and scholarly activities related to the topic of sexual abuse in the Catholic Church. After receiving the report, President McCulloh immediately adopted the recommendation and approved a minimum of $15,000 for the new Social Justice & the Catholic Sexual Abuse Crisis Fund. Beginning this academic year, faculty may apply for a grant for independent research, bring scholars to campus, or generate other collaborative engagements.
Additionally, President McCulloh has authorized a University steering committee recommended by the Commission to ensure successful implementation of the report's recommendations. With the unanimous approval of the Commission, this steering committee will be co-chaired by Dr. McCabe and Dr. Wheatley. The steering committee will be informed by working groups to include faculty, staff, students, and other community representatives. Nominations for working group members can be made through a form now available on the Commission's website.
Contact: Mary Joan Hahn at hahn@gonzaga.edu.