Jacob H. Rooksby Reappointed as Dean of School of Law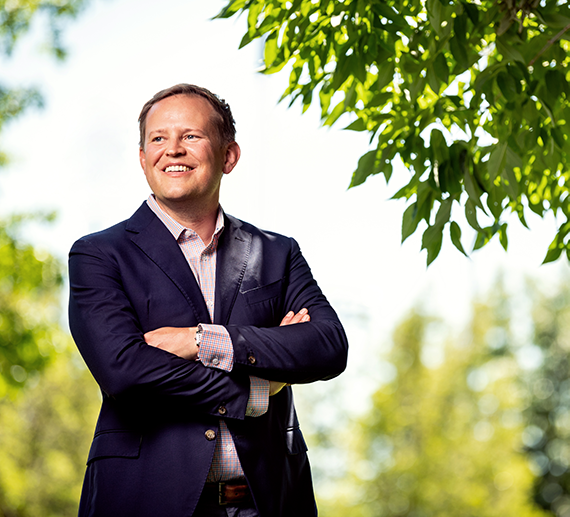 ---
Gonzaga University is pleased to announce the reappointment of Jacob Rooksby for a five-year term as dean of the School of Law. Rooksby joined the institution in June 2018 as dean and is a tenured professor with a joint appointment in the School of Law and the School of Leadership Studies.
"Dean Rooksby's energetic, dedicated and forward-looking leadership has been instrumental to the continued success of Gonzaga Law during this turbulent period for legal education," says President Thayne McCulloh. "Despite mounting competitive pressures and the more recent challenges of the pandemic, he has worked very effectively with faculty and staff colleagues, fellow administrators, alumni, board members and benefactors to create initiatives and strategies that are already bearing fruit. I am very grateful for his commitment and look forward to our continued work together in the coming years."
Rooksby came to Gonzaga from Duquesne University in Pittsburgh, where he was an associate professor of law, associate dean, and affiliated with the law firm Dentons Cohen & Grigsby. He holds masters, juris doctor, and doctoral degrees from the University of Virginia. Rooksby's scholarship and teaching focus on intellectual property, higher education, and tort law.
Under Rooksby's leadership these past three years, the school has increased the number of applications to its law programs by over 50 percent, grown total enrollment by 40 percent, and increased the diversity of the incoming class from 16 percent to 27 percent. Additionally, the school has secured $4.46 million in new financial gifts. This benefaction has resulted in the launch of three new academic programs and four legal clinics—including its pathbreaking Lincoln LGBTQ+ rights clinic and an immigration clinic in partnership with Catholic Charities of Eastern Washington—in addition to four new scholarship programs to support the recruitment and retention of diverse students. This summer, the school began a final phase of a comprehensive renovation of its 21-year-old facilities, upgrading and modernizing them for future generations of law students.
"Dean Rooksby has brought to the law school, as well as to Gonzaga University, a broad perspective infused with his own enthusiasm for faculty development, for teaching, and for service," Provost and Senior Vice President Deena González said. "Under his leadership, Gonzaga School of Law embodies its values and commitments to diversity, equity and inclusion, in working toward the common good, and in establishing accountability and accessibility. His vision for growth and change shape a well-crafted agenda that will place the law school in the public eye and at the top of Jesuit legal education."
An active scholar in addition to his administrative duties, Rooksby has recent or forthcoming publications in the Montana Law Review and the Santa Clara Law Review. Last year, he published an edited book on technology transfer and intellectual property law.
Rooksby holds an active Washington state bar license and maintains an affiliation with a local intellectual property law boutique, FIG. 1 Patents, PLLC. He also is an elected member of the American Law Institute, an organization that produces scholarly work to clarify and improve the practice of law and counts prominent judges, lawyers, and academics among its elected members.
"I am as excited today as I was three years ago by the opportunity to serve as dean of Gonzaga Law School," Rooksby said. "Our recent successes would not be possible without the strong support of President McCulloh and Provost González, for whom I have the utmost respect, as well as our talented faculty and staff and committed alumni and benefactors. I firmly believe that even brighter days lie ahead for Gonzaga Law School."
Media Contact
Chantell Cosner, Marketing & Brand Manager
Gonzaga University School of Law
509-313-3771 | cosnerc@gonzaga.edu
School of Law
Juris Doctor