Experienced RN credits MSN-NLH for building leadership skills.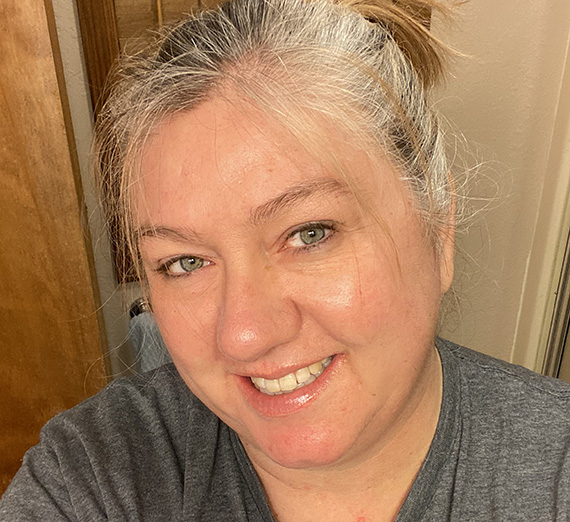 ---
After years of education and experience, Tera Tveit ('20) decided to earn her
Online Master of Science in Nursing in Nursing Leadership and Healthcare
(MSN-NLH) to set herself up for a more robust career path, and she says it has made all the difference.
In her current role as a Nursing Education Specialist for Obstetrics at Kootenai Health, Tveit says she utilizes the management and relationship building skills she's learned throughout the program to be an effective leader.
A registered nurse, with 26 years of experience, Tveit says she decided to go back to school when she struggled to move into new leadership positions.
"I was an assistant manager for 5-7 years and I kept getting very frustrated because I wanted to move into the management role, but I didn't know the language," Tveit said. "So much gets thrown at you that you hear the words, but you don't know what they are until you go back to school, and they start explaining everything behind it."
Deciding to pursue a graduate degree is a big decision, Tveit conducted extensive research identifying that she wanted a reputable program that was affordable and close to home. Tveit liked that the flexibility of Gonzaga's MSN in Nursing Leadership in Healthcare – especially the fact she did not have to log on at a certain time – fit well with her 10-hour workdays.
"The reason I chose Gonzaga was not only because it has a great reputation for being such a great school, but I loved the fact that I could finish it in five years if something in my life drastically changed," Tveit said.
Upon comparing the cost to state schools she was exploring, Tveit found that Gonzaga's tuition was not dramatically more expensive given the benefits of a Gonzaga education. Some of the benefits, according to the Spokane native, include the quality of her education and how she could apply what she learned in her classes to real-world situations in her current role. Unlike other courses and programs Tveit had experience with, the MSN in Nursing Leadership in Healthcare courses never felt like a waste of time.
"I was very impressed by the content of not only the nursing classes, but the
Organizational Leadership
classes," Tveit said. "I met people from all walks of life in those classes that weren't nurses, and it was fascinating to listen to them and relate what we were doing in nursing."
Her classmates included military officers, Boeing executives and even life coaches. The program helped Tveit breakdown the crucial leadership concepts she says had been missing throughout her educational and professional experience, giving her the necessary building blocks to move up the corporate ladder.
"I think that's why I loved it so much, I already had the manager background so a lot of what I heard wasn't new, but it was new because I never understood it on an academic level, I only understood it from what I learned on the job," Tveit said.
Tveit realized there was something special about Gonzaga's MSN in Nursing Leadership in Healthcare program when she asked her friends and colleagues about their experience in their master's programs.
"One thing I am sad about is when I ask about their program and if they love it, not one person has said, 'I love my program, I am learning so much'," Tveit said. "It's becoming just a hoop they have to jump through to get the letters, to get the pay, to get the position."
For Tveit, the bond she felt with her professors and classmates was another key element of what makes a Gonzaga graduate degree more than just a degree. Tveit specifically acknowledged program director and friend, Jennifer Garrity, for her commitment to teaching and providing invaluable leadership.
"She's honest and I appreciate that as a student; she was never afraid to give me feedback and has a vision," Tveit said. "I think she's done an amazing job as a professor and leader at Gonzaga in making the program what it is."
Going through and succeeding in the program showed Tveit that the possibilities were truly endless with a Gonzaga education.
"All I can say is, 'I loved it'," Tveit said. "I almost didn't want it to end."