Returning to the classroom to prepare for change.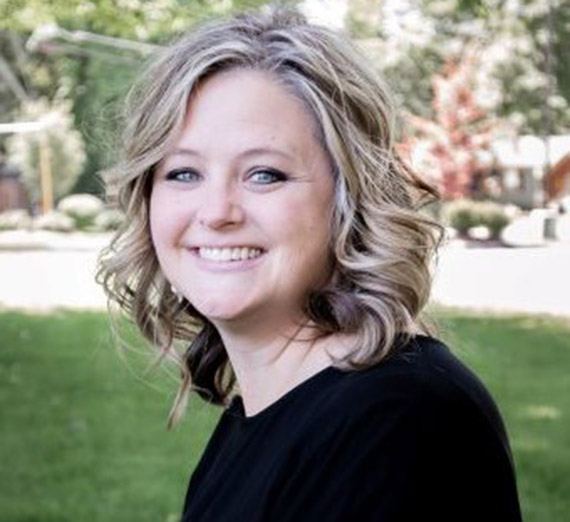 ---
Nearly twenty years after becoming a licensed RN, Stephanie Godinez ('22) decided to return to the classroom and earn her MSN degree to keep up with the ever-changing world of healthcare.
Godinez enrolled in the Online MSN in Nursing Leadership in Healthcare (MSN-NLH) and is on track to graduate in 2022. She has worked as a nurse administrator since 2005 at Crest Home Health hospice service in Coeur d'Alene.

As an associate level nurse in an administrative role, Godinez says the program has given her a more well-rounded "toolbox" of skills she can draw from.

One factor that Godinez says was important to her while searching for schools was the holistic and patient-centered education that Gonzaga is known for.
As Godinez explained, Gonzaga's holistic view of care encompassed the physical, emotional and spiritual support for patients she had already been practicing for years.

"Gonzaga had all of that, it had the holistic approach and the spiritual support to provide that ability to improve where I am currently and then moving forward," Godinez said.

After becoming a registered nurse, Godinez went straight into an administrative role and she says while she appreciates the experience, she knew it was time to go back to school.

Godinez found that many organizations require an MSN degree for leadership roles.
While her current role requires an MSN, she was not required to have one due to her experience and tenure at Crest Home Health, but nevertheless decided to pursue the degree to be ready for future advancement and enrolled in Gonzaga's MSN-NLH program in 2019.

Since enrolling, Godinez says she has noticed an improvement in her leadership abilities thanks to the program's exploration into different leadership and communication styles.

"Both personally and professionally, it's given me the opportunity to be able to continue to improve my leadership skills, whether it's supporting my team or how I'm responding to situations," Godinez said.

Godinez says she has been able to implement the critical thinking skills she has practiced throughout the program to break down problems that arise and determine their root causes as opposed to dealing with them at face value.

One thing that surprised her about the program was how manageable it was.

"I was anticipating it being a little bit harder to navigate through," Godinez said.

Godinez says that while her professors expect a lot from her, everyone has been extremely understanding and supportive and she never feels overwhelmed with the program's requirements.

For prospective students, Godinez just has one question, "why have you waited so long?"