A Year in Service to Others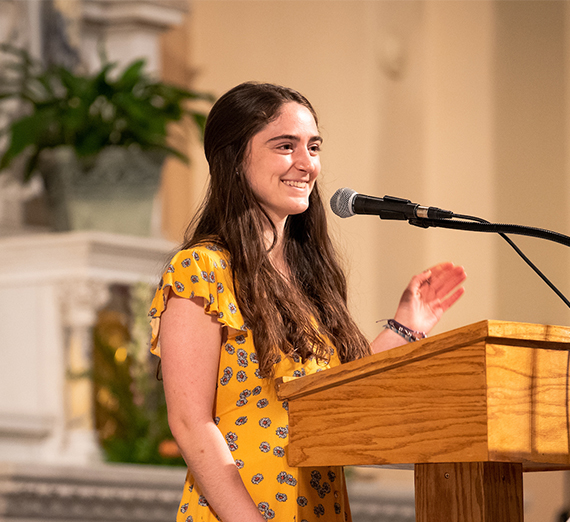 ---
Twenty-four members of the Class of 2021 have chosen a year of service following their graduation from Gonzaga.
"When we think about people the world needs most, we will think of you," President Thayne McCulloh said to the graduates in a commissioning service, May 7.
Student speaker Paulina Thurmann told the audience that Gonzaga's mission is "permanently engrained" in her. "It's where a privileged campus meets the needs of the neighborhood," she said.
Thurmann noted that it's the mission which has guided them to choose a path that means being underpaid and overworked – "doing the opposite of what we've been working toward" in terms of careers and financial security. "Let love be your why," she said. "Press deeper than acts of charity. Remake systems that create injustice."
At the close, Yolanda Gallardo, Dean of the School of Education, spoke of love that inspires action. "Your commitment to service speaks to your experiencing the call of God in your life. It allows you to change the world."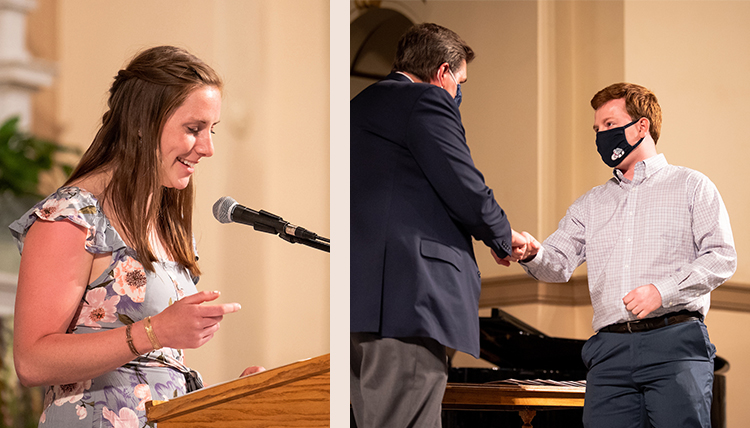 Left: Student Speaker Paulina Thurmann; Right: President McCulloh offers a fist-bump and a pin to Colin Helgeson.
Best wishes for a year of blessings to Zags serving in the follow ways.
Jesuit Volunteer Corps
Zachary Battaglia
Megan Dedinsky
Lindsey Ernst
Martin Geiger
Eleanor Johnson
Melina Monlux
Karlie Murphy
Brittany Robinson
Lauren Rotolo
Paulina Thurmann
Isabel Thurston
Jesuit Volunteer Corps Northwest
Katie Alonso
Isaac Pacor
Tristan Parker
Benjamin Pham
Emma Ulring
Teach for America
Samantha Battaglia
Michael Janney
Crissy Lubke
AmeriCorps
Renne Richards
Stephen Sanders
Jon Williams
Augustinian Volunteers
Colin Helgeson
Project Horseshoe Farm
Ellie Hough
See more stories from 2021 ceremonies and graduates.