The Makings of a Virtual Parade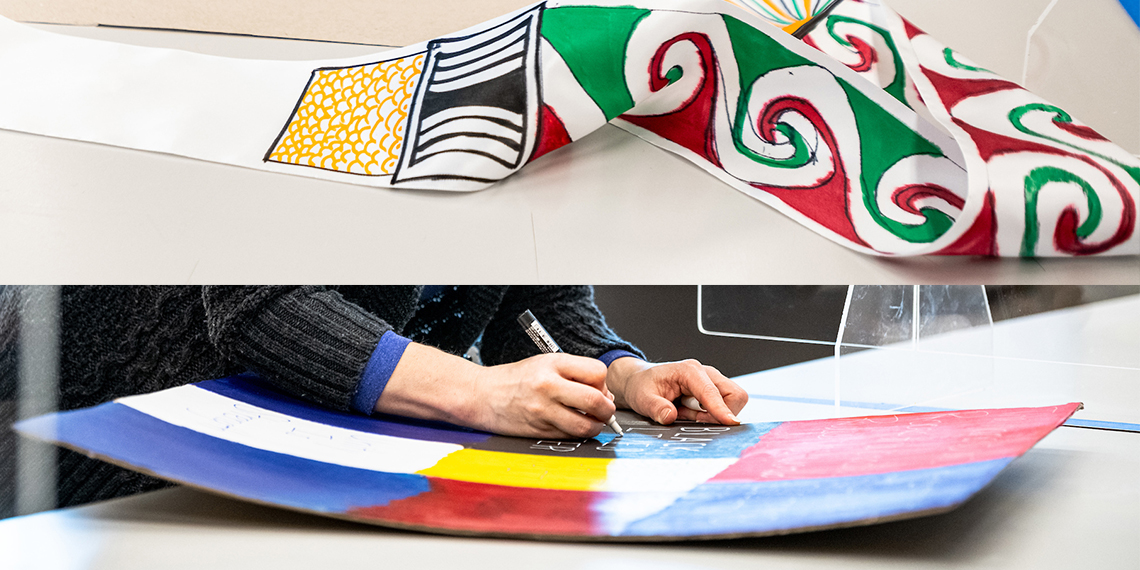 The faculty and staff members of the 19th & Counting committee had grand plans for the finale of the year celebrating the centennial of the 19th Amendment, which guaranteed women the right to vote. "Steps from Suffrage to Solidarity" was to be a parade with a marshal and a woman on a white horse at the front, hundreds of participants representing the causes they support surrounding gender equity and rights in the middle, and a Theater and Dance class performing Evita at the end.

When those plans were thwarted (thanks, COVID), organizers took a step back, flexed and reimagined the possible: a digital parade of sorts.
To replenish creativity and help others imagine the new vision, faculty members Heather Crandall (Communication Studies), Lena Lopez-Schindler (Art) and Veta Schlimgen (History) donned their costumes and gathered for photos. They also secured art supplies and white satin sashes, and invited the campus community to "maker's workshops" to decorate sashes and make posters.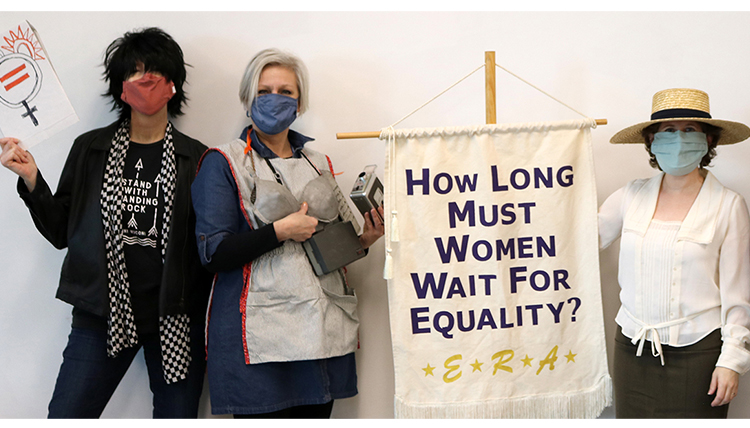 "When I heard the team was game for at least holding the Makers Workshops, the pieces fell in place. We'd put so much effort into collecting historical images, and dreaming up what a contemporary Gonzaga celebration might look like that it was hard to let it go" says Crandall, whose icon for promoting women's strength is Joan Jett, a pioneer for women in the male-dominated world of rock music and outspoken activist for social justice.
"We have had a tough year, and it felt like we could use some joy, some creativity, and some community."
Lopez-Schindler, who had originally crafted plans for suffragist sculptures on display at the end of the parade, turned her focus to mural work instead, with student Caliste Dober who drew images of original suffragists and demonstrations from other decades.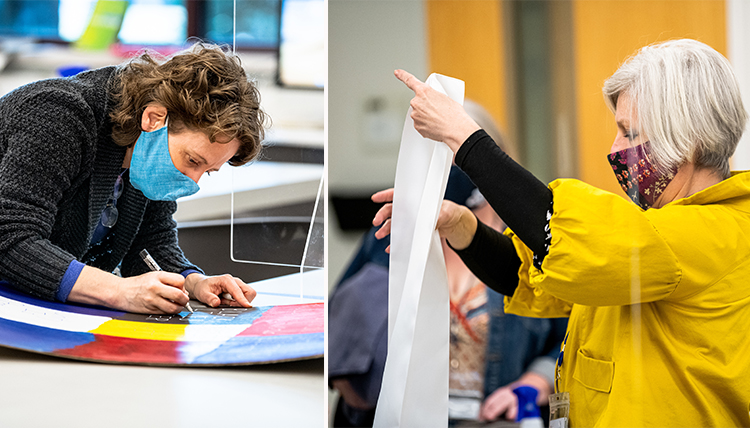 (Above: Veta Schlimgen, left; Lena Lopez-Schindler, right)

Sam Morehouse, a CAS Digital Humanities intern, has photographed and videotaped participants and will weave together all the pieces in what will be a virtual parade, and a digital asset saved to reflect this moment in history.

The good news: It's not too late to join the effort. A submissions folder on Sharepoint (here) is available for any faculty, staff or students to upload photos of their own related work – be it artistic materials or costumes that they would have used in the case of a real parade. (Please note you must be logged in to the Gonzaga network to access this folder.)

So, join the fun, and help us mark both the history of the women's movement AND the modern era of adaptation to the parameters of a pandemic.

Questions? Email suffrageparade@gonzaga.edu.
Academics
Diversity & Inclusion
Academic Vice President