Jesuit Jabs in March Madness
---
Sweet Sixteen to Yield More than
an Elite
Eight
Birth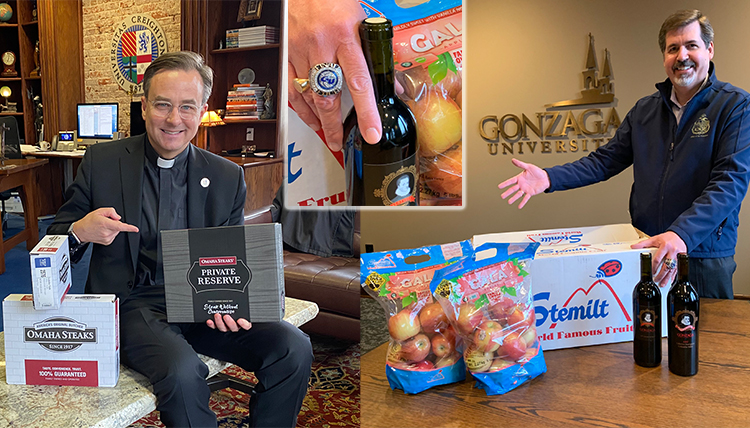 Gonzaga University (Spokane, Wash.) and Creighton University (Omaha, Neb.) share the madness of March as their respective men's teams meet in the 2021 NCAA Sweet Sixteen game on Sunday, Mar. 28. The Creighton Bluejays are a 5-seed and the Gonzaga Bulldogs are the tournament's top seed.
The Presidents of these two universities are getting into the competitive spirit as well. Creighton President Daniel Hendrickson, S.J., is ready to send a case of famous Omaha Steaks, a retailer inCreighton's hometown, to Spokane if the Zags win. In the event of a Bluejays victory, Gonzaga President Thayne McCulloh has a crate of Washington apples and some fine wine he will begrudgingly part with, and send on to Omaha.
On Twitter, Hendrickson posed for a photo and said, "I have a box of Omaha Steaks that says the Bluejays pull off the upset of the century over the Bulldogs. Are you in?"
To which McCulloh replied, "I am IN! I accept your challenge have a case of FABULOUS wine and a box of Washington Gala Apples that says the Bulldogs ultimately prevail." In a follow-up Tweet, McCulloh showed off his Final Four ring for extra measure.
Being Jesuit, however, the wager also has community needs in mind. Both presidents agree that, in addition to a shipment to the winning college, Omaha Steaks or crates of Washington apples will be donated to the respective local food bank.
When will the winner be determined? Creighton and Gonzaga hit the court on Sunday, Mar. 28, 11:10 a.m. PST. Stay tuned.