A Strong Start in Politics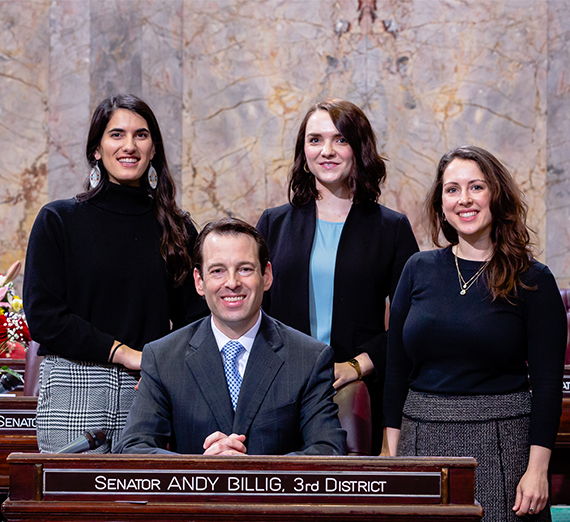 ---
Intertwined with the natural joy of graduating was a sense of poetic justice for Alicia Finch ('20) when she completed her degree in communication studies this winter.
When Gonzaga University was founded, it was intended to include Indigenous people living in the Spokane area, whom Finch is descended from. Economic pressures from donors and anti-indigeneity in the late 1800s resulted in a change of plans. 18 young men attended the school by the end of its first academic year, all of whom were white.
"It's complex, but I feel like I'm reclaiming a little bit of what my ancestors had taken from them," Finch said.
She has lived in Spokane her whole life. She received her associate degree from Spokane Falls Community College then transferred to Gonzaga University in 2018 to finish a bachelor's in communication studies.
For Finch, embracing her native heritage is vital – something she has always tried to preserve and be a part of.
During her time at Gonzaga, Finch sought out other Indigenous students and co-founded the Indigenous People and Rights Club. Exploring her heritage fostered a deeper connection to the community, one that helped create a seamless transition to the university.
Transferring to a four-year university can be a whirlwind of changes, and Finch recommends that transfer students embrace this.
"You don't have to work to be done with the last two years; you can be here and exist here as a whole person," Finch said.

Because most students attend the same university for all four years of their undergraduate experience, coming in midway through can make transfer students feel out of place, or like they missed out, she added.

To alleviate some of these feelings, she advised, "Use your voice where you feel comfortable, and let people know that just because the majority came here as freshmen and are doing their thing, doesn't mean that our experiences are any less valid."

Finch credits Gonzaga with her opportunity to work as a Legislature Intern for the Senate Majority Leader, Democratic Sen. Andy Billig. She moved temporarily to Olympia and worked in constituent correspondence, collaborated with stakeholders, and met people who inspired her.

"I got to meet so many amazing people that have changed my trajectory," Finch said.

One such individual was Democratic Sen. John McCoy. Now retired, he was the only current Native American senator in the Washington State Senate, and he took the time to sit down and visit with Finch.

She found other ways to explore her Indigenous heritage while in Olympia. She met with a Quinault Native and a cedar weaver who had deep ancestral knowledge that Finch found amazing.

She also met with business heads, Tribal Council leaders, and childcare advocates. Days were never the same, according to Finch.

"One time they brought in a 6 million year-old dinosaur egg. A museum on the west side brought a dinosaur to show and because I worked in the leadership office, they oftentimes came there first and I got to hold the dinosaur egg," Finch said.

Finch looks forward to the next steps in a career in politics.
Learn about support for Transfer students at GU.