What Motivates a Political Strategist?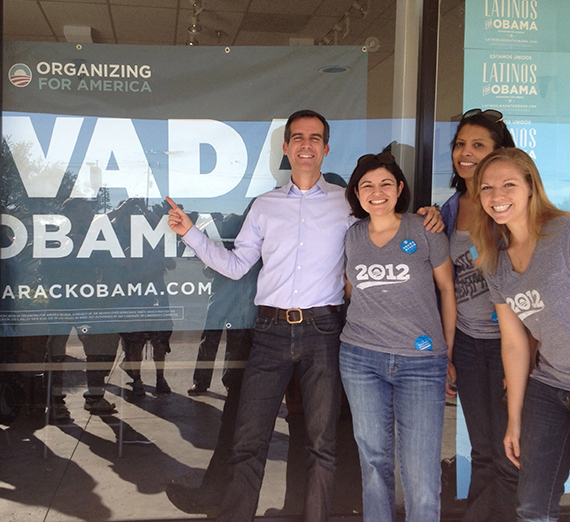 ---
Find out, with LA Alumni Chapter President Danielle Cendejas ('04)
Nearly 2,500 alumni of Gonzaga University call Los Angeles and Orange counties home. Add another 900 current parents, 2,100 former parents and more than 1,500 who identify as "friends" of the University, and that totals around 7,100 fans who are happy to lead cheers for the Bulldogs during the Sweet Sixteen (and Elite Eight!) during March Madness 2019.

Serving as their fearless leader, event coordinator, and all-around spirit ignitor is Danielle Cendejas, a 2004 political science graduate who, 15 years later, still loves the challenge of working in politics. Here's a chance to get to know her better.
Q: What exactly do you do?
A: As senior vice president at The Strategy Group, a national campaign communications firm, I specialize in direct mail advertising for candidates and organizations. I help develop their messages and campaign plan and tell their story through direct mail and social media.
Q: What are some of the campaign victories you've served?
A: Los Angeles Mayor Eric Garcetti, Congressman Salud Carbajal, Santa Barbara Mayor Cathy Murillo, California Assembly member Chris Holden, and California's No on 32 Campaign in 2012. Recently, I created mail for independent expenditures (SuperPACs) that helped elect California Congresswoman Katie Hill, Texas Congresswoman Lizzie Pannill Fletcher, and California Congressman TJ Cox.

Q: How did you get connected to The Strategy Group?
A: The firm had produced the mail for President Barack Obama's campaign for the primary and general elections. I got connected to them from friends and a former manager from the Obama campaign in 2009.

Q: What was your experience with the Obama campaigns?
A: In 2007, I joined the Obama for America campaign as a field organizer in New Hampshire. After working on the primary field teams in New Jersey and Texas, I was recruited to join the delegate operations team and was a member of the Democratic National Convention's floor operations team. I finished out the campaign in New Mexico where I did outreach and then was the talent coordinator for the youth ball for the Presidential Inaugural Committee.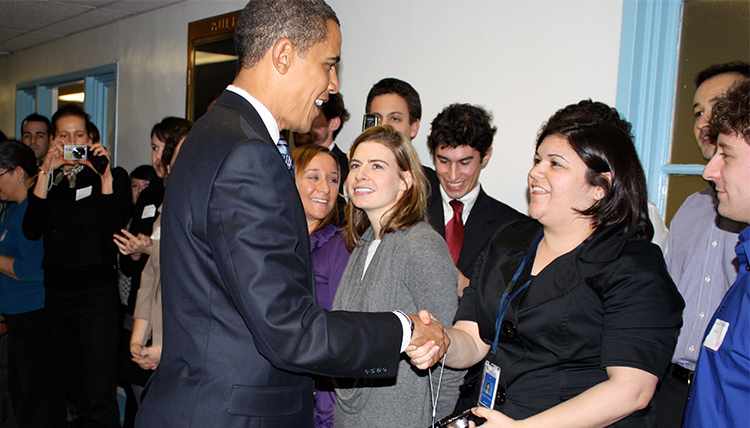 Q: How were you involved in politics as a college student?
A: I participated in and eventually led the Gonzaga Young Democrats. Through that, I was able to secure an internship with my state senator's office in Los Angeles and then on a congressional campaign in Spokane. After graduation, I was hired as a field organizer for Don Barbieri for Congress in 2004.

Q: What motivated you to choose this path?
A: In high school when I was asked what I wanted to do with my life, I said I wanted to help change society. One way that gets done is by electing good people to public office. I'm very passionate about politics and finding ways to get people engaged in the voting process. Now that this is my career, I've noticed that we need more people working it who have diverse backgrounds and experiences. Even when the work gets tough, I remember how important my voice is in the political process.

Q: What have you learned from this line of work?
A: Reputation and relationships matter. Having a strong work ethic helped me build a good reputation and at every step of my career, I've sought out the guidance of mentors and benefited from their advice. I also believe being rooted in values is essential.

Q: How did your Gonzaga experience shape the way you work?
A: At Gonzaga, I learned what it meant to be a servant leader and to follow ethical guidelines. In politics, too many people have a "win at all costs" attitude and it's a problem. I try to ensure the campaigns and candidates I'm advising reflect my values and use my judgment when something doesn't seem right or ethical.

Q: How did you become a Gonzaga Alumni Chapter President, and what do you enjoy about it?
A: In 2010, I organized an informal game watch with friends. I invited every Zag I knew in LA and six showed up. I wondered, what would happen if I connected with the Alumni Association to plan an official game watch? At our first watch, we had about 20 people. That season, I kept organizing them and the next thing I knew, I saw an email that listed me as the chapter president. HA! We soon had a meeting with the alumni association and former chapter leaders, to chat about the vision and what it entailed.
It's hard to believe I've been doing this for nine years, but I enjoy fostering an extension of the Gonzaga community in LA. We have many alums, current and past parents, and people who love GU that come together for activities like Dodgers games, networking, or watching Zags games.
Growing this network has also been beneficial for recent graduates who are looking for internship and job opportunities. Our alums are incredibly generous with their time and lending a hand to fellow Zags looking to return home after their time in Spokane.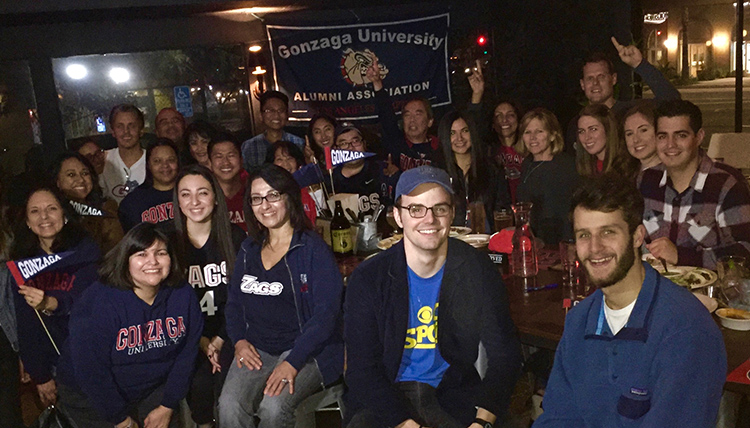 Q: What do you love?
A: I love watching sports. I'm very competitive but not very athletic myself. I'm a very dedicated follower of the Zags and the Dodgers.
I love Los Angeles. I grew up here, but I appreciate Southern California more having lived away from it. There is no shortage of things to do and our food scene is amazing. It's worth tolerating the traffic and the allergies the air induces.
I love helping to break barriers. I get excited assisting candidates to break their respective glass ceilings and looking forward to doing more of that in the future.
I love mentoring others, especially young professionals in politics and other women advancing in their careers. I've benefited from mentors and the advice of others, so I try to give back and bring people up alongside me.


Danielle Cendejas was named one of "40 Under 40" political professionals by the American Association of Political Consultants in 2018.