Fine Chocolates, the Open Road and Catholic Faith
---
A Zag who volunteered and served nonprofits, cares for our national parks and young women in the Girl Scouts alike, she's passionate about finding that higher purpose in all she does.

But the chocolate … more about the chocolate.

Specifically, Osgood is a toffee connoisseur. She's so well-known and appreciated for her toffee that she quit her job to craft a business dedicated to the buttery, salty, chocolatey, crunchy creation.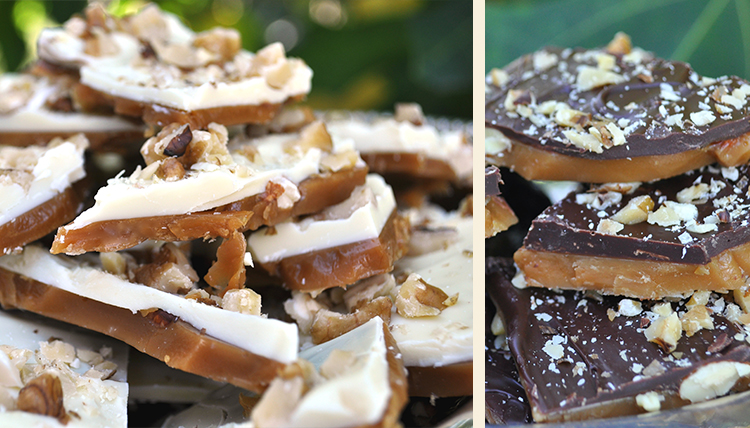 "I've always had a sweet tooth and often made my toffee recipe for family and friends over the years. Once I decided to turn it into a company, I gave out some samples and my first order came in for nearly 100 pounds of candy," she shares. "That first order was the push I needed to quit my job at UCLA and focus on getting the business off the ground."

The dark chocolate toffee is her best seller, which she says has the perfect "balance between bitter chocolate and sweet buttery toffee." To her milk chocolate variety, she adds a little sea salt on top. But the white chocolate – that's her secret weapon. Most chocolate fans don't favor white "chocolate," on the premise that it isn't really chocolate at all. Osgood takes great pride in converting those "anti-white chocolate eaters" with her white chocolate toffee. "It takes on a vanilla tone when eaten with the roasted almonds and buttery toffee. It's shockingly good," she says.

So, she nailed her niche immediately. What about the company name? Why "Open Road Candy Co."?

"It's the combination of multiple passions," Osgood explains. "Road trips and travel, national parks, wild spaces and sweet treats! Inspired by family road trips to national parks and my time traveling abroad, I wanted my company to embody the freedom of the open road, the excitement of being in the midst of breathtaking scenes, and a sense of fun."

She's serious about her love for America's parks – so much that a portion of proceeds benefit the National Park Foundation and a local Los Angeles nonprofit, the Santa Monica Mountains Fund.

Taking it one spoonful further, her nature-themed candy names support her love of the great outdoors. Hello Darkness: the dark night skies in Joshua Tree. Dusty Trail: summer hikes in Yosemite. Great White: California beaches.

If anyone can blend together the ingredients of college and life experience with volunteering and teaching, into the perfect recipe, it's Osgood. From her college internship at the Inland Northwest Blood Center, she drew a desire to work with nonprofits. After graduation, she taught English in South Korea for a taste of world culture. Back in the states, she empowered the next generation of leaders through Girl Scouts of Orange County, which, Osgood says, "taught me a lot about bootstrapping on a tight budget and the formidable power of passionate volunteers."

Other ingredients in her mixing bowl are hikes with her family and dog in the nearby mountains and taking road trips. Of Southern California, she says, "There aren't many places in the world where you can go snowboarding then watch the sun set at the beach in the same day. I haven't been able to find any other place I'd rather be."

There's another solid element in the foundation of Osgood's life: Gonzaga.

"It had a tremendous impact on me," she says.

She was a member of the Setons, an all-women's organization that assists in many campus and community events. She studied abroad at Gonzaga-in-Florence, which further reinforced that travel was a necessary part of life.

But, when she looks back on her time at Gonzaga, she says she's most grateful that she was able to grow in her Catholic faith. "It was intertwined in everything – classes, extracurricular activities, the care the faculty showed, and the incredible Jesuit homilies at weekly Mass."

"Gonzaga helped think about how I could make the world better and that's what I strive to do every day," says Osgood.

And that sounds just about as gratifying as the best-selling toffee at Open Road Candy Co.