Salt Lake City Zags Make Their Mark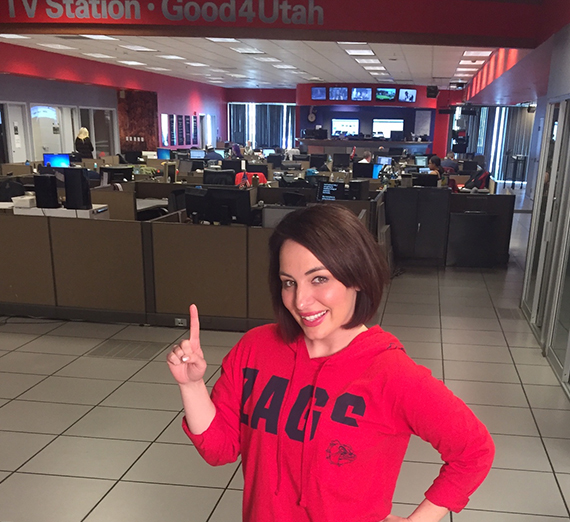 ---
No. 2 in a series of spotlights on Gonzaga alumni living in Salt Lake City
Alana Brophy ('07): "Where Everything I Love is in One Place"
As a broadcasting journalism major, "I was a proud member of the GUTV crew and tried my hand at every job in the classroom studio," says Alana Brophy, now a Salt Lake City meteorologist with ABC 4 News.

Over the last decade since graduation, Brophy has worked at TV stations in St. George and Salt Lake, Utah, and Boise, doing weekend weather, reporting and news anchor spots, earning promotions and awards for breaking news coverage.

During one stint in Salt Lake City doing weekend weather, it became clear she could no longer ignore the irresistible sunny day reports and storm warnings to devote her full attention to the weather.

"It was not only my passion, but my future," says Brophy, and with that new-found clarity, she completed a meteorology degree at Mississippi State.
"I love weather because it's something we all experience. I'm fascinated by the atmosphere and severe weather, but I absolutely love being able to share forecasts with the public because knowledge is power. Whether you are dressing your kids for school, figuring out if you need to cover plants in the garden or planning for your evening commute, knowing about the weather can make life little easier," Brophy says.

At GU, Brophy took to the theatre stage in productions every year. "It gave me the courage and comfort to present on camera," she says now. She credits being a resident assistant and a Gonzaga ambassador for interviewing skills.

In her spare time, Brophy enjoys cheering on her older brother at the Special Olympics or spending time with her family. "I love the outdoors and my fiancé and I love to ski in the winter, kayak in the summer and represent my bulldogs year-round!"

Where does she watch her Bulldogs play? "Not going to lie," Brophy says, "I enjoy watching the Zags on my couch so I can yell at the TV." That said, she knows that no place can quite compare to the experience of being in the Kennel.

"I attended the tournament in Salt Lake City when the Zags played two years ago and it was really special. It was a moment where worlds collide and everything you love is in one place. I love looking around and seeing Zags at all different stages in life. We may be spread out across the country, but it's an amazing reminder, we are always united."


Dave Takisaki ('16): "Can You Hear Me Now?"
Dave Takisaki was born and raised in Spokane and "always felt a connection to Gonzaga and Zags basketball," he says.

Although he had relocated to Salt Lake City, it was natural for him to turn to GU when he wanted to pursue advanced leadership degrees. "I personally know both alums and faculty, and everyone spoke very highly of the programs, level of education and quality of the staff. On top of the reputation that the university carries, once I heard about the master's in organizational leadership and its key courses, I was sold!"

Takisaki has worked at Verizon for 10 years, and is currently the managing partner of business sales for the state of Utah, consulting with corporations across many industries on topics of security and mobility connectivity.

While he felt his undergraduate business degree provided him with the acumen he needed, Takisaki says he wanted to continue to pursue leadership within the company and to strengthen his skills.

"I also knew that the organizational leadership program focused heavily on servant leadership, which is what I strive for," he adds.

He and his wife and kids love donning their Zag wear to cheer on the Bulldogs. He also enjoys exploring the beauty of Utah, including snowshoeing near Park City.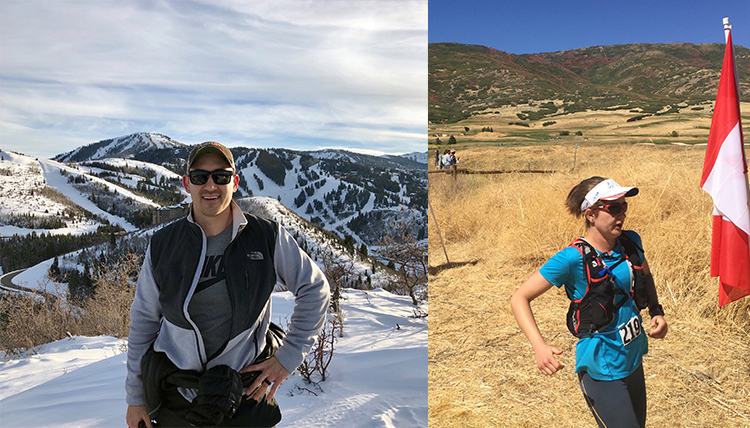 Dave Takisaki (left) and Liz Goossen (right) enjoy exploring their home state of Utah.


Liz Goossen ('10): Running for Good
It's unfortunate that breast cancer still threatens the lives and livelihood of so many women. But fortunately, people like Liz Goossen ('10) are putting their skills and passions to work to change the trajectory. A Gonzaga grad with a degree in chemistry, she works for a genetic testing company, headquartered in Salt Lake City, where she markets a product called EndoPredict.

"It can help women with breast cancer determine how aggressive their cancer is likely to be and whether they can safely forgo chemotherapy," she explains. "The focus on helping patients with breast cancer make mine a very fulfilling job even when day to day tasks start to feel a little mundane."

Outside this incredible work, Goossen loves to run and enjoys a good challenge, which is why she is frequently out on the mountain trails surrounding Salt Lake.

"I used to hate running more than a couple hundred meters, but while at Gonzaga, I got in the habit of running a three-mile loop on the Centennial Trail and I slowly learned to love it," she says. "I find trail running much more engaging than running on the road, and I can literally do it for hours without getting bored. I find running really meditative and always come back feeling mentally and emotionally rejuvenated."

She has attempted three 100-mile races, and though she has finished only one, the very risk of not finishing is part of the appeal. At her October 2018 wedding, her husband even gave her a hand-made certificate good for an entry into the 100-mile race of her choice, on the condition that he didn't have to run and could sleep in while she did. She's still working on turning him – an East Coaster – into a Gonzaga fan.

Goossen follows one her best friends (Emily Stokes, '11) as the Salt Lake City Gonzaga Alumni chapter president. She says helping to plan events and getting to know so many other Zags was so much fun that she "ran for office" when Stokes was ready to step down. Having carried the torch as president for three years now, she has noticed a significant difference in event attendance since the Bulldogs' run in the championship two years ago.

"It's been so fun to be chapter president, especially when the tournament comes to town and we get to share Salt Lake with the rest of Zag Nation!"
Others in our SLC Alumni Stories:
Academics
Alumni
Careers & Outcomes
College of Arts & Sciences
Alumni
Broadcast Studies
Chemistry