Lifelong Learning Is Key for SLC Businessman Bruce Hough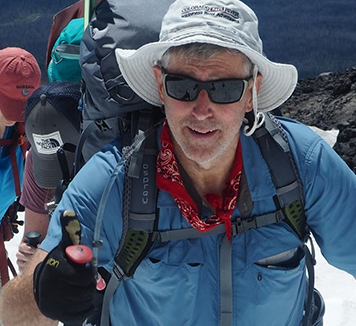 ---
No. 3 in a series of spotlights on Gonzaga alumni living in Salt Lake City

Bruce Hough ('18) is no stranger to the Salt Lake City business, non-profit and political scene. The founder or co-founder of three very different businesses – advertising, satellite communications, consumer products, he served as chair of the GOP in Utah, was president of the Great Salt Lake Council of the Boy Scouts, and is board member of a global nonprofit.

So when Hough entered Gonzaga University's School of Leadership Studies, it certainly wasn't because he needed a degree. In part, he was keeping a promise to his parents to finish his college education.


"I didn't do the education for a path to a better job – just a path to greater learning," says Hough. "Having been a practitioner in leadership and management – sometimes good, sometimes poorly – I wanted to take my practical experience and wed it to an academic or more formalized approach to it."
Hough's introduction to Gonzaga originated in childhood; he grew up just across the state line in Coeur d'Alene, Idaho; had an uncle who attended the GU School of Law; and perhaps most impactful, he competed in high school debate tournaments on the college campus. When it was time to choose where he would enroll in a master's leadership program, he says leveraging campus meetings with visits with remaining family members in Coeur d'Alene was just an additional perk to finding a program that met his aspirations and schedule.
One of the most impactful and unique aspects of Gonzaga's leadership program is the array of "immersion" opportunities around the globe. Through connections with international partners, faculty members take students to other communities for exchange learning. Hough has gone on such excursions to Cali, Colombia; Florence, Italy; and Brussels, Belgium. All are part of a concentration in global leadership.
Asked for his favorite international experience, Hough says, "They're so different and serve such different purposes, I can't pick a favorite. All were enriching, informative and inspiring."
What he learned in his global studies, complemented by the additional concentration in servant leadership, Hough says he plans to use to "advance my ability to teach and advise in areas where that learning will have benefit." That could be business, politics or non-governmental organizations.
As chair of the GOP in Utah for four years and National Committeeman for eight years, he served as a member of the Republican National Committee. He has also served in top leadership roles for many years, including President, of the largest Metro Council of the Boy Scouts of America. A point of pride in the local Boy Scouts under his leadership was the establishment of resettlement services for youth with the influx of refugees in the Salt Lake region. He also serves as a board member of Lifting Generations, a nonprofit working to break the cycle of poverty for thousands in Latin American and now in Cambodia and India.
Outside these many important roles, Hough is often introduced as "Derek and Julianne's dad," – as in Derek and Julianne, icons of the popular TV show "Dancing with the Stars" and "World of Dance." While their stardom has brought its share of attention, they are two of ten children he adores. They are scattered from North Carolina and Tennessee to Texas, California, and Utah. One of Hough's proudest moments was being recognized as Utah's Father of the Year. Now with 20 grandchildren and counting, the almost-65-year-old hopes his interest in life-long learning will be a positive influence and example to each of them.
Academics
Alumni
Careers & Outcomes
School of Leadership Studies
Alumni
Master of Arts in Organizational Leadership