Two-time SLC Gonzaga Grad Loves Law, Leadership, and Zag Hoops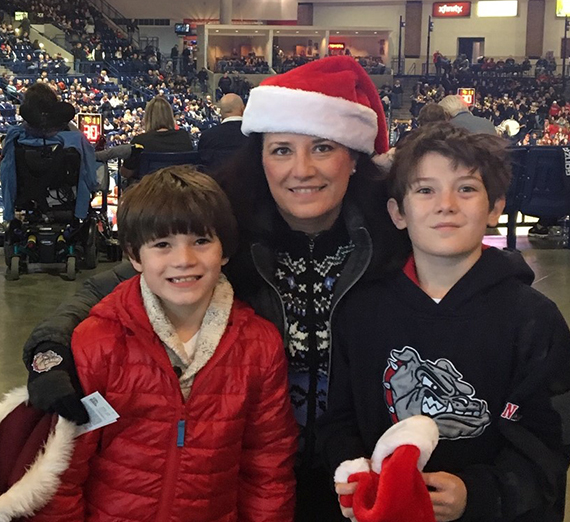 ---
No. 1 in a series of spotlights on Gonzaga alumni living in Salt Lake City
Dawn Emery ('03, '16) shows pride for her alma mater in myriad ways: a Spike tattoo on her ankle, serving on the Gonzaga Law School Board of Advisors, and starting the very first alumni chapter in Salt Lake City 12 years ago.
Emery was pregnant with her first son back then. She just really wanted to watch the Bulldogs play basketball with others – six die-hard fans who got together faithfully.
"Then with some divine intervention, the word spread," she says.
The SLC Gonzaga Alumni Chapter now boasts 1,222 Utah residents: 657 Alumni, about 380 current and former parents, and roughly 180 friends of the university.
"It's nice to see so many people here in Salt Lake City who love their experience at Gonzaga so much that that they continue connecting with other Zags as often as they can," Emery beams. "I am such a strong believer in the chapter program, the security of knowing that no matter where you go there is a Zag close by."
A law degree from Gonzaga catapulted Emery into a career of prosecution for more than a decade, but when she took charge of the internship and training programs for Salt Lake City's Prosecutor's office, she enrolled at Gonzaga again, this time for an M.A. in organizational leadership.
After a life-changing study-abroad experience at Gonzaga-in-Florence, Emery returned to Salt Lake City and started a two-year in-house training program for all the new lawyers in the district attorney's office.
She holds deep pride in that work: "I developed the curriculum and managed the faculty and helped shape a new generation of prosecutors."
Recently, Emery embarked on a new, solo journey that began as an effort to simply spend more time with two sons that she says she simply adores. She continues criminal defense work, but finds newfound freedom to embark a new adventure.
"Melding my law degree and organizational leadership, I'm consulting and aiding women-owned small businesses," Emery says.
Emery truly feels a part of the Zag family. "I wanted to be a better leader and also to study servant leadership, so I came back to Gonzaga (my only choice) for a master's in organizational leadership," Emery says. Even though this program is delivered through online classes, Emery still "felt a part of the University and its Jesuit tradition … it only further solidified my connection to Gonzaga."
Emery says she's a Bulldog through and through: "I believe in the Jesuit education, and culture of education and leadership that the university promotes. I owe so much to my professors and fellow students for enabling me to be an agent for social change."
Other SLC Alumni Stories: