Guillermo Visit Adds Chapter to Jimmy Kimmel, Gonzaga Story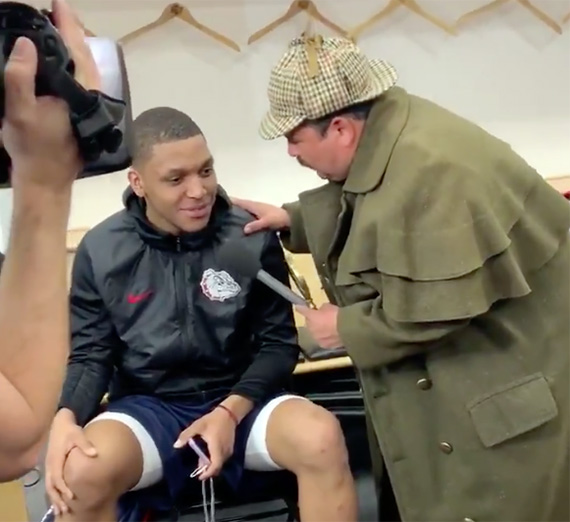 ---
The Jimmy Kimmel Show's infatuation with Gonzaga University went to new level this week.
On Tuesday night, Kimmel had yet another skit about the Zags, this one starring a fake "Spike" mascot who purported to confirm Kimmel's conspiracy theory that Gonzaga doesn't exist.
On Wednesday night, a pair of Gonzaga employees, a supporter, and Gonzaga's radio announcer were in the audience and appeared on camera briefly with some fictional characters.
Earlier in the day, Kimmel security man (and sidekick/roving reporter) Guillermo Rodriguez made an impromptu appearance at the NCAA Tournament March Madness media day in Anaheim, Calif. The piece aired on Thursday night's show.
Guillermo Visits Gonzaga at Practice
Guillermo sported a Sherlock Holmes-style detective outfit while grilling Gonzaga men's basketball players during media availability around practices, trying to dig up clues on whether #GonzagaExists.
Television cameras followed the spectacle into the Gonzaga locker room on the eve of the Zags' Sweet Sixteen rematch with Florida State, set for 4:09 p.m. on Thursday afternoon at The Honda Center.
Spokane broadcast media in attendance captured the shenanigans on social media, posting video clips and photos. One of those in attendance was Gonzaga University alumna Brenna Greene ('14), a local sports director who covered the visit and shared details on social media.
Near the end of one interview with local media, Guillermo extended an invite for the entire team and coaching staff to appear on the late-night talk show if they won the national championship.
GonzagaU extended its own invite on social media on Wednesday, Tweeting at @jimmykimmel and @iamguillermo to attend the #ZagUp alumni pregame event on Thursday near the venue: