Let's Talk: Meaningful Conversation about Climate Change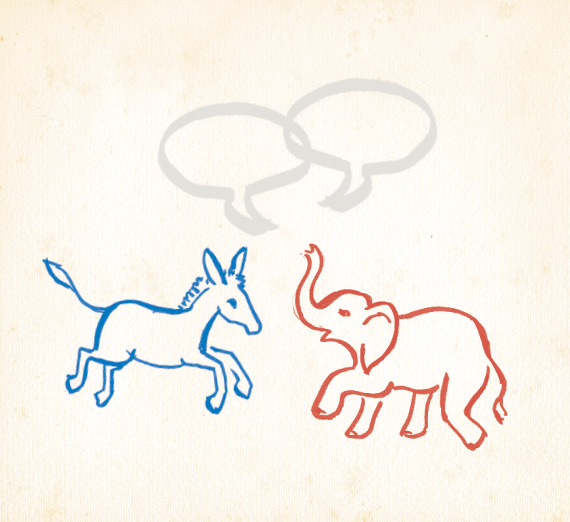 ---
Sustainability, climate change and global warming are all terms that can be politically charged. How do we have meaningful conversation about them?
"We usually have way more things in common than things that separate us, but our passion about big issues – like climate change – prevents us from seeing the similarities we might share."
That's what Juliane Mora, assistant professor of Communication Studies, had to say about why it's so hard to discuss tough topics with people of opposing views.
The challenge is made more complicated because "Too often, we think about communication in terms of what we are going to say," she suggests. "The really important piece is listening. If you start from a position of trying to listen to understand a new perspective, people are going to tell you a lot more about themselves than they realize. They might start by talking about their stance on an issue, but when they tell you why an issue is important or who they believe is doing a good job advocating for that issue, you begin to understand their belief system, what motivates them, or what they're scared of. They might be saying one thing, but underneath is a fear or concern that can be a powerful motivator."
During a campus lecture in fall 2018, former Republican congressman Bob Inglis (South Carolina) shared his personal experience with the political polarization of climate change conversation. He used to think global warming – and the notion of human causation – was a scam. After a trip to Antarctica changed his mind and inspired him to introduce a bill for a revenue-neutral carbon tax, he was unseated in the GOP primary runoff in 2010.
"It's an identity issue," says Inglis. "(As if) saying climate change is real is somehow going to make you into a liberal or make it so you're a Benedict Arnold to your tribe."
Mora says a better way to frame the climate change issue so it's less contentious is to choose storytelling with our science.
"Scientists are not trained to be storytellers. They can look at the data and say unequivocally that polar ice caps are melting and sea levels are rising, but that's not the narrative that's going to reach the greater population," says Mora. "We can't plan for our own generation, let alone for our children's, if we don't explain natural resources, fossil fuels, and the byproducts of our highly
technological society through stories about conservation and community."
She continues: "It's important to get folks from all sides of the political spectrum on board. This includes listening to people from multiple perspectives. We have to be nonjudgmental and
learn from a variety of sources. Hopefully all of this, combined with a true willingness to listen to each other, will help."
That's exactly what Inglis hopes for in the nonprofit RepublicEn.org, which he founded to provide context for conservative voters who have struggled with proposed solutions to climate change. He continues to promote carbon taxes while focusing on the bigger win: achieving a nonpartisan discussion of climate change and collaboration among Republicans and Democrats to support the health of our planet.
Academics
Diversity & Inclusion
Sustainability
College of Arts & Sciences
Office of Sustainability
Civil Discourse
Communication Studies
Environmental Studies
Gonzaga Magazine