Senior Spotlight: A Legislative Internship Ignited Maddie Sontag's Passion to Serve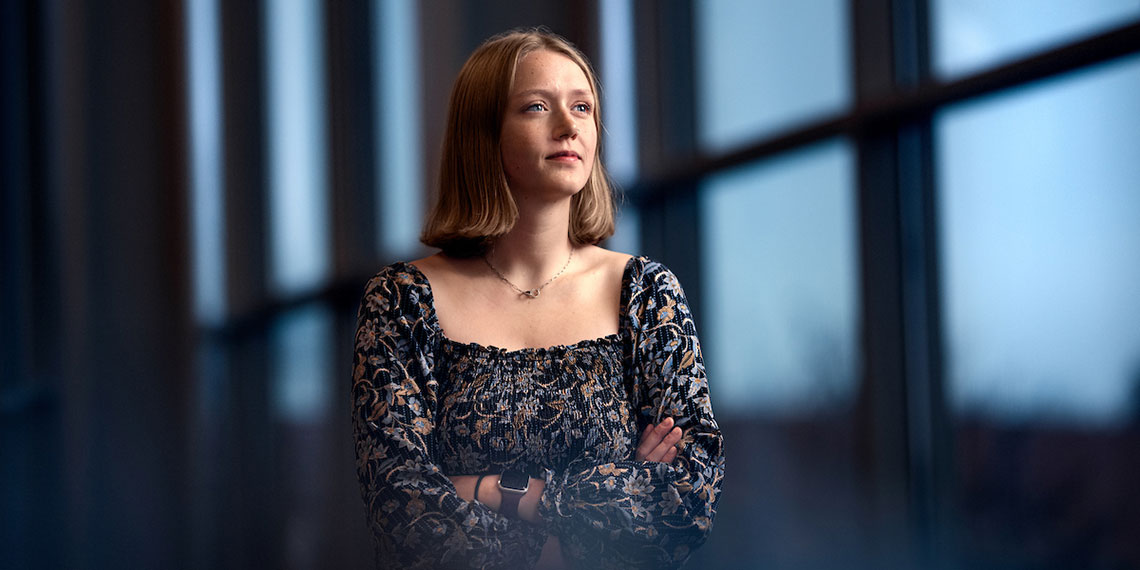 This story is part of our Senior Stories series, in which we highlight GU students throughout the year.
Name: Maddie Sontag
Studies: Environmental Studies, Political Science
Hometown: Evergreen, Colorado
When Maddie Sontag started at Gonzaga as an environmental studies major, she never expected to end up with a love for working in the state legislature. But a semester spent as an intern for Washington state Sen. Andy Billig (D-Spokane) solidified Sontag's passions for engaging communities with their government, and now she is pivoting toward a career in state government.
"I was passionate about the environment, but wanted to address fixing the environmental problems," Sontag says. "I see politics as the avenue for fixing environmental problems, and I found out very quickly that politics are really where my interest lies. I still am really passionate about environmental issues, but politics is kind of where I'm going."
Sontag completed the Washington Legislative Internship Program, open to all juniors and seniors studying in Washington state or who are state residents. Students are paired with senators or representatives in whatever subject area most closely aligns with their interests.
Though beginning as an intern, Sontag was promoted to session aide within her first month, allowing her to take on more responsibility and deal with urgent issues. Sitting in on legislative sessions and working on cases related to state agencies quickly became her new normal. At the end of the spring 2023 semester, Sontag began working full-time as a legislative assistant, which involved administrative work and research, event planning and preparation for the senator's speaking engagements. She has continued to work part-time for Billig's office through the school year.
"One of the biggest things that I love about [work] is that I'm learning something new every single day, whether about Spokane, the political process, about me, about the state of Washington in general. I feel like I am always learning something new that I can bring back to my friends and family," Sontag says.
Given the crossover between Billig's representation of Spokane and attending GU, Sontag has been able to apply her professional experience to the classroom. She uses project opportunities in her political science and environmental studies courses to dive deeper into the issues she is working on for Billig.
Hailing from Evergreen, Colorado, Sontag grew up outdoors and always saw herself returning to her home state. But following her four months in Olympia, Sontag is now considering what post-college life in Washington state might look like.
"Seeing the tangible work that the senator does and that I'm doing, seeing that impact on the community has made a huge difference and has really made me love Spokane more than I already did," Sontag says.
Sontag is especially proud of the environmental bills she has worked with — SB 5369, which works to mitigate polychlorinated biphenyls in the Spokane River and SB 5447, which incentivizes the production of Sustainable Aviation Fuel in Washington to work toward decarbonizing the aviation industry. She also works with organizations in Spokane that are applying for state funding, and has loved seeing the effects of that money as it goes to organizations like the Carl Maxey Center, Maddie's Place, the American Indian Community Center and more.
Following graduation next spring, Sontag plans to return to her role as a full-time legislative assistant for Billig in Spokane and will spend the spring legislative session in Olympia.
In order to make it to Olympia, Sontag had to give up one of her biggest passions — rowing.
Sontag rowed for GU's women's rowing team and loved every second of it. She credits rowing with allowing her to build a strong community with other athletes and friendships that continued once she left the roster.
"I really had such a passion for the sport. It was such a positive experience, but while I was on the team I just came to find out there were too many other things I wanted to do that I couldn't do with rowing. Now I'm doing all of these other things that I'm passionate about that I just wouldn't have time for if I was still rowing. It was such a hard decision to leave, but I'm still really grateful for that experience," Sontag says.
Since leaving the team last summer, Sontag has dedicated herself to taking advantage of what GU has to offer. She studied abroad with the School for Field Studies in Costa Rica, spent a semester in Olympia, spent a weekend on the SEARCH retreat, a yearly spiritual retreat run through GU, and then became a SEARCH retreat leader.
With her remaining time at GU, Sontag is focusing on building her friendships, exploring Spokane and backpacking while the weather holds up.
"I'm just excited to stay in Spokane after graduation. The city has such a charm, and I have such a soft spot for it," Sontag says.
Find more great senior stories!
Academics
Alumni
Careers & Outcomes
Student Life
Service & Community Impact
College of Arts & Sciences
Environmental Studies