Testing the limits: Wurzweiler to spend five months on the Pacific Crest Trail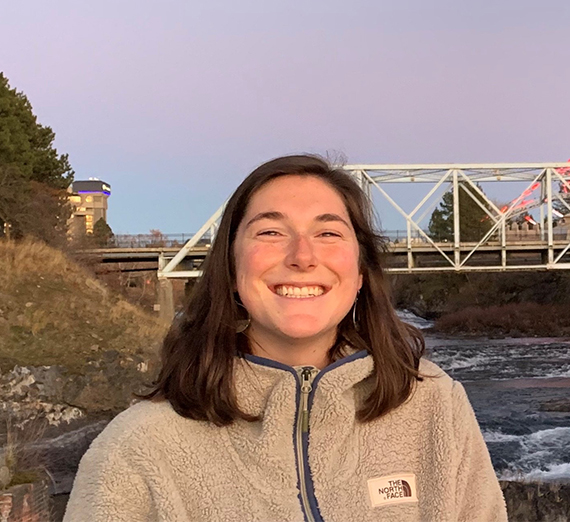 ---
After months in quarantine it's hard to imagine finding peace from isolation, but that's exactly what graduating senior Oakley Wurzweiler hopes to find when she spends five months hiking the Pacific Crest Trail (PCT).
Wurzweiler graduated in September with a degree in Environmental Studies and minors in Public Relations and Sustainable Business. Though originally from the rocky mountains of Littleton, Colorado, the lush greenery of the Pacific Northwest and promise of endless outdoor activities drew her to Gonzaga.
"It's spewing from my passion of being outdoors," said Wurzweiler. "I figured environmental studies would be a good place to learn about how to protect the outdoors for myself and conserve that for other people too."
While already feeling connected to the outdoors, Wurzweiler discovered she could delve deeper into that after spending last summer working for the Colorado Outward Bound School (COBS). COBS is a non-profit organization that immerses participants in challenging expedition courses.
According to the COBS website they "believe that when people discover a strength of character, an aptitude for leadership and desire to serve, it has a positive impact on their lives and the lives of those around them. And that discovery has the power to make the world a better place."
This mentality aligns closely with Wurzweilier's own as she worked during her expeditions to teach some of the younger kids life lessons on mindfulness, how to practice it, and what you should be doing in your everyday life for self-care.
It was here she also realized she wanted to challenge herself with a long trail, specifically, the Pacific Crest Trail.
"After spending last summer doing trips anywhere from 15 days to a month, I just knew I wanted to be outside for a long time. I want to have that experience of doing a thru-hike and fully relying on myself and my abilities to do so."
A thru-hike is different from a backpacking trip in a few ways. Thru-hiking is longer overall distances and higher daily mile counts. For most, it's about simplicity and efficiency.
For Wurzweiler, this means five months and 2,650 miles from the Mexico-U.S. border to the Canadian border.
While the trip was supposed to happen after she graduated, Wurzweiler was forced to postpone and apply for a permit in April 2021 due to the Coronavirus.
Despite her love of the outdoors, Wurzweiler says she'll miss her day to day routine at Gonzaga now that she's graduating.
"I was lucky to live on a street that had pretty much all of my closest friends on it," she said. "That's something I'll really miss, just being able to walk across the street and go into someone's house and hang out for 30 minutes or meet up with someone for lunch in Hemmingson."
During her time at Gonzaga, Wurzweiler found connection and companionship through Gonzaga Out of Bounds (GOOB). Meeting her two closest friends on the trip, she went on to live with both of them senior year. Even so, Wurzweiler says she wishes she would've opened up a bit more and let go of inhibitions, and this is her advice to incoming first-year students.
"Don't worry so much about what other people think," she said. "Coming to Gonzaga I didn't know anyone, so in a way I could've reinvented myself. But, I think I was a little stuck in who I was."
Wurzweiler says to come in confident, don't be afraid to share who you are, and don't take yourself too seriously. Friendships and roots develop stronger and faster that way.
Right now, Wurzweiler is still living in Spokane. She has spent the summer working for a local non-profit called Save Our Wild Salmon, performing research on the Columbia River Basin to learn more about why salmon aren't there anymore. In addition, she spends a couple days a week working for the Spokane Riverkeeper defending the river from pollution.
Her trip on the Pacific Crest Trail may be postponed but Wurzweiler's focus hasn't changed.
"I'm always just trying to get outside while doing a little bit of work in between," she said.
Alumni
Student Life
College of Arts & Sciences
Alumni
Environmental Studies