Kispert: A Man for All Seasons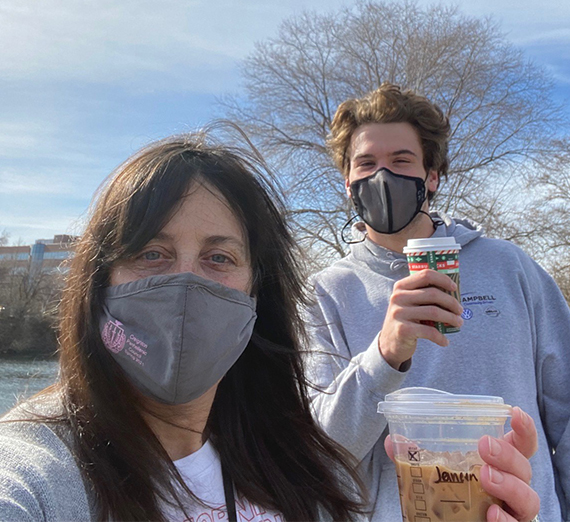 ---
Arguably the best player on the No. 1-ranked men's basketball team in the country, senior Associated Press first-team All-America Corey Kispert is no prima donna. He's a regular guy.
Despite being in the heat and chaos of managing a successful basketball season in the midst of a worldwide pandemic, Kispert has kept his teammates focused, led by example, while completing work on an MBA after earning his bachelor's degree in 2020 in business administration (marketing and entrepreneurship).
Agilely withstanding the mounting pressure that goes with so much national notoriety, Kispert takes time out of March Madness to offer insights to Gonzaga's Lent programming on Instagram, partnering with Rev. Janeen Steer from Gonzaga's Office of Mission and Ministry.
"The program is an effort to inspire and remind students in the middle of the week of their journey toward Easter, and to supply them with good news and a deeper idea of practicing their faith," Steer says.
"Corey is an exceptional leader. I see him in Bulldog Athlete Ministry (a group of spiritually minded student-athletes) not always in the front, and never passively hanging in the back. But finding the best ways to connect with people. We see it in our sessions and we see it on the basketball court," Steer says.
Kispert has served on BAM's leadership team all four years of his Gonzaga education.
His basketball team leadership has been critical to the Zags as they have maneuvered their way through the coronavirus potholes while preserving an undefeated season. His maturity is tangible. But so is his care for his fellow students. For the past three years, Kispert has offered insights into his own faith formation at the University's First-Year Retreats. He even found time to participate in Gonzaga's intramural golf league with fellow students this past fall.
Kispert withdrew from NBA draft consideration in June after his junior year to devote full time to his team, completing his academics and sharpening his faith.
Academics
Faith & Mission
Student Life
School of Business Administration
Office of Mission & Ministry