'Patience and basics, Zags; patience and basics'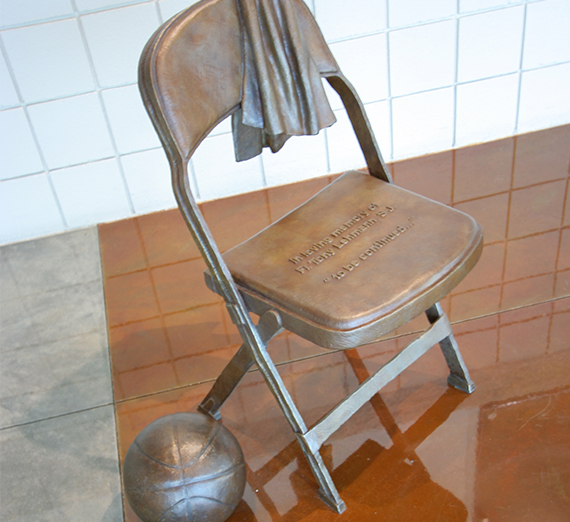 ---
By his own admission, longtime Gonzaga men's basketball chaplain Father Tony Lehmann, S.J., knew little about basketball. Some former players thought perhaps he made it up as he went.

"Get in the hole, rabbit," he would often blurt out from his seat at the end of the Bulldog bench.

None of the players over Fr. Lehmann's 20-year tenure (1982-2002) as the "collar on the bench" knew exactly what that meant, but all were willing to go along with it.

"As a player, to hear that coming from the bench would catch you off guard. But I respected his philosophy that we needed to score more points than our opponents," says Richie Frahm, a major force in Gonzaga's 1999 team that shocked a nation when the small Jesuit school few could properly pronounce reached the Elite Eight round of the NCAA basketball tournament.

"Looking back on my campus days I remember a lot of friendly faces but only a 'Few' that were legendary; Fr. Tony was one of those legendary Zags," Frahm says.

He was patient to a fault, recalls Geoff Goss, a walk-on who later became an all-conference player on Gonzaga's first post-season team in 1994.

"This despite the inconsistent play he witnessed by me and Jamie Dudley our freshman years," Goss says with a chuckle.

Another of Padre's favorite sayings from the bench was, "Patience and basics, Zags. Patience and basics. All game long, every game," Dudley remembers.
As a freshman on the road, Dudley (1990-93) was assigned to carry Fr. Tony's special briefcase through airports. It included Mass paraphernalia as he often offered the sacred rite to alumni and friends wherever he went.
"It was a little awkward for me, this 19-year-old kid carrying a case with wine inside," Dudley says, "but I never got arrested!"

Fr. Tony was such a gentleman, no matter what came out of Fitz's mouth, Goss says, referring to head coach Dan Fitzgerald, the raspy Irishman with a colorful vocabulary.

On the road, Fr. Tony was magical, recalls Jeff Brown, the 1994 West Coast Conference Player of the Year. He would greet and entertain alumni and benefactors; there wasn't a face nor a name he couldn't recall," Brown says. "He made everyone feel appreciated and unique."
Jim McPhee (1986-90), now a Spokane attorney, remembers how Fr. Tony always sought to bring a bigger perspective to the team, but he didn't always have a captive audience.

"Once, after a loss as we were walking to our cars, Fr. Tony said, 'Just think about it. There are billions of people in the world that don't even know this game happened,'" McPhee says. "It didn't help, especially knowing thousands of people back in Spokane didn't know it happened either."

Jeff Condill (1984-86) recalls Fr. Tony picking up a few players who couldn't go home for the holidays and driving them to Coeur d'Alene, Idaho, for dinner at Wolf Lodge Inn, a highly reputable steakhouse where he treated guys to dinner.

"Father Tony's sister had given him money for Christmas and before we ate, he said, "When you receive a gift, pass it on,' and that's what he did. We ate like kings that night," Condill says.

Fr. Tony raised spirits wherever he went, whatever he did. If you ailed or felt down, he'd offer an open, non-judgmental ear and monk's medicine (Chartreuse) to help you overcome what troubled you. If you engaged socially with him, it would always surprise new friends to see him fold a dollar bill lengthwise, put it on the floor, cross one leg over the other at the knee, with one arm behind his back, bend down and pick the bill up with his teeth.

He presided over many basketball players' weddings and baptized many of their children, and hundreds more. He carried a business card in his wallet that read, "Have Chalice Will Travel."

He knew little about basketball, but he was always smiling.

He died of cancer in 2002, before the McCarthey Athletic Center was built.

"When McCarthey opened (in 2004), I got chills walking in and seeing what the University had done to honor him," Brown says, recalling the statue in the east concourse, his empty chair at the end of the bench with a towel over the back and an inscription that read: "To be Continued . . ." which is how Fr. Tony ended every conversation.

He was like no other.

Left: Father Tony Lehmann, S.J. Right: Father Bryan Pham, S.J.
Father Bryan Pham, S.J., recalls a meeting he had four years ago with President Thayne McCulloh and then-Athletic Director Mike Roth.

"The conversation went round and round with no apparent direction," says Fr. Pham, an attorney, Gonzaga Law professor, undergraduate pre-law adviser, hall chaplain and member of the University's Board of Trustees. "It wasn't until several minutes into the conversation I gathered that they were talking about the chaplaincy for our men's basketball team.

"As they talked, they were describing traits and attributes Fr. Tony Lehmann embodied. I then realized that Thayne and Mike were feeling me out to see if I'd be willing to assume the role as chaplain, careful not to insult me. But they wanted me to be the team's chaplain in the image and likeness of Fr. Tony."

Fr. Pham had a pretty good idea what they were talking about. He got to know Fr. Tony while he was an undergraduate student at Gonzaga and newly vowed Jesuit scholastic, living in in the Jesuit community along with Fr. Tony.

"My memories of Fr. Tony were edifying," Fr. Pham says. "He was a deeply prayerful man and always apostolically available. This meant meeting people where they were, when they needed him, and always being attentive to them. He never drew attention to himself. And he did all this with his signature smile and a gentle word of encouragement."

Fr. Pham accepted the role and has since added chaplaincy for the women's basketball and baseball teams.

"While I am most visible while I'm sitting on the end of the bench at games, most of my work as the team's chaplain happens on non-game days," Fr. Pham says. "The role of the chaplain is to be available to student-athletes, coaches, trainers and managers, and their families. Not all of them are Catholics or even religious, but they are all people with hopes, dreams, disappointments, fears and other issues and aspirations. Being available to them is my primary function."

Like Fr. Tony, Fr. Pham admits to knowing very little about basketball. He still relies on players and managers to explain what's happening or why the referees made certain calls.

"I have no desire to be included in the huddle during time outs, or in the locker room during halftime. My role as chaplain is to let the team know I am available and ready to engage them when they reach out – and they do."


Find other great basketball stories