Eaten By A Dinosaur (And Still Standing)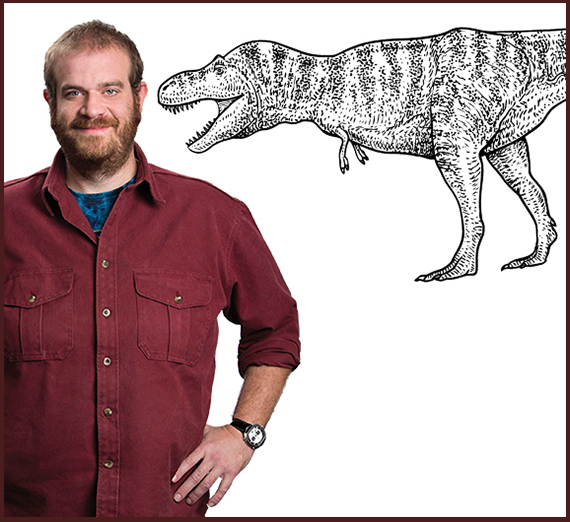 ---
By Jeff Bunch ('92)
Eric Edelstein ('00) comes by the nickname "Big Ed" honestly.
His bigger-than-life presence is hard to ignore. He stands more than 6-foot-4 and possesses a magnetism befitting a former stand-up comedian. His dynamic energy, booming voice and broad smile draw a crowd quickly.
Edelstein may not be a star by Hollywood standards, although his list of TV and movie credits is substantial. His IMDB.com profile runs the gamut of the entertainment business: steadily progressive work on screen and as a voice-over artist spanning two decades.
You can see Edelstein being eaten by a dinosaur in "Jurassic World," starring as Grizzly in the "We Bare Bears" cartoon, and smarting off in a long list of sitcoms and movies. He's the type of actor who isn't well-known by name, but who draws the reaction, "Oh, I've seen THAT guy," when someone points him out or pulls up his image.
Edelstein rolled into the alumni pregame social before Gonzaga's NCAA Tournament game in Los Angeles in March just as the party ramped up. His college friends in attendance said that's no coincidence. He was both the student broadcaster and off-court ringleader of the early Zag tourney teams, rooming with some of the players, working basketball camps, and traveling with the team.
He was greeted joyously as he entered the L.A. alumni mixer, exchanging hugs and high-fives before promising he'd catch up with his crew after an interview. That's when "Big Ed" stepped out and Eric stepped up to share a sincere story of his journey alongside some Gonzaga legends.
"I'm sure trying to live the dream, every day. I'm just trying to be a Zag here. It means patience and basics, passing up good shots to get great ones, and adding value," says Edelstein, quoting advice from the late Fr. Tony Lehmann, S.J., the legendary men's basketball chaplain, and Coach Mark Few.
Edelstein took up acting during his senior year of broadcasting studies and "the bug" bit him. He was a bit of a local celebrity at GU and in Spokane, where he worked in local radio and honed his humor in comedy clubs after graduation. He wanted to move to Los Angeles and pursue it as a career, but was uncertain about it.
Edelstein credits the support and belief of those loyal friends and his parents, for giving him the confidence to believe he could make it in such a competitive industry. "They gave me wings," he says.
Buoyed by the wishes and the advice of his Gonzaga mentors, he moved to L.A. and never looked back. He has continued to expand his reel one role at a time.
"This never would have happened if I didn't end up at Gonzaga, there's no way," he says. "I applied all of it to what I do down here, then I got real lucky."
Looking back, he says there hasn't been one landmark moment but cites his recurring role in the 2017 reboot of the "Twin Peaks" TV show as one of his personal highlights. He enjoyed the original version of the show and admires creator David Lynch. However, he admits with a chuckle, "Getting eaten by a dinosaur in 'Jurassic World' — that's a hard story for anyone at Jack & Dan's to beat."
Edelstein's humor extends to self deprecation, noting that in three years as the GU TV basketball announcer the only praise he received was for his oddball halftime interviews.
"No one ever complimented me about my play-by-play work. I can take a hint," he deadpans.
Edelstein says being an ad-hoc member of those early Zag NCAA teams showed him anything is possible.
"I still pinch myself," he said, remembering those first two magical tournament runs. "It's a little corny, but it showed you that dreams can come true and things can really happen."
Edelstein and the Zags have enjoyed good runs since that time. The fortune seems to perpetuate itself: GU keeps winning and Edelstein is still busy, including several upcoming film roles. Yet he never imagined one day he would be hanging with his buds at a Final Four featuring Gonzaga.
"It was amazing," he said of the impromptu reunion in Phoenix in 2017. "When I see the guys, it's like no time goes by. We're all a little rounder in the middle and have a little less hair up top, but those Gonzaga relationships are so special and so important to me."
Eric Edelstein's Selected Filmography from IMDB.com
Family (Movie, Upcoming)
Life Support (Movie, Upcoming)
American Dad! (TV series, 2012-18)
Drunk History (TV series, 2013-18)
Clarence (TV series, 2013-2017)
Twin Peaks (TV series, 2017)
Fresh Off the Boat (TV series, 2015-17)
We Bare Bears (TV series, 2015-2017)
Brooklyn Nine-Nine (TV series, 2016)
Guardians of the Galaxy (TV series, 2016)
Green Room (Movie, 2015)
Alexander and the Terrible, Horrible, No Good, Very Bad Day (2014)
College Humor Originals (TV series, 2012-14)
Monsters vs. Aliens (TV series, 2013-14)
Key and Peele (TV series, 2013)
Arrested Development (TV series, 2013)
Shameless (TV series, 2013)
Modern Family (TV series, 2012)
Grimm (TV series, 2012)
Workaholics (TV series, 2011)
Funny or Die Presents ... (TV series, 2010)
Curb Your Enthusiasm (TV series, 2009)
Parks and Recreation (TV series, 2009)
Ugly Betty (TV series, 2007)
The Hills Have Eyes II (Movie, 2007)