Edelstein Gives Back to Gonzaga Students With Classroom Visit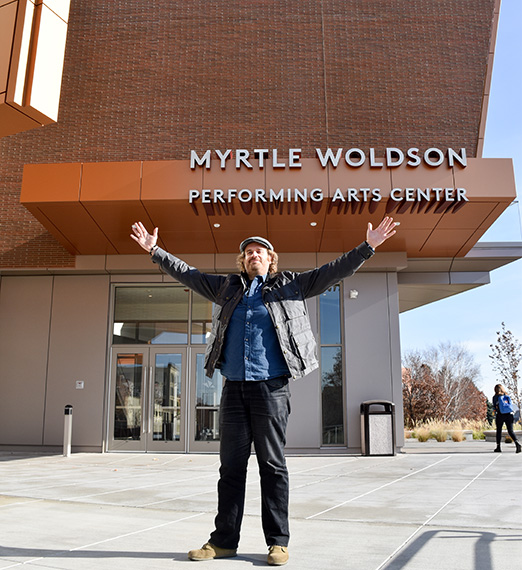 ---
Alumnus Eric "Big Ed" Edelstein found himself back in a Gonzaga Theatre Arts class for the first time in a couple of decades, this time to share his advice with current students.
The seasoned professional actor has made a steady living in Hollywood with mix of television and film roles and voice acting, including his current role as "Grizz" in the animated cartoon "We Bare Bears." He's had noteworthy roles in films such as "Green Room" and "Jurassic World."
Edelstein was friends with members of the magical 1999 Gonzaga team which made the first run into the NCAA men's basketball tournament. Edelstein got to know those team members while serving as the voice of the Zags in an era where GU didn't have radio-TV deals.
He connected with many of those friends this week while in town to support a friend. Yet Edelstein had just one specific request: He wanted to see if he could talk with an acting class about "all the stuff I wish I knew before" moving to Hollywood to pursue his dreams.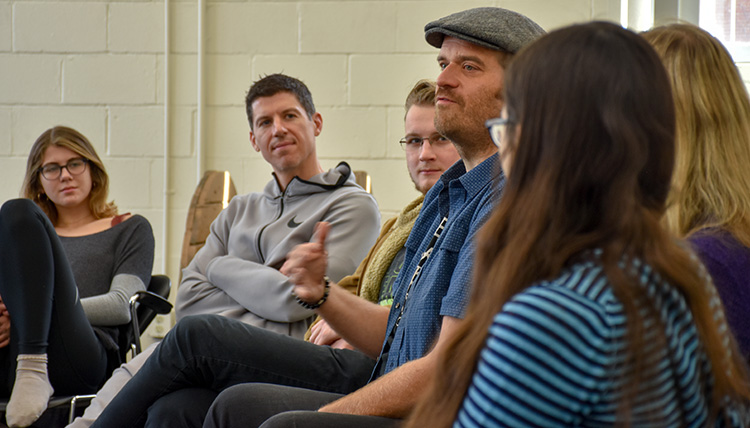 On Monday, Edelstein got his wish and took the time to give back to future Zag alums. He entertained students in Kathleen Jeffs' Acting 101 class for nearly an hour. He did impersonations of luminaries ranging from longtime Gonzaga baseball coach Steve Hertz to iconic director David Lynch and talked about the craft. He then stayed to talk with students for another 30 minutes, answering all of their questions.
Edelstein explained to the students that any of their dreams were possible, as he came late to acting himself. Edelstein caught the bug just before his senior year with the encouragement of a professor who believed in him. He told the students that he "owes everything to the Gonzaga Theatre Department" and encouraged them to reach out to him anytime for questions or advice.
Edelstein then took time to tour the state-of-the-art Woldson Performing Arts Center next door and was overwhelmed by the facility, one which didn't exist during his time at Gonzaga.
Everything came full circle for Edelstein when he was realized one of the students in Jeffs' classroom was the lead for the current production of Romeo & Juliet, which is being performed in the Woldson. It was a perfect ending to a generational Zag storyline.
"Eaten By A Dinosaur (And Still Standing)," Gonzaga Magazine