sčintxʷ: Where Native American Students Can Feel at Home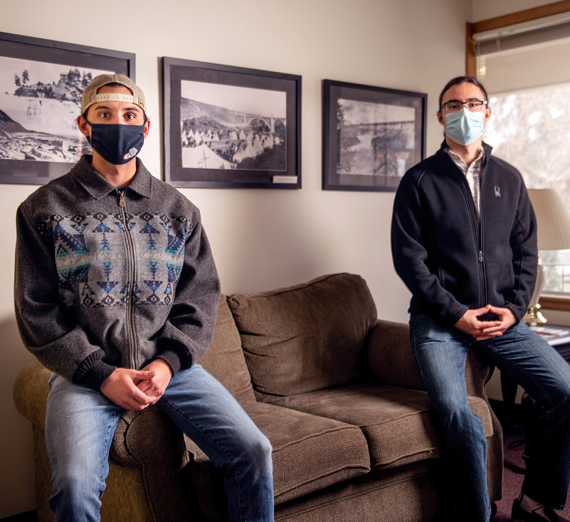 ---
Born and raised in Spokane, Alec Tabish ('21), a Spokane Tribe first-line descendant, never wanted to leave his hometown for college. When he received the ACT SIX scholarship to attend Gonzaga, that sealed the decision to stay put.
But, he says, "I was worried about how to find my community; there's not a large Native American presence on campus."
Thanks to his cousin being a graduate student at Gonzaga when he started, he knew to go to the Center for American Indian Studies – an unassuming house on Sharp Avenue that has been a gathering spot for Native students since 2009.
"When I came, I hit the ground running to work with Wendy," Tabish notes, referring to Wendy Thompson, Gonzaga's director of Tribal Relations.
Tabish recounts a number of ways the small group of Native students – from Alaska to New Mexico and places in between – built their community. His first year, they met weekly and discussed readings on topics important to them. They also developed programming for the campus community.
In fall 2020, Thompson and students celebrated the rededication of their house as the sčintxw Native American Cultural Center, giving it a name in Salish, the language of the interior Northwest tribes. Pronounced s-CHEEN-t-wh, it literally translates as "Indian House," but more broadly describes a place where Native students go to feel at home.
Spokane Tribal Elder Pat Moses told a small in-person gathering and online audience that the house sits on sacred ground. "When you walk in here, you should feel Indian. You should feel the ancestry, the elders, the spirit and power of Mother Earth."
Gonzaga President Thayne McCulloh acknowledged that the University's first class (in 1887) included seven white boys, while two Indian boys had been brought to enroll and were denied access. "This is a moment where we have the opportunity to make choices for real, profound and lasting change," he said. He invited friends of the university to create an environment where the truth of national, regional and institutional histories is addressed.
For Tabish, who's graduating with an accounting degree and a passion to open a firm on the reservation, the changes that have taken place at Gonzaga during his years as a student are promising.
"A lot of work in the past was leading us to this moment," he says. "The house is renamed. We have more autonomy in this space. We're on a good path to start growing our presence on campus."
He and another senior leader at the house, Logan James (Swinomish), are trying to establish systems to ensure the work of growing the Native community at GU is in motion when they graduate.
"We're passing the torch to the next students," Tabish says. "We know a larger Native presence on campus would make it more appealing, and that starts with showing them they will be supported when they come."
In 2020-21, 48 Native American
students are enrolled at GU.