Native American Cultural Center Rededicated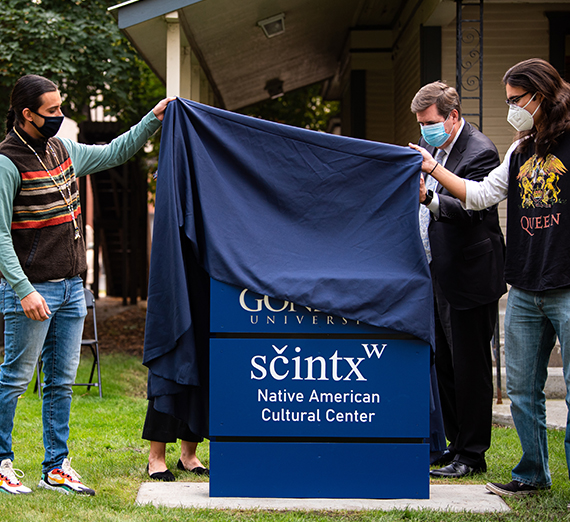 ---
SPOKANE, Wash. — Gonzaga University's Native American students have had their own center on campus since 2009. The facility at 414 E. Sharp Ave., known previously as the Center for American Indian Studies, was rededicated earlier this month as the sčintxw Native American Cultural Center.
Marsha Wynecoop, Spokane Tribal language program manager, said the name, which was given to the house by tribal elders Pauline Flett of Spokane, and Felix Aripa of Coeur d'Alene, Idaho, is pronounced s-CHEEN-t-wh, a Salish word that means much more than its literal translation, Indian house.

The formal ceremony recognizing the new name was held on Sept. 17, the 133rd anniversary of the historic first day of classes of what was then called Gonzaga College.

Spokane Tribal Elder Pat Moses told the in-person and virtual audience at the event that the house sits on sacred ground. "When you walk in here, you should feel Indian. You should feel the ancestry, the elders, the spirit and power of Mother Earth."

The word sčintxw describes a place where Native students can go to feel at home.

"It's a place for Native students to gather and study, socialize and build community; a place where their voices and experiences are centered," said Gonzaga's Tribal Relations Director Wendy Thompson.

Native American students were not always welcome at Gonzaga, however, even though Father Joseph Cataldo, S.J., Gonzaga's founder, had initially conceived of it as a school for Native Americans.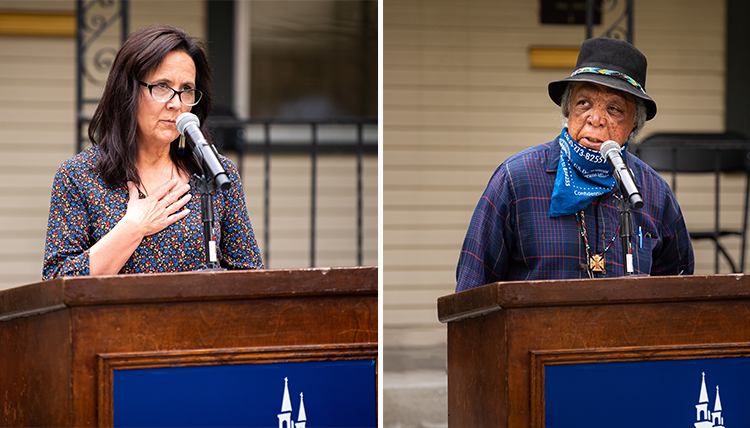 (From left: Wendy Thompson, Gonzaga Tribal Relations Director; Spokane Tribe Elder Pat Moses)
The late Father Wilfred P. Schoenberg, S.J., renowned historian of Pacific Northwest Catholic life, in his book "Gonzaga University: Seventy-five Years 1887-1962," notes Gonzaga's policy toward serving Native Americans had been greatly altered between the time of Fr. Cataldo's initial concept in 1882 and the institution's opening in 1887.

The first class included seven white boys, all 17 or under. When Father Joseph Joset, S.J., brought two Indian boys to enroll in school, Father President James Rebmann, S.J., denied them admission.

Current President Thayne McCulloh acknowledged this unfortunate decision. "This is a moment in our country's history where we have the opportunity to make choices, and for us, use this as a catalyst for real profound and lasting change."

He invited colleagues, students, partners and friends of the University into the important work of creating a campus environment where the truth of our national, regional and institutional histories, which includes instances of racism, is addressed.

"It is only when the realities of this history and the impact it has had on the lives of our people is unpacked and more deeply understood, that the opportunity for authentic reconciliation and healing has a chance to occur," President McCulloh said.

Thompson shared that the history between the Native American tribes and Jesuits is long and woven together with many complexities that intersect at Gonzaga.

"We have come together now to honor those who were there, the only ones who truly know the history that brought us to this important moment in our collective story, and to look forward with reverence for who we were, are and can become," she said. "Today we gather to officially celebrate the House and its name — a new chapter in Gonzaga's tribal relations."

Thompson shared the story of how Gonzaga came to be. The Salish sent four delegations to St. Louis to request Black Robes (Jesuits) for their people. In 1839, Father Peter DeSmet, S.J., arrived, and in 1841 the first mission in Montana was established.

By 1880, Fr. Cataldo oversaw the Jesuits of the Pacific Northwest and missions of Montana, Idaho and Washington.

Thompson said Fr. Cataldo wanted to build a school for the tribes the Jesuits were serving through the missions, and he found the right spot on the north bank of the Spokane River, "where we could build a large school for Indian children, or even for white, if many should come to the country," he is reported to have said.

Soon thereafter, the Jesuits paid the railroad $936 for 320 acres of land. Fr. Schoenberg told of city fathers in the fledgling town of Spokan Falls wishing Fr. Cataldo well with the school for Native boys, and asking him to also build a college that would attract boys from throughout the West.

James Glover, sometimes called the father of Spokane, gathered 15 other settlers and sent Fr. Cataldo a pledge of $2,650 to help build a college. It wasn't until many years later that Native American students were admitted to Gonzaga. Today, 48 Indigenous students are enrolled at Gonzaga, and related academic programs include undergraduate studies and an MBA in American Indian Entrepreneurship.

In 2004, representatives of nine regional tribes from the states of Oregon, Washington, Idaho and Montana attended a ceremony in the Barbieri Courtroom at Gonzaga Law School to mark the unveiling of bronze casts of their tribal seals. The seals hang in perpetuity in the Courtroom, paying tribute to the historic importance of the tribes and recognizing their identity as sovereign nations with their own justice systems and laws.

In recent years, Gonzaga celebrations and ceremonies have added a land acknowledgement statement to recognize the first peoples of the land where the University now sits, which is recited at gatherings and events.