The Power of Place
Understanding Our Jesuit-Indigenous Connections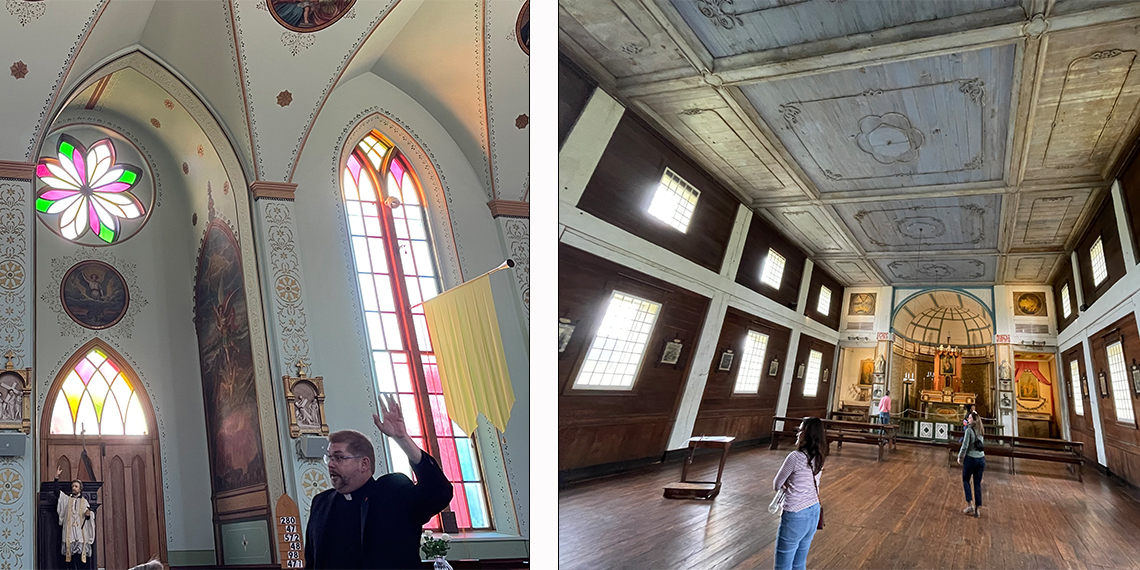 Located in the Inland Northwest, Gonzaga University resides on the unceded homelands of the Spokane Tribe and is within an hour's drive of three reservations. But Native students at Gonzaga come from many states, from Alaska to Arizona.
"Gonzaga has so much potential to be the go-to place for Native students in the area," says Wendy Thompson (Confederated Salish and Kootenai Tribes), director of Gonzaga's Office of Tribal Relations.
Thompson was the sole Tribal Relations staff member for 17 years until 2021 when the department moved to the Division of Mission Integration. That shift, defining the critical role of this work in living the university's mission, resulted in the addition of two positions, filled by Leah Simeon and Jeremy Rouse, both of whom have experience in educational settings with Native students. The trio works out of a home on campus named scintxw, also referred to as the Native American Cultural Center and "The House," where students gather to foster a sense of belonging at a predominantly white institution. Native students have referred to it as their cura personalis.
Thompson's team also works with partners across campus to bring a greater awareness to and understanding of Native peoples and issues.
"There have been many decisions made for Native people based on good intentions that have had very tragic outcomes. For example, we have a very complicated relationship with Western education," Thompson says. "Many Native children were forced to attend to boarding 'schools' that were intended to strip away our culture and assimilate us into Western culture. Children were prohibited from speaking their languages and practicing their cultures."
"I believe it's a moral imperative that we provide Native students with the opportunity to maintain their sense of identities during their time here at Gonzaga," Thompson adds.
With that comes a responsibility to ensure that the campus community – faculty, staff, students and alumni – can begin understanding more about the history of the University's founding and the broader impact of the Jesuits' work among Native peoples.
It is no secret that many universities – Gonzaga included – have troubled histories pertaining to the lands on which they sit and the impact on the Native communities displaced by colonial settlers who sought to add Western education to the list of industries that would hasten economic development. With guidance from Thompson's team, the university has begun to learn more about the Jesuit Rocky Mountain Missions in Montana and Idaho that served as the prelude to the college's origin, to help create a better context of the relationship between the school's Jesuit founders and local Native communities.
Connecting to the CORE
In the Jesuits West Province, Annie Fox, provincial assistant for justice and ecology organizing, led a Faith Doing Justice discernment series that resulted in 12 regionally-based Collaborative Organizing for Racial Equity (CORE) teams. Spokane's CORE group, led by Molly Ayers, assistant dean for Gonzaga's Center for Community Engagement, Liz Slamkowski of Gonzaga Preparatory School, and Thompson, identified tribal relations work as a priority.
To provide some historical and contemporary context for Gonzaga's tribal relationships, Thompson and Ayers developed a unique plan to send participants from each institution on an "immersion" experience that would follow the steps of the area's early Jesuits, beginning with a stop at the site where Fr. Pierre DeSmet, S.J., began the work among the Bitterroot Salish, the people who invited the Jesuits to come West.
Tribal Relations staff members prepared by traveling to Montana and the Flathead Reservation and to where the Bitterroot Salish people were eventually removed, to meet with the Confederated Salish and Kootenai Tribal Council and seek support for the visit. They also sought community engagement by inviting Gonzaga alumni and tribal council members to a dinner that the tour group would host during the visit. Tribally-owned and tribal member-owned businesses were supported when possible. Thompson says, "We tried to be good visitors by being intentional about everything."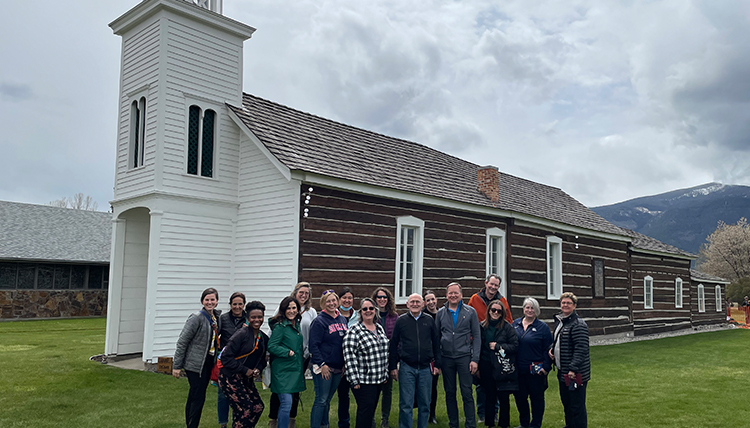 The immersion group, comprised of staff and faculty from a variety of Gonzaga's schools and programs, a member of GU's Board of Regents and a member of the Jesuit community, set out in May for a two-day journey. They visited the St. Mary's Mission Complex (pictured above) in what is now known as Stevensville, Montana, followed by a stop at the Flathead Reservation – home to the Bitterroot Salish, Upper Pend d'Oreille and Kootenai people – where the St. Ignatius Mission, the former site of a Jesuit-operated boarding school, is located. The group hosted a dinner for community members, spent the night at the Tribes' hotel on Flathead Lake, and visited the mission in St. Ignatius the following day. The final stop was the Sacred Heart Mission, built by members of the Coeur d'Alene Tribe and missionaries, at Old Mission State Park in Idaho.
Participants listened to Native community members share their own histories at St. Mary's Mission and St. Ignatius Mission and viewed an exhibition titled Sacred Encounters: Father DeSmet and the Indians of the Rocky Mountain West at the Old Mission State Park. Importantly, they discussed and reflected on the complex dynamics between the Jesuit missionaries and the tribal people among whom the priests settled.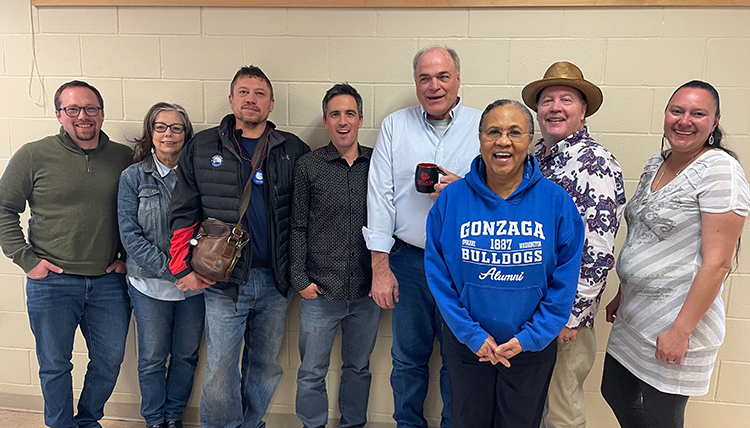 Eight Gonzaga grads who are members of the Confederated Salish Kootenai Tribe community in Montana gathered with the mission immersion participants: Rick Eneas, Teresa Wall-McDonald, Rich Janssen, Jordan Thompson, Michael Dolson, Patricia Kelly, Dana Grant and Desi'Rae Nault.

Processing this history between tribes and Jesuits required a commitment from participants in advance to learn how to think critically about these relationships and how our organizations might move forward in relationship with the tribes that the Jesuits originally came to serve. A pre-immersion workshop provided an overview of the Flathead Reservation community, stories of some of the early Jesuits, and a discussion about listening and centering community voices.
Acknowledging all of those complicated facets is critical, says Ellen Maccarone, ethics professor and interim vice president for Mission Integration at Gonzaga. "It's an imperative that we do this, or we fall down as an institution and we elongate our complicity through time."
This fall, the Spokane CORE team continues to build upon its learning through reading about and discussing guidelines and practices for ethical and respectful engagement with Indigenous peoples to re-imagine possibilities for this work.
This article originally appeared in the October 2022 issue of "Connections," a newsletter distributed by the Association of Jesuit Colleges and Universities for member institutions. You can read other stories about Jesuit schools connecting with Native communities here.
Diversity & Inclusion
Faith & Mission
Community Action and Service Learning
Office of Mission & Ministry