Alumna Rosemary Muriungi Develops Dream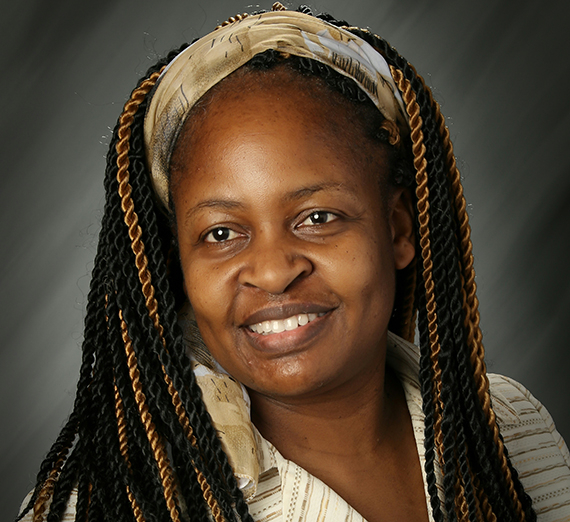 ---
SPOKANE, Wash. ­— Rosemary Muriungi had a dream growing up: to harness the transformative power of learning to help others. After earning a doctorate in leadership studies from Gonzaga ('20), she is fulfilling that dream.
While teaching part-time in Gonzaga's School of Leadership Studies and School of Business Administration, Muriungi is continuing her efforts to launch an institution of higher learning in her rural village in Kenya. Registered in 2018 with plans to open this year, the technical education and vocational training institute will serve high school students faced with academic challenges and provide leadership development programs for learners at all grade levels.
The oldest of five children, Muriungi shared a one-bedroom home with her parents and siblings until she was 12, when the family moved into a two-bedroom house. The concept of sharing and helping others was engrained early on and remains a driving force in her life. As the sole female child in the family, she experienced challenges growing up in a patriarchal community. Forced to create her own path, she pursued college education while working to support her family.
"My dream to pursue education to the highest level has, by extension, been my mother's dream," said Muriungi, who also works as a business advisor/research coordinator in the Washington Small Business Development Center at Washington State University in Spokane.
Needing to work to support her family, her late mother set aside her own dreams of education and always regretted not being able to finish high school. Rosemary was determined to pursue the educational dream that her mother could not.
Like her mother, Muriungi's father was forced to abandon his own dream of higher education to support his family ­— even though he earned top grades in high school and received a scholarship to study in the United States.
Because education takes a backseat to supporting one's family in many rural and low-income communities in Kenya, due to the existential circumstances, Rosemary was determined to establish a postsecondary school in her home village of Musalala.
"The Technical and Vocational Training Institute is my way of helping students in Kenya who face the same plight as my mother, my own plight, and that of my father. To honor her, the technical and vocational institution in Kenya bears my mother's name, that is, Mutethya Educational and Leadership Institute (MELI)."
While COVID-19 has temporarily halted the development of MELI since March 2020, Muriungi plans to return to Kenya this year to help open MELI and meet the enormous need for higher education. A severe shortage of teaching and learning resources in Musalala has resulted in a low pass-rate and many students are forced to — like Rosemary's mother — drop out of school earlier than they wish.
"MELI would afford students an opportunity to further their education, while at the same time, acquiring the knowledge and skills needed to start their own income-generating projects, or advance their studies further, for those so inclined," said Muriungi, adding that Gonzaga has affirmed her passion to inspire leadership in young people, especially women.
"Studying at Gonzaga broadened my horizons on how higher education can be delivered in a way that honors the student and develop the whole person," Muriungi said.
In addition to education, an extension of MELI is envisioned to offer vocational skills needed in the village, including a certificate for hairdressing and beauty care to fill an existing community need. Muriungi hopes revenues will help offset expenses to operate MELI and the vocational program.
Separately, Muriungi has already started a bookstore to help local schools and students obtain school supplies and books more easily and at a less costly rate than competitors.
"The bookstore has brought school supplies closer to the community. Before the bookshop was operational, local schools and people in the community had to travel to distant towns or to the city of Nairobi to get their school supplies," she said. The bookstore also offers banking services, direct and indirect employment to members of the community, and sells COVID face masks at a subsidized rate.
Muriungi hopes MELI will empower Musalala villagers and provide them with the professional skills to pursue better jobs, generate self-employment, and take control of their destiny.
While in the United States, Muriungi has been working to put the institution's infrastructure in place and researching courses that would bring value to the community. When she returns to Kenya, she will embark on recruiting staff and students, and raising money to support it.
Eventually, she hopes that MELI can become a full-fledged university offering degree programs to serve the labor market of Kenya and nearby regions. In addition, she aims to create a student exchange program in collaboration with other universities in the country and elsewhere, like Gonzaga.
In so doing, Rosemary will realize a dream in which Gonzaga has been proud to have played a role.