Alumna Halle Goodwin Dances into 'Dream Job' with Parkinson's Foundation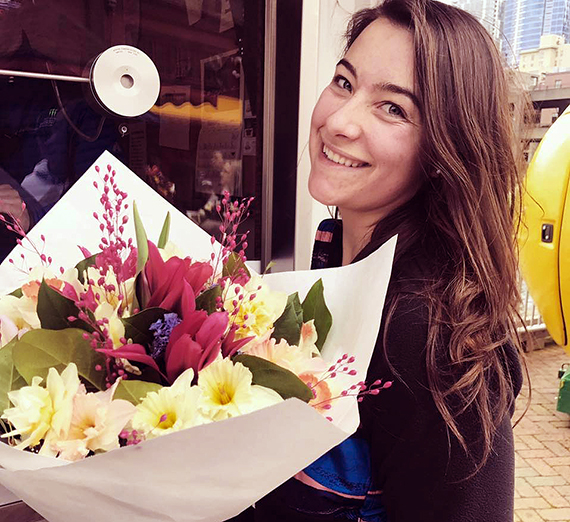 ---
By Megan Carroll
Class of 2018
Gonzaga News Service

SPOKANE, Wash. – Halle Goodwin has parlayed her love of dance, two Gonzaga University degrees and a desire to be a leader for the common good to secure what she calls her "dream job" with the Northwest Parkinson's Foundation.

Goodwin, who earned a bachelor's degree in business administration ('15) and a master's in organizational leadership ('17), became the Inland Northwest regional director of the Mercer Island, Wash.-based foundation last June. Based in Spokane, she supports the foundation's programs and fundraising in the region while overseeing volunteers.

She received the position after nearly four years of work with Gonzaga's Dance for Parkinson's program in which student volunteers help teach dance to members of the community with the degenerative nervous system disorder. Her résumé also includes a stint at the e-commerce company etailz Inc., co-founded by GU School of Business Administration alumnus Josh Neblett.

"I'm working to find more interest groups, support groups and care partners. Programming is the priority in Spokane and beyond," Goodwin said. "There are people living with Parkinson's in small communities in Idaho and Montana that don't have the resources we have here in Spokane. I want the area's support to be as strong as ever, and for people with Parkinson's to know where to find help and resources."

This past summer, Goodwin hosted her first Team Parkinson's Walk in Spokane – raising money for the foundation and increasing public awareness.

Gonzaga's academic dance program spurred her passion to work with the Parkinson's community. Suzanne Ostersmith, assistant professor and director of the dance program, nominated Goodwin for a work-study grant via the McDonald Work Awards Program, created by Robert and Claire McDonald. The award allowed Goodwin to develop marketing tools and meet with area neurologists and specialists to raise awareness of the Dance for Parkinson's program.

"When we hosted a national training with Mark Morris Dance Group, Dance for Parkinson's Director David Leventhal in 2015, Halle was one of the first to register," Ostersmith said. "She continued to co-teach with me for more than a year. I never knew it might serve as part of her training for this current position."

Goodwin, who also participated in Gonzaga's business fraternity Alpha Kappa Psi, and served as a resident assistant and assistant residence director for housing, started a Dance for Parkinson's program in her hometown, Richland, Washington, and continues to teach a class there once a month.

"Because of my past involvement with Dance for Parkinson's, a lot of the Parkinson's community trusted me, loved me and wanted me to be successful when I took the job as regional director," Goodwin said.

Her master's in organizational leadership not only provided crucial knowledge about the nonprofit sector, but was the deciding factor by the Northwest Parkinson's Foundation to hire her, Goodwin said.

"I think my biggest takeaway from the program was perspective: learning how to look at things and understand people in different ways, and solve problems from different angles and lenses," she said.

Goodwin, who earned a dance minor at Gonzaga, continues to nurture her love of performance art. In August, she performed in a short film directed by Irish cinematographer Deidre O'Toole along with Ostersmith, classmate Caley Edwards ('15) and Gonzaga students Sydney Skinner ('20) and Jackie Bertagnolli ('18). The film, titled "Immersion," is an abstraction of a near-drowning experience and includes silk costumes inspired by the work of famed artist Loïe Fuller.

Gonzaga dance will host another national training for Dance for Parkinson's Feb. 17-18 and Goodwin will be there to refresh her skills.

"It is exciting to host professionals from around the country to receive this training alongside our students. Who knows who might follow in Goodwin's footsteps," Ostersmith said.

The NWPF, Goodwin and GU students also will host "Love Your Body Week Night Out," 7-8:30 p.m., Feb. 17 in the GU Theatre and Dance Studio Building, bringing people with Parkinson's, care partners, professionals and friends together in support of the Dance for Parkinson's program.