Navigating GU as a First-Generation College Student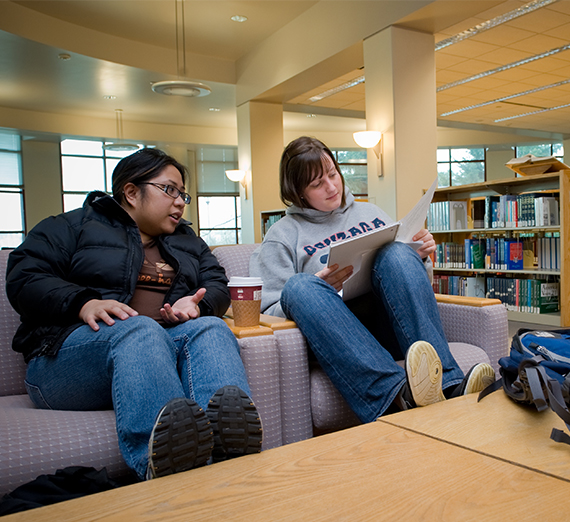 ---
Currently, around 15% of Gonzaga's student population are first-generation college students, students whose parents have not completed a four-year degree.
Whether you're coming to campus with some background knowledge or not, there's nothing wrong with a few pointers! Here are some recommendations on how to become that confident and successful first gen college student:
1. Join ZeeMee
If you are a prospective student eager to get involved as a first gen student, you do not have to wait until you get to campus – you can get involved now. If you have not yet downloaded the ZeeMee app, do it today! Meet and chat with other students that applied to Gonzaga. Start building friendships early on. That way, once you are accepted to Gonzaga, you'll have your own community.
2. Sign up for BRIDGE
One highly-recommended program on campus is called BRIDGE, which stands for Building Relationships in Diverse Gonzaga Environments. BRIDGE is designed to be a pre-orientation program that continues through the school year, offering student support and mentoring for multicultural and/or first-generation students. If you end up loving it, you can eventually become a BRIDGE mentor and be paid to help others. How awesome is that?! Plus, they have such caring and supportive staff members who understand and can relate to the challenges first gen students face.
3. Participate in UMEC activities
It may seem somewhat intimidating to attend a private university. However, if you are a first gen student, know that you are not alone. Located in our Hemmingson Center, first gen students will find the Unity Multicultural Education Center, better known as UMEC. This center is open to all students and provides a variety of services, such as lounge space, exciting and engaging programming, a great place to find a community of student mentors and friends, as well as a purposeful intercultural development experience.
4. Check out the UACC
If you're ever wondering how to find any of our cultural clubs on campus, let me introduce to you the Unity Alliance of Cultural Clubs (UACC). Over nine cultural clubs have united to form UACC. As part of UACC, club leaders and representatives work together to promote cultural activities, events, and meetings open to all students. A few examples of clubs currently involved are the Black Student Union (BSU), Asian American Union (AAU), Hawaiian Pacific Islander Club (HPIC), and La Raza Latina.
5. Apply for Act Six
Act Six is a fantastic scholarship opportunity available to high school seniors or students at a two-year community college who live in the Tacoma, Seattle, or Spokane areas. Students who love their community and want to use their college education to make a difference as a leader on campus and at home are encouraged to apply. Scholarship recipients will receive full-tuition, full-need and four-year scholarships as members of Act Six!
6. Hear what first gen Gonzaga students have to say
Now, if you really want to see what it is to be a first gen student at Gonzaga University, then head on over to our first-generation students website. Here, you will get to listen to the stories of several of our first gen students and their experience at GU. Trish Alvaro ('21) is someone who has done a fantastic job conveying the GU life experience through her YouTube channel and offers some great insight.
If you're a GU alum, you can help Gonzaga deliver on the Zag Scholarship Promise with an annual scholarship gift and help increase accessibility to first-generation students and those from a diverse background.