Gonzaga Earns Gold Rating for Sustainability Efforts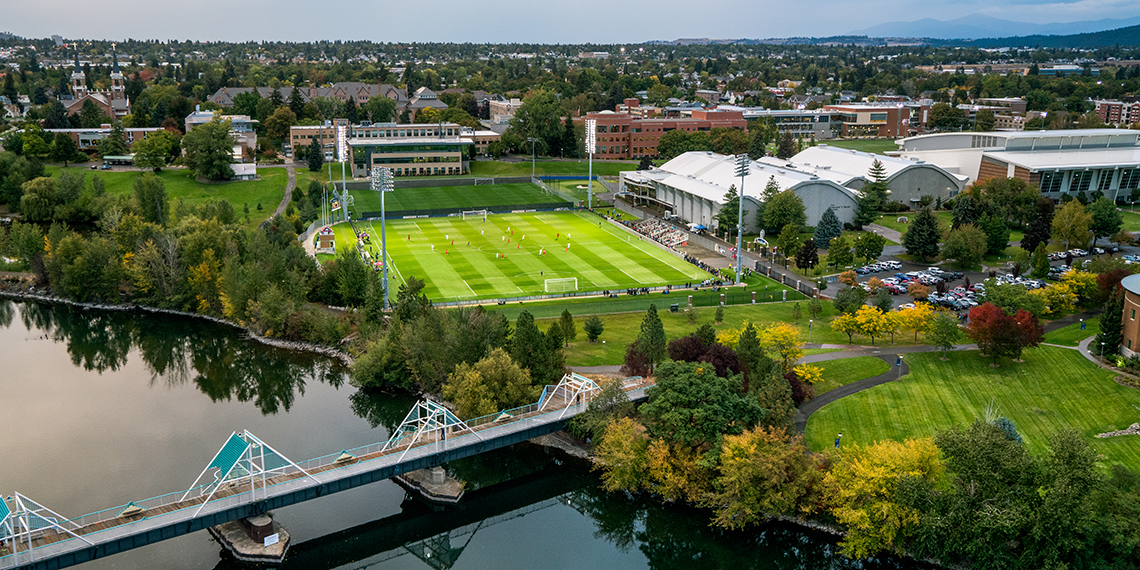 SPOKANE, Wash. — The Association for the Advancement of Sustainability in Higher Education (AASHE) has awarded Gonzaga University a gold rating in recognition of its sustainability achievements. The rating is measured through the AASHE's Sustainability Tracking, Assessment & Rating System (STARS) system.
The broad-based rating is based on performance in areas including academic curriculum and research; engagement with the campus community and public; operations (air and climate, buildings, energy, food and dining, grounds, purchasing, transportation, waste, and water); planning and administration; and innovation and leadership.
Gonzaga's STARS report can be viewed at the STARS website.
"This recognition underscores Gonzaga's demonstrated and mission-focused commitment to the care of our common home. STARS is a sustainability focused system that looks at the intersection of environmental, social, and economic factors," said Jim Simon, Gonzaga's director of sustainability. "STARS will inform the advancement of our sustainability and resiliency efforts and ensure that we are reducing our contribution to global climate change."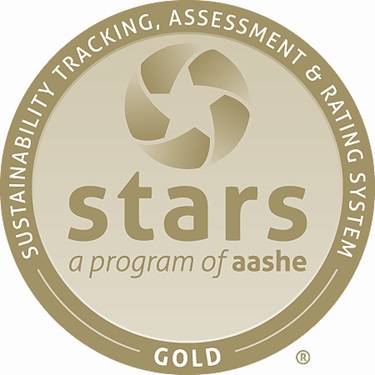 Gonzaga submitted its first STARS Report in 2017, receiving a rating of Bronze. The STARS rating system progresses from Bronze, Silver, Gold, to Platinum.
"I'd like to thank Jim Simon and all of those who have worked diligently to advance sustainability at Gonzaga," said Jim Angelosante, vice president for administration. "In particular, I'd like to recognize the efforts of Alex Medina, graduate assistant, office of sustainability; Max Kwenda, director of institutional research; Tomson Spink, grounds and maintenance manager; Ken Sammons, director of plant services; and Pat Clelland, resident district manager of Sodexo Food Services. Not only have we achieved this significant recognition and rating, but we continue to care for creation, reduce costs and create a culture of sustainability on campus and in our community."
"STARS was developed by the campus sustainability community to provide high standards for recognizing campus sustainability efforts," said AASHE Executive Director Meghan Fay Zahniser. "Gonzaga University has demonstrated a substantial commitment to sustainability by achieving a STARS Gold Rating and is to be congratulated for their efforts."
Last month, Gonzaga University was once again named among the 416 most environmentally responsible colleges and is included in the 2021 edition of "The Princeton Review Guide to Green Colleges."
Earlier this year, AASHE recognized Gonzaga's Cataldo Project as one of 16 national Centers for Sustainability Across the Curriculum. The AASHE program aims to infuse sustainability concepts into higher education curricula. The Cataldo Project aims to provide students with a fundamental awareness and understanding of the importance of the natural environment to life, how all human activities affect the environment, and an ethic for responsible stewardship of the planet.
Also, in September 2019, Gonzaga and ZagDining by Sodexo achieved its "Real Food Challenge" goal with 20% of the food served on campus sourced from ecologically sound, fair and humane, and local- and community-based providers.
Gonzaga approved its first comprehensive Climate Action Plan in 2013. Moreover, as a signatory to the Presidents' Climate Commitment, the University has pledged to work toward climate neutrality by 2050. To reach that goal, Gonzaga aims for all new campus construction to meet LEED Silver certifications or better.
Gonzaga has met its goal to reduce greenhouse gas emission by 20% by 2020 and aims to reduce the emissions by 50% by 2035 (from 2009 levels).
GU supports renewable energy by purchasing Renewable Energy Certificates equivalent to 48% of its electrical energy usage through Avista Utilities' Buck-a-Block program. With an additional 3.8% of its energy coming through Avista Utilities' Solar Select Program, which began in 2018, Gonzaga's electrical energy usage from renewable sources is just over 50%. The remaining portion of the electrical consumption is primarily from hydroelectric sources and two small on-campus solar arrays.
With robust car sharing options, four electric vehicle charging stations and access to shared mobility options such as Lime Scooters, GU makes it easy for students and faculty to adopt green practices.
In 2014, Gonzaga hired Simon as its first director of sustainability to help coordinate Gonzaga's sustainability efforts.
"Students clearly are asking for sustainability and climate action to be part of their college experience, and I am excited that Gonzaga has again been recognized for our efforts to care for our common home," Simon said. "Those deserving credit for this rating include many students, faculty and staff who have been committed to sustainability and creation care."
Unlike other rating or ranking systems, the STARS program is open to all institutions of higher education. The criteria that determine a STARS rating are transparent and accessible to anyone. Because STARS is a program based on credits earned, it allows for both internal comparisons as well as comparisons with similar institutions.
For more information about Gonzaga's sustainability efforts, contact Jim Simon at simon@gonzaga.edu or (509) 313-5571. Visit stars.aashe.org for more information about the STARS program.
Sustainability
Office of Sustainability
Environmental Studies
News Center