How I Experienced Community During Covid-19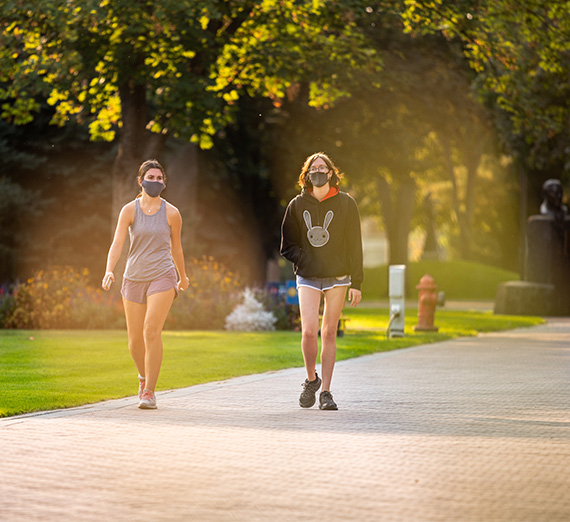 ---
Allison Salvador ('23)
Despite COVID-19 impacting our in-class learning opportunities, Gonzaga has still found a way to build a sense of community on campus. One of the ways I have found community on campus, even with social distancing guidelines, is through my mentors, teachers, and supervisors on campus. One of the reasons I chose to attend Gonzaga University is because of the strong student-teacher relationships that are built in the classroom. However, my experiences this past semester have shown that these relationships can still be fostered outside the classroom. The faculty has shown its dedication to making sure their students still feel safe and welcomed in the community even if they are distance learning from home. My teachers and supervisors have set up different zoom meeting times with students just to check-in. Our faculty genuinely cares about their students' well-being and wants to see them succeed.
During zoom meetings, my teachers and supervisors will ask how we are doing and how they can make distance learning more engaging and what they can do better to ensure success for their students. They will also ask if the student needs any accommodations regarding their school, work, and home schedule. The fact that our faculty are so dedicated to their students and their work has made me extremely grateful to be a part of the Gonzaga community. I do not think I would feel as valued or welcomed anywhere else.
The amount of effort our faculty are putting in to create a sense of community is beyond anything I could have asked for. It would have been so much easier to upload lectures and create assignments without any student-teacher interaction. However, the teachers are still wanting to foster genuine relationships with their students so they can get the most out of their education. COVID-19 may have halted in-person activities, but it has not stopped the fostering of community at Gonzaga University.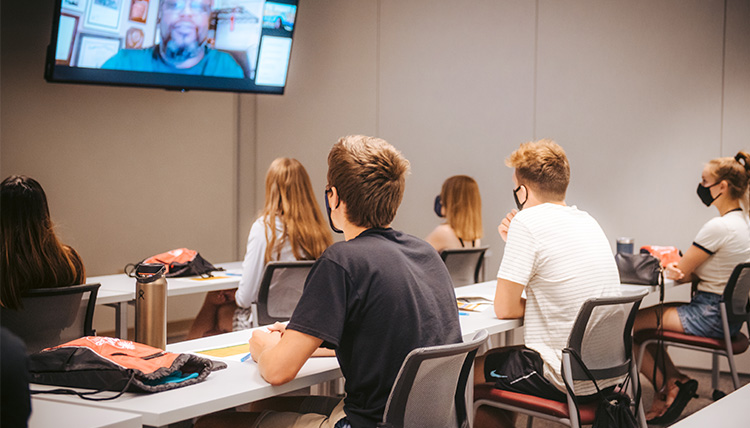 Developing a strong bond with my roommates during this time of online classes and less social interaction than normal has helped create community at Gonzaga for me. Having a meal with my roommates at least once every day creates a sense of normalcy and helps me stay connected within my own little community. Having such a good close group of friends also helps when it comes to academics. Having been used to going to classes in person, where I could make friends and experience community, things are a lot different now that we are online. Some of my roommates have the same classes that I do, so whenever we have a quiz or test coming up, we meet in our small living room and bounce ideas off each other and help prepare for whatever is in front of us.
Although COVID-19 limits many activities my friends and I would normally do, like going to the gym or playing Spike Ball together, we have been able to improvise, have fun, and still have a strong sense of community. For example, my suitemate David and I are still able to go to the gym, but now we plan. Gonzaga has restrictions where only a limited number of people can be in the gym at a certain time, and you only get 45 minutes. So, we plan ahead, pick our times, and keep our masks on until we get to our stations. Even though it is a lot more steps then it would be in a perfect world, David and I are still able to work out together, share tips with each other, and push one another.
The gym is just one of the few extracurriculars I do with my friends, and even though they are more steps, and things are complicated right now, being safe and considerate with how we go about doing our extracurriculars is important, and my roommates and I have maintained a strong community here at Gonzaga. COVID-19 at face value felt like a constant isolation trap with no person-to-person contact, but through this first month and a half, I feel as though my sense of community at Gonzaga has never been stronger.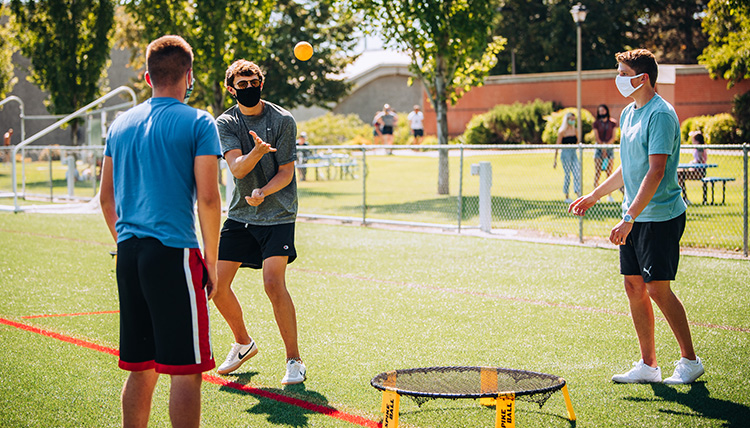 It has been very easy to experience the community this semester because of how well the transition back to campus was handled by GU. I know these times are unfamiliar and very difficult to process sometimes, but I found that coming back to school and having something to get my mind off the world really helped me to cope with the terrible things happening this year. Coming back to campus and living with some of the best people I know was very refreshing after a long summer of staying inside and avoiding contact with basically everyone I knew. Gonzaga has done a great job of making sure that we feel safe being back on campus and have made sure that people are accountable for their actions. I personally have felt very protected and safe even while going to in-person classes because everyone has been wearing their masks and following the guidelines. Most colleges I heard of that fully went back to campus had difficulties with the amount of cases, but I think Gonzaga has been very smart with this whole process and handled it with not only the students in mind but also the faculty and staff.
The community that I have felt here at Gonzaga during these hard times are the same if not better than I felt last year. I live with four other roommates in the Kennedy Apartments, and we have had a great time bonding. Because many places aren't open and because we can't see our other friends as much, we have been having a lot of fun with each other in our free time. We have created games in our apartment and had our own type of Olympics, and we have also had some movie marathons. My roommates and I have played soccer at Mulligan Field and we have also been going on some runs to keep ourselves active. Even though many places aren't open around Spokane like they were last year, it is still very important to get outside and stay active, as long as you can socially distance yourself from others on and off campus.
I don't really know what I was expecting when I came back to campus for the semester, but besides the fact that we all have to wear masks and socially distance, it doesn't feel like much has changed. I can still have lots of fun with my roommates and get a great education at GU. Everyone is doing their part by wearing their masks and staying six feet apart from others around campus, which is enabling us to stay on campus for the foreseeable future. As long as we all continue to follow the guidelines and stay safe, the community at Gonzaga can continue to grow stronger.
The community at Gonzaga is one of the first things that stuck out to me. I came to visit campus over GEL weekend in 2019 and was surprised to immediately see the army of current students in matching red bucket hats rallying for our commitment to the school. I came into that experience not expecting much from Gonzaga, yet I left Spokane knowing that I would be welcomed into Gonzaga's school community if I decided to attend. My first year embodied the community I had seen that singular weekend. I found friends during BRIDGE, the pre-orientation program for students of all minority backgrounds, as well as in the Honors Program by living in Crimont, the residence hall designated for Honors and non-Honors freshman alike. Returning to campus this past fall, my primary sense of community was with my roommates. Despite all the friends I made my first year, the people I really ever see are my roommates and a couple close friends. I am only in one club, Black Student Union, and I have continued to find community with them in our weekly meetings.
Community is an interesting concept. It feels fundamental to our existence, yet with community comes socialization, which is unsafe to do at this time. During my first year, I found community in many facets on campus. This year, that community is still there via clubs, class group chats, major group chats, and the student body as a whole. Strangely, I believe I felt a stronger sense of community since this school year has begun. Whether it be an acquaintance from BRIDGE or a mentor from my major, people understand that everyone needs that much more support as the stress of the pandemic adds to an already precarious balance of school, volunteering, extracurriculars, social life, and personal care. The Gonzaga community is a network of people who care. There is an extra level of kindness, patience, and compassion that characterizes our community now.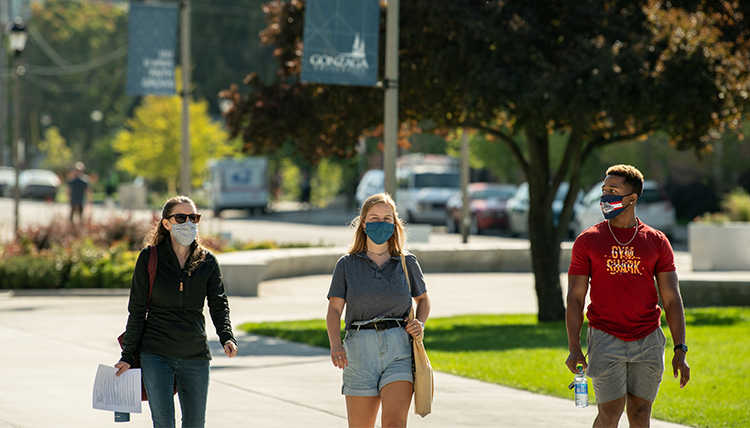 Vanessa
Kunakornvanich
('23)
One of the ways I've experienced community at Gonzaga University is through my pre-orientation program, BRIDGE. It stands for Building Relationships in Diverse Gonzaga Environments. The program helps to support underrepresented students who identify as low income, LGBTQ+, BIPOC, first generation, and/or undocumented as they transition into college. While I went to a predominantly white high school, Gonzaga and Spokane was still a culture shock to me. I had, and still do, struggle with imposter syndrome as I transitioned into college. BRIDGE provided me with the support and resources I need to succeed. The mentors and faculty members who organize the program care about the whole well-being of the student. I always find myself feeling loved and cared for whenever I'm around my BRIDGE peers. College has some of the highest of highs, but also the lowest of lows. It can feel isolating as it seems like everyone at the institution has an "all gas, no brakes" mentality. BRIDGE helps to mitigate that potentially harmful lifestyle for students.
During the week of BRIDGE, the mentors help the first-year students to develop a self-care routine and sustain a healthy mindset while attending a predominantly white institution, and to learn about the social injustices happening within our community. The best part about BRIDGE is that it extends through your time at Gonzaga, not just one week of programming. There are events, workshops, and socials that happen throughout the year that revolve around social and racial inequity issues.
One of my favorite aspects of BRIDGE is that I'm still in touch with my mentors from my freshman year. They've become almost like my personal advisors in helping me navigate Gonzaga. The relationships and friendships that I cherish the most are the ones that I made from BRIDGE. During times of stress and strain, they are the ones I turn to for support. Feeling inspired by how amazing and helpful my mentors were my first year, I became a BRIDGE mentor this year to help the new generation of BRIDGE mentees thrive at college. Within the large Gonzaga community, there are small pockets of community that you will most likely identify the most with. For me, that was BRIDGE.