Three Dimensions of Creativity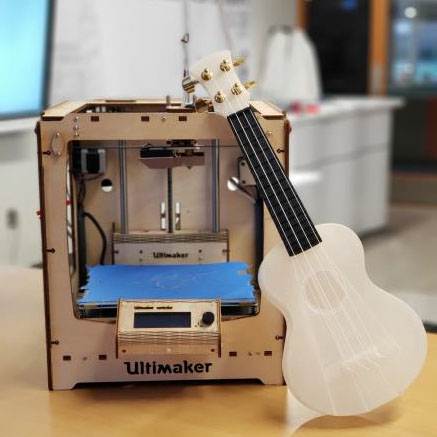 ---
Three Dimensions of Creativity
THE PRINTER OF THE FUTURE
At the back of the Next Gen Tech Bar sits a small device, which can often be found humming away as it works. This is a 3D Printer, and students, faculty, and staff have all been keeping the machine busy with various projects all year long.
The device is, more specifically, an Ultimaker 3D Printer. It's been housed in the Tech Bar since the Hemmingson Center opened in 2015, and has been hard at work printing everything from toothbrushes to ukuleles ever since. This semester alone, students and faculty have found numerous uses for the printer, both for work and for fun. One of the biggest shocks to many who use it for the first time is the relatively low cost. "However much plastic ends up on the tray, you just pay for that plastic," explains Next Gen Tech Bar Lead Ismael Teshome. "Small things cost a couple bucks, and bigger projects can get a bit more expensive." Students simply have to find a compatible design online, or design their own, typically using the Blendr software, which Teshome offers tutorial in.
PRINTING FOR THE STAGE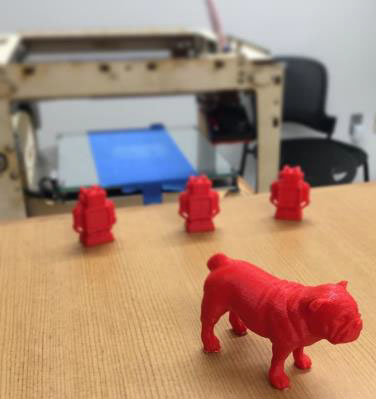 One person who's found value in 3D Printing is junior theatre student Erin Sellers, whose Scenic Design class often requires her to create complex set models at scale. "It can be really tricky to build all of these small details like beds and couches and chairs by hand," she says. Sellers saw the 3D Printer as a natural solution, capable of maintaining these details with more precision than attempting to create it manually. "I found a model I liked and had it printed at the Next Gen Tech Bar, and it came out in the exact right scale with lots of detail."
Theatre faculty member Courtney Smith, and instructor of Sellers' Scenic Design class, has been using 3D Printing in his own design process since he was a graduate student. "It seemed so mystical and mysterious. Looking back now, it's funny how simple technology actually is, but, as with most people when they first learn of it, it sounded like magic at the time," he says. Smith has recently utilized the Tech Bar's own 3D Printer in creating hisdesign for this spring's Gonzaga Mainstage production, Dancing at Lughnasa. "My experience with Tech Bar specifically has been a great addition to the work I've done on the Gonzaga campus as well as students taking the scenic design course," Smith reflects.
UNLIMITED POTENTIAL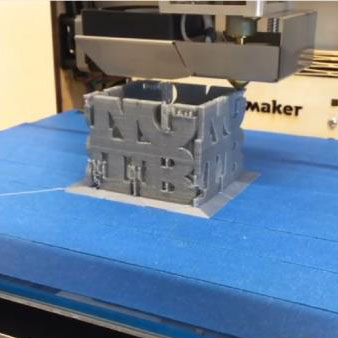 As more students have discovered the capabilities and accessibility of 3D printing at the tech bar, the diversity of prints has continued to increase. "I found out this was a service offered during the summer time," says Senior Sarah Loftin. "I had a bunch of stuff on my wish list, and I realized it was a really easy way to get a lot of custom stuff made." Loftin has been using the Tech Bar's 3D Printer to create figurines for use in her Dungeon and Dragons campaigns, and has made over fifteen figures so far, with even more on the way. "This is a great way to get really affordable pieces, that I'd never be able to afford otherwise," she says.
Currently sitting around the 3D Printer at the time of writing are a large bacteriophage model, some elements of a prototype toothbrush that dispenses toothpaste as you brush, and a Mario Kart trophy for use in an RA-sponsored competition. A model of the now-famous Baby Yoda is cued up and ready to print soon. With the ease and low cost of printing, it's easier than ever to expand your imagination and creative potential at the Next Gen Tech Bar.