A Look into What's New at the Next Gen Tech Bar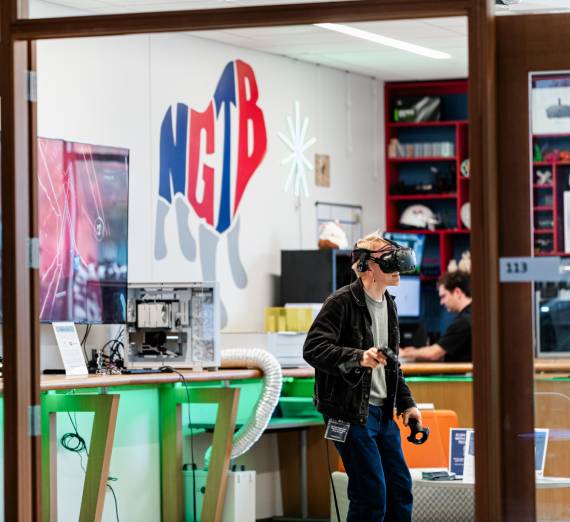 ---
Rentals at the Tech Bar, And More!
An ITS Outpost
Nestled inside the first floor of the John J. Hemmingson Center at Gonzaga University sits a small, open room, desks lining two of its walls, a large television mounted on the third. Beside the TV, a logo covers the wall, bearing the letters "NGTB" in the shape of Spike the Bulldog. This, as the logo suggests, is Gonzaga's own "Next Gen Tech Bar," and is home to student tech support and a host of cutting-edge equipment.
Behind the desk on the far wall, you'll often find Ismael Teshome, the Lead of the Next Gen Tech Bar. A former Gonzaga student and former work-study for Gonzaga's Information Technology Services (ITS) department, Teshome now heads up everything in the Next Gen Tech Bar. "We're sort of like this little outpost of ITS up in Hemmingson," he jokes. "We do a lot of technology demonstration...we also do tech support for the whole Gonzaga community but mostly focused on students." During an average day, the Tech Bar sees people calling in for help resetting passwords, accessing accounts, and solving a number of other technology-related issues.
People also visit in person for help with their tech problems, but many come in to take advantage of the various equipment available for use. Among these are a VR Headset with a number of popular games to play, a 3D printer, a Glowforge for engraving, a smartboard that's often home to fun polls, and a set of phone-charging lockers. Tech Bar Work-study Jordan loves the VR, and often comes in outside of her shifts to use it. "There's always something new to try," she says."There's even a program that helps me study for anatomy."
Tech Beyond the Tech Bar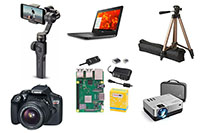 This year, though, the useful and fun technology doesn't have to end when you walk back out through the doors of the Tech Bar. "Our big new service this year is technology rentals," Teshome explains. "We rent anything from USB cables or adapters to DSLR cameras and professional gimbals." Students are now able to visit the Tech Bar to come see what rental gear is available in person, or they can access an online database of all the currently available equipment, and even see if it is checked out.
Senior Work-study Ryan Hays took the lead on creating this website over the past summer. "I think it's pretty nice that we can see online what the tech bar has available, what's in stock for students to rent," he says. "I think it looks pretty good." For work-study and photographer Brandon Clarke, the whole system has worked exceptionally well. "It's been really easy," he says. "And useful. I've rented a tripod twice, and a projector twice." Other students have taken advantage of the service to use cables for connecting devices for class presentations, or using cameras to enter a Tech Bar sponsored photography competition.
Up Next at the Next Gen Tech Bar
Looking to the future, Teshome hopes to continue to take the technological offerings even further. "We're getting a filter for the Glowforge soon, which will allow us to actually use it inside the Tech Bar," he says. "With the filter, we can almost use it on-demand, whenever we want." Beyond increasing the ease of engraving, Teshome hopes to dust off a noticeable fixture hanging in the Tech Bar's back corner: The Flying Bulldog, a 3D-printed drone. "We're hoping to find a safe way to have drones on campus," Teshome promises. Whatever the future holds, Gonzaga's own Next Gen Tech Bar plans to be right in the forefront of it all.